Who Were We Running From?, a Turkish crime drama on Netflix, is based on Perihan Maden's 2007 novel "Biz Kimden Kacyorduk Anne?" The show is about a mother who lives with her daughter as an unnamed fugitive while keeping a dark secret. While they are on the run, they move from hotel to hotel, using each one as a temporary home. Because of their paranoia, they think everyone around them wants to hurt them or take away their freedom.
Melisa Sozen, Eylül Tumbar, Musa Uzunlar, Devrim Kabacaoglu, Taylor Lauren, and Buce Buse Kahraman all give great performances that bring the themes of fear and paranoia to life. So, people must be curious about where it came from and what made it happen. Here's everything you need to know to figure out if "Who Were We Running From?" is based on a true story.
Is Who Were We Running From a True Story?
No, "Who Were We Running From?" is not based on a true story. The book "Biz Kimden Kacyorduk Anne?" by Perihan Maden is what the Netflix show is based on. The Turkish author and columnist was harassed and accused of being a conscientious objector, which caused a lot of worry and fear. In her book, she talks about how women who live in a system where they always feel like someone is watching them deal with fear.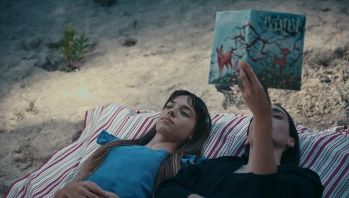 In an interview with The Power of Culture, Perihan talked about the things that happened in her life that inspired her best-selling book. She talked about how upsetting it was for her to be called a "wh*re" in court in 2006, when she was on trial. She told me, "Everything changes every six months. It is now something I do. During the trial, I felt very sad, and the book is also very sad. It's about a mother and her daughter who are trying to get away from something. The reader has no idea why they are running."
Perihan also said, "The mother is being too protective. She does her best to protect her daughter from bad things in the world. I still get cold chills when I think about it. I was scared for my life at the time. They made you look bad by yelling at you during your trial. People all over the country hear about you on the news, and they start calling you a b*tch. To help me get over my fear, I wrote the last scene of my book. But I thought it would cause me trouble. I no longer feel that fear, though. We don't get along well with Turkey."
In the end, the author said, "In Turkey, things get tense, then seem to calm down, but then something terrible happens again." So, it looks like a peaceful time, but it's not. Now it's quiet." Perihan is a single mother who grew up in Turkey with a single mother. She knows how scared a mother can feel and that a mother will do anything to protect her child. Even though some parts of "over-mothering" might be bad for the child and most of the time get in the way, a mother knows what's best for her child.
Based on the book, the Netflix movie shows exactly how the author felt in 2006. She also said she didn't write a "book for women." Instead, she told him, "It's a mystery about a murder." It talks about the risks people face." So, even though "Who Were We Running From?" is a made-up story set in a heightened reality, the subject matter has emotional appeal and is important to the audience's culture.
Our Team DCS includes 5 different writers proficient in English and research based Content Writing. We allow them and encourage them to follow the Entertainment news all day long. Our posts, listicles and even the exclusives are a result of their hard work.