Upcoming Will Smith Movies (And Why Most Will Smith's New Movies Are On Hold)
Here are all the future Will Smith movies and the reasons why the majority of them have been put on hold or cancelled since the 2022 Oscar slap. Has a celebrity ever been as closely associated with lucrative box office success as Will Smith? Since the middle of the 1990s, he has dominated the big-budget, blockbuster game, different degrees of success for franchises like Men in Black, visionary sci-fi/fantasies like I, Robot, comic book movies like Suicide Squad, and moving dramas like Seven Pounds and The Pursuit of Happyness. Smith has long been an unstoppable force, but his actions at the 2022 Oscars have put his career in jeopardy.
Will Smith won an Oscar for his role in King Richard, in which he played the ambitious father of tennis champions Venus and Serena Williams, despite getting slapped at the Academy Awards. With the release of three films over the course of the year, Smith experienced one of his busiest years in recent memory. They were the animated comedy Spies in Disguise, the crime drama Gemini Man, and the live-action Disney adaptation of Aladdin. This signalled a significant increase in Smith's prominence at the box office and the start of a very busy period for him professionally, as in years past he had only released one new movie at a time. The number of future films on Will Smith's list was previously huge, but it has since shrunk.
Some of the upcoming films starring Will Smith have either been delayed or are most likely cancelled. Given the star's diversity and limitless skill, it's a real shame. Additionally, a lot of the movies had good visuals. Without further ado, here are all the future Will Smith films and the reasons they have been delayed.
Bright 2

For Netflix's Bright 2, Smith and co-star Joel Edgerton were slated to reunite. No release date, plot, or cast information had been made official. The first sign of difficulties for the film came from the production when Max Landis and David Ayer, the original writer and director, were fired from the film. While T.S. Nowlin, the author of The Maze Runner, was meant to compose the script, The Incredible Hulk director Louis Leterrier first assumed the role of director. After the 2022 Oscars, everything for the impending Will Smith movie changed, and it has been locked in preproduction ever since with no chance of ever being released.
Critics described Bright, which debuted on Netflix in December 2017, as a muddle and an all-around disastrous failure. Bright received over 11 million views on Netflix in its first three days since viewers didn't appear to mind and were instead so intrigued by it. In order to obtain a potent wand before another legendary crime boss does, a human cop (Smith) and an orc cop (Edgerton) team up in the movie. These figures alone may have determined its success, prompting Netflix to approve a different movie. However, it doesn't appear that Bright 2 will be arriving any time soon.
Emancipation

Smith was slated to star in a third fact-based movie, Emancipation, a recent Apple TV movie, in addition to The Council. Directed by Training Day's Antoine Fuqua, Emancipation featured Smith as a slave named Peter in 1863. In order to join the Union Army, Peter eventually made his way to the North after escaping his captors. A renowned photograph of Peter's horribly scarred back was taken when he was undergoing a medical examination. This image helped to spread anti-slavery sentiment and inspired free black people to fight in the Civil War. Despite being in post-production, the film was "on pause" following the Will Smith Oscar smack. Although it hasn't been abandoned, its original release date of 2022 has been changed. As a result, it won't be available on streaming services by that year.
Is Bad Boys 4 Happening?

Despite Will Smith receiving 40 pages of the script before the 2022 Oscars, Bad Boys 4 has unfortunately been placed on hold. Since at least 2015, Sony has been working on Bad Boys 4, which at one point had a May 24 release date planned. That certainly didn't stick because Bad Boys for Life took longer to make than expected before being released in January 2020. Even though Bad Boys for Life received mixed reviews from critics and consumers, Sony quickly announced that Bad Boys 4 was still in the works. Despite the anticipation for the fourth entry in the series, Sony decided to put Bad Boys 4 on indefinite hold in the wake of the Will Smith Oscar snub. He apologised, yet the news still came.
Other Consequences Of Will Smith's Oscars 2022 Slap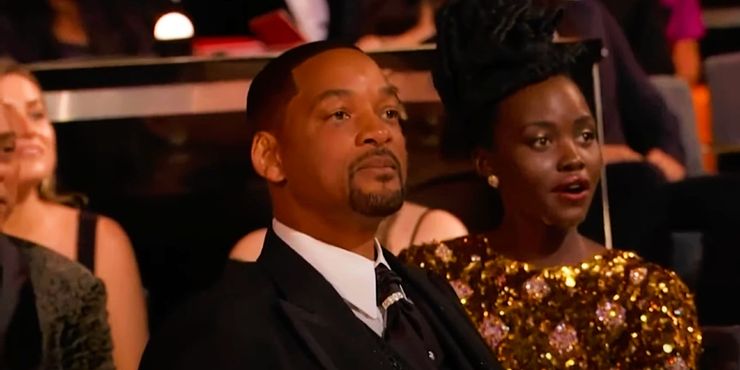 Not just the films on this list have been put on hold; all of Will Smith's projects have. Fast + Loose, a Netflix movie that Smith was supposed to be in, is currently in limbo. The movie's production has been cancelled, and it's unclear whether they'll pick up production again in the future, find a replacement for Smith, or abandon the project completely. In addition, after he apologised, he resigned from the Academy and is no longer able to take part in the proceedings. It is questionable whether he will ever be eligible for an Oscar, but since he won't be creating movies for a while, it doesn't really matter. The night in question was also marred by the aftermath of the Oscar slap. Many people won Oscars, including newcomer Ariana DeBose who won for West Side Story. But the slap ended up being the main topic of conversation during the Academy Awards, overshadowing all of these things and more. Will Smith's career has suffered a blow because all of his upcoming films have been put on hold.
The Council

Will Smith and Concussion director Peter Landesman will collaborate on a new Netflix movie called The Council in September 2019. Smith was slated to play Nicky Barnes, the real-life boss of an African-American gang that ruled over Harlem, New York, in the 1970s. Barnes was to play Nicky Barnes. The New York Times gave Barnes the moniker "Mr. Untouchable," yet Barnes did eventually lose his position of authority. Due to the actor's downfall, The Council won't be available on streaming sites, much like the role. Will Smith is the only actor now listed for the (previously) impending movie, which has been mired in pre-production for years. Additionally, since 2021, there has been no news concerning the movie. Therefore, it is highly likely that The Council will be abandoned soon.
Why Have So Many Will Smith Movies Been Cancelled?
Because of his actions at the 2022 Oscars, the most, if not all, of Will Smith's films have been shelved or delayed. Jada Pinkett Smith had a major reaction after Oscar host Chris Rock made a derogatory joke about her alopecia, which led to Smith smacking Rock across the face on stage. Even though the situation was surprising, Will Smith was still able to receive his Oscar. His actions had far-reaching effects, one of which being the cancellation or postponement of all of Will Smith's planned films. The actor then apologised for his actions, but it didn't stop the Oscar snub from happening.
Being a binge-watcher himself, finding Content to write about comes naturally to Divesh. From Anime to Trending Netflix Series and Celebrity News, he covers every detail and always find the right sources for his research.