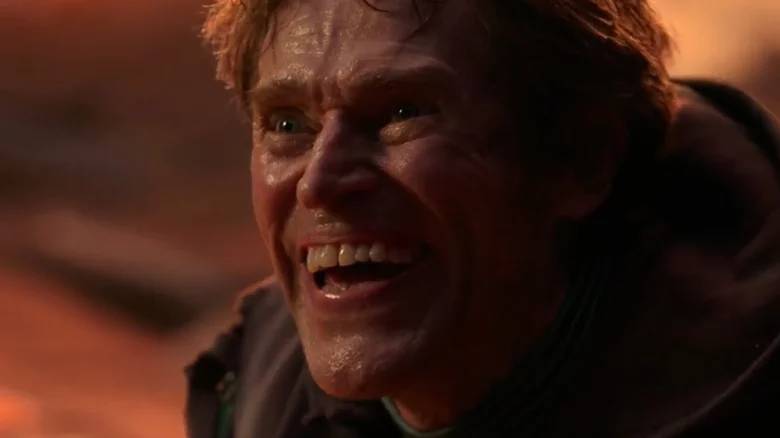 Here's Why Willem Dafoe's Green Goblin Deserves A Special Place In Supervillains History!
One of the most exciting and diverse casts of super villains in the world of comic books belongs to Spider-Man, and the Green Goblin is by far its deadliest member. The character was first revealed in "The Amazing Spider-Man" #14 and was created by Stan Lee and Steve Ditko. Originally created as a standalone antagonist, the character gained enough popularity to establish himself as a significant series regular. The Goblin would develop over time, eventually taking on the role of Spidey's worst adversary. The character's legacy has long since been established as the starting point for several significant events in the comics.
The Green Goblin's appearance in Sam Raimi's "Spider-Man" in 2002 gave him a further boost in fame. The glider-riding, pumpkin bomb aficionado was brought to life on the big screen by Willem Dafoe, and the actor received a lot of praise for reprising the part in "Spider-Man: No Way Home." The following information about Willem Dafoe's Green Goblin may surprise you.
Criticisms of the 2002 costume were reflected in No Way Home
Although the live-action Green Goblin suit was technically stunning, tragically, it wasn't well accepted by die-hard comic book fans. Fans of Spidey made fun of and criticised the outfit in particular and the Goblin's helmet in particular. Even well-known parody artist Weird Al Yankovic poked fun at the flawed design in his song "Ode to a Superhero" from 2003. Jokes about the design haven't changed in the 20 years since the original movie's debut. These criticisms ultimately led the "Spider-Man: No Way Home" creative team to make some significant modifications.
During the filming of "No Way Home," Dafoe acknowledged in an interview with The New York Times that the original design's detractors' complaints had been taken into consideration. As a result, after making his debut in the movie, Norman would defiantly shatter the helmet. Dafoe would be allowed to display his incredibly expressive face as the Goblin in a more comics-accurate costume for the remainder of the film. Dafoe undoubtedly increased the Green Goblin's sadistic threat by being able to portray the villain with his face completely exposed. It was a treat for many fans and commentators to see the character portrayed in a new and much darker light.
Dafoe did his own stunts

Willem Dafoe clearly doesn't take any roles he's given lightly based on his interviews and performances. The man frequently goes above and beyond what is typical for Hollywood actors. Whether faced with demanding physical tasks or possibility for backlash from the public, Dafoe never seems to be constrained by the circumstances. Examples of this include the extreme physical demands of "Platoon" and the controversy around religion in "The Last Temptation of Christ." But what matters most in this case is his desire to perform the stunt work required for the Green Goblin. During a 2002 interview with The Guardian, Dafoe talked about wanting to emphasise the physical side of the role. Dafoe appeared in the Goblin outfit for the majority of the 2002 movie, despite not being permitted to complete all of the stunts.
When asked to reprise his role as Green Goblin, the actor made the same choice. He was apparently given the opportunity to perform his own stunts once more when contemplating whether or not to return in "No Way Home." In an interview with GQ Magazine, Dafoe stated, "I create a lot of movies that are budget-constrained. Therefore, having all the technical tools at hand is nice.
Dafoe has deep respect for Sam Raimi as a director
Sam Raimi is a director and producer who works with great passion. Each of his films, especially his more unusual genre works like "The Evil Dead," depend on that enthusiasm. His passion for cinema has won him a place in the hearts of many of his performers, including Willem Dafoe. The man has never been hesitant to get his hands dirty or go the additional mile to guarantee that the end product is attained. Raimi "performed a magical thing" by fusing spectacle with human storytelling in the film, according to Dafoe in a GQ interview. Even when discussing movies that were shot years after "Spider-Man," Dafoe can't help but think back on his time wearing the Goblin outfit.
Dafoe mentioned his collaboration with Raimi and compared the director to James Wan when advertising his part in DC's "Aquaman." The actor told Collider that Sam Raimi's zeal "reminds me very much of [Wan's] enthusiasm." Given the beginnings of the two creators in the horror genre, that seems like a fair comparison. One of the most amazing things about "Spider-Man," according to Dafoe, was that it didn't feel like an industry production. It had the air of a private movie. It is quite evident that Dafoe still holds Raimi and his artistic vision in extremely high respect, more than a decade later.
Dafoe's Green Goblin had literary inspirations
Sam Raimi's work on the "Evil Dead" trilogy was his most well-known accomplishment before his three-movie "Spider-Man" run. It shouldn't be shocking that horror aspects have crept into his other movies given his reputation in the horror genre. This is clear from all of Spider-enemies' Man's origin stories involving mad scientists, especially the Green Goblin. The creation of the live-action Goblin would also heavily draw from a well-known literary horror classic. Dafoe recalled receiving a copy of "The Strange Case of Dr. Jekyll and Mr. Hyde" in a 2019 GQ interview.
The contrast between Norman Osborn and the Green Goblin would help lay the groundwork for that literary influence. Raimi made a great choice because Dafoe ended up having multiple moments in which Norman interacts with his evil alter ego. The sequences of Norman at war with himself nonetheless exude a sense of anxiety and dread, despite the delivery being undoubtedly over the top. Given the parallel mad-science components of the two stories, it is also a fitting homage. Having a director who knows what sources to take cues from is undoubtedly helpful when you want your villain to convey fear.
Dafoe really fought for the role

It's important to note right away how Willem Dafoe fought valiantly for the part of the Green Goblin. Keep in mind that this was in the early 2000s, when the popularity of comic book movies was just beginning to soar. Prior movies like "Blade" and "X-Men" were commercially and critically successful, which changed people's perceptions of comic books as being bad for the box office. Dafoe recognised the shift in the industry and seized the chance to return to larger studio productions. In a meeting with Sam [Raimi] and the studio, Dafoe declared, "I want to do this." Well, we've got a big list of folks in mind, the studio said. And I requested to be recorded. Dafoe ended up performing a screen test in his hotel room when the studio dispatched a casting director to Spain, where he was filming a different movie at the time (per Vanity Fair).
The actor has also mentioned how many of his contemporaries scoffed at his ambition for the part. The casting director and, subsequently, Sam Raimi were moved by Dafoe's obvious enthusiasm and desire for the part of the Goblin. As a result, Dafoe would be chosen for the part, and the rest is history.
Green Goblin's teeth represent his duality
This is a somewhat strange, easy-to-miss detail, but it clearly reveals a lot about the dual nature of the Green Goblin. The tension between the two aspects of Willem Dafoe's Norman Osborn was depicted on film in a variety of ways. This character was significantly influenced by "The Strange Case of Dr. Jekyll and Mr. Hyde." The most famous scene in which Dafoe plays both Osborn and the Goblin and essentially acts like himself best illustrates this. Norman is able to meet his freshly made alter ego in person thanks to a mirror and some cool camera shots.
One somewhat odd detail, involving Norman's teeth of all things, has been brought to the attention of several astute viewers. The Goblin possesses Dafoe's natural, less "perfect," grin, whereas regular Norman's teeth are more, well, normal — all thanks to some dental prostheses. This is evident when they are side by side. Dafoe's performances as Norman's opposing personalities feel even more distinct from one another thanks to this clever visual flourish.
Green Goblin was originally a co-villain
The first "Spider-Man" screenplay had numerous revisions before going into production in the early 2000s. That happens frequently because popular movies undergo a tidal wave of changes and adjustments. Remember that the idea for a live-action Spider-Man movie had been simmering away for a while. The undertaking had seen a number of residences and attached creators, with James Cameron even having a go at it (per Variety). David Koepp would revise the script once Sony took over the movie in the late 1990s.
According to Edward Gross in "Spiderman Confidential," Koepp's initial draught of the script was far closer to the finished result even though it kept some of the elements of Cameron's plot. However, one significant change in his initial draught was the addition of a second antagonist, Otto Octavius, better known by his stage as Doctor Octopus. The Green Goblin would eventually replace the other villain in this imagined double-dose of villainy. Sam Raimi's desire to highlight father-son issues between Norman Osborn and Peter Parker was the primary driver for the move. Doc Ock would soon get his chance to shine in the sequel, and Alfred Molena did it magnificently. It wouldn't be until "No Way Home" in 2021 that Green Goblin and Doc Ock would finally appear together on film.
Other actors were considered for Green Goblin
When it comes to the casting choices for significant movies, it's always interesting to hear about the alternatives. Who else was in the running to don the Green Goblin's helmet prior to Willem Dafoe getting it for himself? The role of the Green Goblin was a particularly competitive one. As it turned out, a number of well-known actors were vying to portray Spidey's most well-known foe in a live-action movie.
John Malkovich revealed to Empire Online that he was once considered for the part but turned it down due to financial concerns and a dislike of the genre (via IGN). Future Ghost Rider Nicolas Cage was another candidate (per EW). Additionally, Jason Issacs, who is most known for playing Lucius Malfoy in the "Harry Potter" films, was a candidate for the role. In a conversation with Den of Geek, Isaacs recalled his audition with Raimi and said that, despite the director's enthusiasm, he had the impression that he was "too young" at the time. It's tough to fathom anyone other than Dafoe in the role, even though all of these other actors are incredibly brilliant and would have undoubtedly delivered noteworthy performances. This is especially true given how iconic his interpretation of the character has become.
The original Green Goblin design was much different
The Green Goblin's live-action suit is certainly eye-catching, whether you like it or not. Gobby's on-screen attire, though, was originally intended to look very different from what we saw. The Green Goblin's appearance was initially far more in accordance with his comic book counterpart early on in the film's production. The first appearance was more visually complex than the final design, which included a high-tech flight suit and helmet, according to The Hollywood Reporter. A collection of behind-the-scenes videos from the special effects studio Amalgamated Dynamics have preserved that previous design.
The design is revealed to have had a very expressive face and piercing yellow eyes through these old films. The mask would also have featured a variant of the Goblin's lavish purple cap and his distinctively huge ears. Even though the original appearance was mechanically remarkable, it ultimately proved to be too hard and burdensome for any possible actor to employ throughout a play. As a result, the final design would be (relatively) less complicated and would replace the more comic-accurate design. Even yet, it's intriguing to consider how the film would have turned out differently if the original appearance had been used.
Being a binge-watcher himself, finding Content to write about comes naturally to Divesh. From Anime to Trending Netflix Series and Celebrity News, he covers every detail and always find the right sources for his research.