An intriguing spin-off of TLC's "90 Day Fiance," "90 Day Fiance: The Other Way," follows US residents who become engaged to foreign nationals and decide to move to their home country to begin a life together. However, the majority of cross-border relationships are hampered by cultural differences, which frequently stand in the way of happiness. While maintaining the hope for a future filled with love, the show shows how each couple resolves the problems in their own unique way.
Although they were initially introduced on season 2 of "90 Day Fiance: Love in Paradise," Daniele Gates is a native of the United States, and her husband Yohan Geronimo is from the Dominican Republic. The fourth season of "90 Day Fiance: The Other Way" chronicles their journey after being married and even depicts the challenges they must overcome. Let's find out if Daniele and Yohan are still together now that the cameras have been turned away.
Daniele and Yohan's 90 Day Fiance: The Other Way Journey
Yohan and Daniele met in a hotel lobby when Daniele was on vacation in the Dominican Republic. Interestingly, the American woman knew Yohan was the man she wanted to spend the rest of her life with the instant she laid eyes on him. Daniele's beauty captivated Yohan as well, and the two were able to bond quickly. The pair, despite their love for one another, had to overcome several challenges, including a linguistic barrier that was particularly challenging. Daniele and Yohan also struggled with where to settle down following their marriage.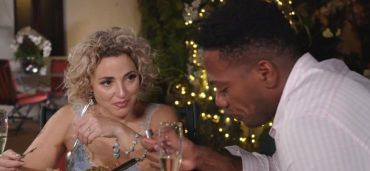 Daniele wanted to go to the Dominican Republic for some peace and quiet as she had spent the majority of her life in New York City. However, her then-fiancé never stopped daydreaming about relocating to America since he thought it would give him more prospects for employment and financial success. Interestingly, this ambivalence persisted right up until the wedding, and the couple even had a major argument in the days prior to the nuptials that resulted in them sleeping in separ ate rooms for the first time. But before getting married in November 2021, Daniele and Yohan buried their old disagreements since they were determined to make things work.
After being married, the two made their home in the Dominican Republic, but Daniele quickly discovered that Yohan didn't have a job of his own. He did operate a tiny butcher shop, but a closer look revealed that it was losing money and would not last for very long. Yohan's inability to pay his portion of the flat rent caused the two to run into another problem shortly after. Yohan's home Dominican Republic did not agree with Daniele's choice to pay the rent in exchange for Yohan's best efforts to find employment, and the two started disputing about the type of flat they should buy.
Daniele, on the other hand, manifested some dominance in the relationship and favoured doing things her way. She therefore delayed telling Yohan about her plans to see her ex-boyfriend Talin until the previous evening. Yohan was naturally upset in Daniele's choice and was baffled as to why she would ever wish to see her ex. He also seemed to be pretty irritable while meeting Talin, which made Daniele feel very uncomfortable.
Daniele later revealed that she saw Talin as a friend and had no plans to rekindle their romantic relationship. Yohan acknowledged her integrity and honesty, but he thought she ought to have given his desires a bit more weight. Daniele, a native of the US, was extremely upset by this and took the decision to end the relationship while adamantly stating that she would never alter her personality for her lover.
Are Daniele Gates and Yohan Geronimo Still Together?
We are glad to report that Yohan Geronimo and Daniele Gates are currently dating. Although the couple had many challenges and had to negotiate turbulent waters while filming the show, they have since put their problems behind them and are constructing a lovely future together. In addition to frequently appearing on one another's social media pages, Daniele and Yohan enjoy taking time out of their hectic schedules to spend quality time together.
View this post on Instagram
Daniele actually shared a touching Instagram post about their marriage in February, saying, "I learnt that marriage patience is different from teacher patience. If you lack patience, you risk losing your relationship or your work in both situations. This year, I was able to keep both, which truly feels like a victory. Additionally, it appears that the pair is presently residing in the Dominican Republic, and we wish them all the best in their future.
Our Team DCS includes 5 different writers proficient in English and research based Content Writing. We allow them and encourage them to follow the Entertainment news all day long. Our posts, listicles and even the exclusives are a result of their hard work.