One of the main characters in the 'Through the Window' movie series is Ares Hidalgo, who is portrayed by Julio Pea. Ares and his siblings are descended from the Hidalgo family, who control one of Spain's most significant businesses. Ares deliberately disrupts his family's Wi-Fi in the first movie so he would have a justification for talking to his neighbour Raquel (Clara Galle). He finds that she is obsessed with him after breaking into her computer and Wi-Fi. Despite all obstacles, they start dating and eventually become a couple in the film, even though Ares relocates to Stockholm to pursue his studies in medicine. Raquel and Ares are involved in a distant relationship in the follow-up, "Through My Window: Across the Sea." We can answer your question on whether Ares passes away at the movie's conclusion. Spoilers follow.
Does Ares Die?
At the conclusion of "Through My Window: Across the Sea," Ares does not pass away. Ares, who is having trouble with his academics and is lonely and homesick, comes to Barcelona to see his fiancée so they may go to the San Juan festival. They then proceed to the Hidalgo family estate in Port d'Esclanyà where they find Ares' older brother Artemis and his covert lover Claudia already present. Soon, Raquel's pals Yoshi and Daniela as well as Ares' younger brother Apolo arrive.
The attention that Ares and Raquel's relationship attracts from the outside world complicates their lives. Yoshi has been deeply in love with Raquel for a very long time, but he has never had the guts to confess his feelings to her. Despite the fact that Anna, another female, is now interested in him, he still holds onto those feelings. Daniela frequently advises Raquel to talk to Ares about having an open relationship because she seems to enjoy turbulence. Gregory and Vera are the next two. Vera and Ares both study medicine in Stockholm, and despite Ares' insistence that they are only friends, Vera is obviously attracted to him. Raquel and Gregory, Anna's older brother, are classmates. His previous girlfriend left him for Ares in the past, and Ares promptly dumped her. It appears that Gregory harbours resentment towards the other boy. When he finds out that Raquel and Ares are dating, he is very irritated.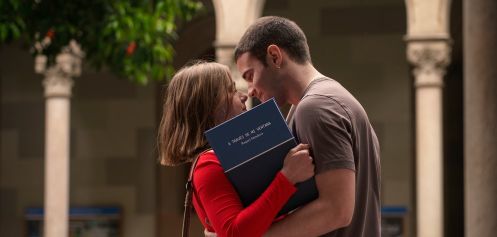 Vera and her siblings join the gathering as soon as they board the family yacht. Raquel brings up the picture while playing spin the bottle when Daniela finds a picture of Vera wearing one of Ares' shirts and emails it to her. Ares sincerely states that he can't recall. He was completely inebriated when it happened, and Vera later admits that only his shirt was placed on. However, Ares and Raquel become estranged as a result. She attends the San Juan festival with her pals while Ares stays at home. He declines Vera's invitation to go swimming with her even if she is also present. He accuses her of lying once she admits what really happened that night, but she counters that the others would never have known if he hadn't appeared so guilty throughout the game.
Ares sees Yoshi tumbling off a precipice and interrupts their talk. He gets a jet ski and heads straight for the scene. He makes an effort to help the other boy, but eventually fails. Raquel and Ares get into a heated argument at the burial, during which she accuses him of being distant and demands to know why he was unable to help her friend. He responds by blaming their relationship and asserting that he could have saved Yoshi if he hadn't spent the entire year buried in his phone. Raquel describes their relationship as transient and a mistake during her eulogy, which causes Ares to go back to Stockholm.
Our Team DCS includes 5 different writers proficient in English and research based Content Writing. We allow them and encourage them to follow the Entertainment news all day long. Our posts, listicles and even the exclusives are a result of their hard work.