In November 2015, when police in Austin, Texas, responded to a report of a suspected homicide at a residence in the 7500 block of Northcrest Boulevard, they discovered Catherine Dyer unconscious in the bedroom. The police pronounced her dead quickly, and a preliminary inspection revealed that her head was entirely covered with blood. 'In Pursuit With John Walsh: In Cold Blood' on Investigation Discovery details Catherine's slaying and demonstrates how the murderer called the police right away after the crime. We have information for you if you are curious about the case and want to know where Catherine's killer is right now.
How Did Catherine Dyer Die?
Catherine Dyer, a native of Austin, Texas, was just 31 years old when she was killed. People who knew her complimented her generosity and said that if it helped someone in need, she would even donate the shirt from her back. Always there to provide a helping hand and never one to turn away a person in need, Catherine was trustworthy for her friends and family. Catherine began dating Kevin Michael "Mike" Waguespack, who she knew from her high school days, a few years before she was murdered.
Although Mike and Catherine attended different universities, they both worked at the same movie theatre and eventually decided to get back in touch. Catherine also worked as a coder and had a great love of animals. On November 16, 2015, a handful of Katherine's neighbours alleged that they overheard a heated argument between Katherine and her boyfriend, Mike. While Mike told Katherine to be quiet, they mentioned that they heard quite a few objects shattering. The neighbours naturally feared for the safety of the 31-year-old after such an encounter.
A neighbour went over to Katherine's house to see how she was doing once things seemed to calm down. The horrifying scene that awaited the neighbours as they discovered Katherine unconscious in her bedroom with a bloody head, however, caught them off guard. She was instantly pronounced dead by first responders after calling the police. Although the police never mentioned if Katherine was shot before she died, an autopsy revealed afterwards that she had died from blunt force injuries.
Who Killed Catherine Dyer?
The cops quickly made their first significant discovery, which came as a complete surprise. On November 17, 2015, at around 2:00 am, while detectives were still examining the crime scene and speaking with nearby residents, a caller posing as Mike Waguespack called the police. Mike apparently admitted to killing Catherine over the phone and professed regret for his deeds. However, the line disconnected before the cops could track the call.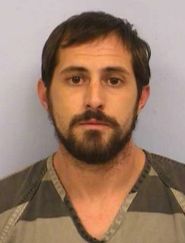 The same night, Mike reportedly called another of his buddies and informed him that he had made a terrible mistake and would likely spend a significant amount of time in prison. The police didn't waste any time in making a list of Mike's friends and interviewing each one separately. They even thoroughly searched the crime site in an effort to identify Mike's possible hiding places.
The Austin police Intelligence Unit and the Lone Star Fugitive Task Force eventually became engaged in the case and learned that Mike had fled to Natchez, Mississippi, where he had his family's home. Police arrived at Mississippi right away, and after a brief but stressful standoff, Mike surrendered and consented to accompany them to Austin. Then, Mike's relatives surrendered a gun to the police, saying they had taken it away from him when he arrived.
Where Is Mike Waguespack Now?
If the gun Mike's family gave the police was used in Catherine's murder has never been proven. Nevertheless, the authorities detained the suspect before accusing him of Catherine's murder because they had Mike's direct confession and enough proof for a jury trial. After that, Mike was detained in the Travis County Jail on a $250,000 bond. When Mike posted his $250,000 bail, he was released from prison in June 2016.
He additionally always had an ankle monitor attached because he was still awaiting his trial. In spite of this, Mike continued to complain about the ankle monitor until, in April 2017, Judge Tamara Needles decided that Mike did not pose a flight danger and released him from his need to wear one. Everyone was confused by this decision, yet Mike appeared to respect the law and even showed up for his preliminary sessions up to October 19, 2017. Prior to the trial, Mike had one more pretrial hearing on October 23, but he did not appear.
When authorities arrived at Mike's registered address right away, he was nowhere to be located. Regrettably, Mike has managed to elude authorities ever then and hasn't been apprehended. Anyone with information is urged to contact the authorities as there is a current nationwide search underway for him. Although the situation might appear dire at first, the police are certain that they will find Mike and return him to court.
Our Team DCS includes 5 different writers proficient in English and research based Content Writing. We allow them and encourage them to follow the Entertainment news all day long. Our posts, listicles and even the exclusives are a result of their hard work.