YouTube has evolved into the platform where creators Carmen Pritchett and Corey Pritchett Jr. may flourish and thrive while also establishing the road for entertainment, content, romance, and drama. The duo started their journey in 2016, and they currently have more than four million subscribers on their account. While Corey and Carmen have become household names thanks to prank videos, Q&As, and vlogs, their followers have a closer bond with them thanks to their willingness to be openly vulnerable. But recent reports of adultery have led many to believe that the couple is no longer together. Therefore, if you have the same questions, look no further since we have all the answers right here!
Corey and Carmen's YouTube Journey
Corey wasn't looking to dive headfirst into anything substantial; he was just out of a relationship. However, he took the risk and started the communication with Carmen in 2016 after a buddy dared him to do so on Facebook. The two kept getting closer to one another after that. At the age of 18, Carmen and Corey were both working on various projects and had just graduated from high school. Carmen was at the time working at a car factory, while Corey was composing music. After only a few months of dating, Carmen and Corey launched their own YouTube channel, Carmen and Corey.
Their prank films initially made their channel popular. From then, Carmen and Corey explored various types of content. The team has produced numerous videos on their account over the years and has recreated a variety of challenges and vlogs. Through their shared channel, Corey's music has also gotten some momentum. The couple's first child, C.J., was born to them in October 2018. The couple decided they wanted to move things along as their relationship and their lifestyle videos developed. Carmen and Corey got married in 2020, and they even wanted a grand party with all of their loved ones.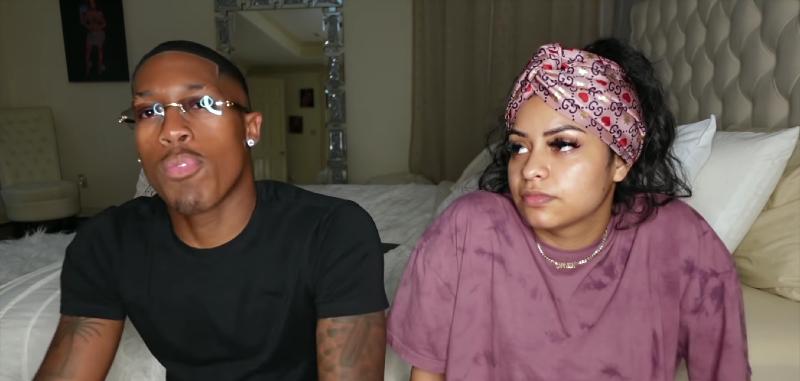 Carmen, however, fell pregnant in 2021, not long after their wedding, but unhappily miscarried their child. Despite the loss she experienced, Carmen managed to gather herself, and a few months later the couple had another child. Carmen and Corey welcomed Cayden, their second son, in March 2022. Carmen and Corey's family and work both advanced steadily, although there was conflict along the way.
Carmen has discovered Corey cheating on her more than time since 2020. When Carmen read Corey's text scripts in 2020, the problem first surfaced. In the years that followed, similar problems have surfaced; these are also documented on YouTube. Naturally, a lot of people have begun to believe that Carmen and Corey are no longer together as a result of these cumulative events.
Are Corey and Carmen Still Together?
No, Corey and Carmen are not still dating. Although the YouTube stars have survived earlier adultery scandals and other ups and downs, it appears that the line has been drawn. Carmen and Corey sit in front of the cameras in a recent video on the channel titled "She CHEATED…. I'm done!" and discuss the resentment that has festered over the years. Carmen had apparently also taken a shot and chose to text someone while the two unwillingly communicated the deep end of the situation.
View this post on Instagram
In retribution, Corey has made the decision to end the marriage, and Carmen appears to completely agree with him in this decision. Another recent video posted on the channel shows Corey being discovered in a Miami hot tub with two women. As a result, their relationship's problems are beyond repair. Carmen has admittedly said that their children are the only good things to have resulted from their marriage. Not only that, but the couple has also opted to sit in front of the cameras to reveal the news to their YouTube audience after taking off their wedding bands.
View this post on Instagram
Even though their breakup has been officially announced, the couple is still keeping the details of their separation a secret. As a result, it is still unknown if Carmen and Corey have filed for divorce. But things become even more complex when their kids are involved. However, we continue to wish that they will be able to achieve their goals amicably and that the hostility that has caused a rift will not last for too long. We also hope that they keep setting new professional and personal records.
Being a binge-watcher himself, finding Content to write about comes naturally to Divesh. From Anime to Trending Netflix Series and Celebrity News, he covers every detail and always find the right sources for his research.