'See No Evil: Prison Break' on Investigation Discovery depicts the sexual assault and murder of Debra Johnson in her Henning, Tennessee, home in August 2019. Debra Johnson was a prison administrator for the Tennessee Department of Corrections. With the assistance of vigilant citizens, the police were able to capture the perpetrator of the horrific act in less than five days. Here is what we know about the case if you're interested in learning more, including the identity and whereabouts of the offender.
How Did Debra Johnson Die?
On December 10, 1954, Debra Kay (Porter) Johnson was born in one of the many Mount Pleasant settlements in Maury County, Tennessee, to Annie L (Frierson) Porter and the late Hazel Fleming Porter. She had been a longtime member of the 15th Avenue Baptist Church and had graduated from Tennessee State University. The 64-year-old had been employed by the Tennessee Department of Corrections for approximately 40 years as of August 2019. She was praised, liked, and loved by her friends and family, they said.
Herman Patton, one of Debra's friends and a fellow usher at their church, described her as "such a wonderful lady, class act, good friend, and faithful servant of God." God has his angel back, and we do love her. However ungrateful we may be, we're going to miss her dearly. There will be both happy and sad tears shed. Debra advanced from being a correctional officer to a warden to one of the top managers in the Tennessee Department of Correction throughout the course of her long and illustrious career.
Tony Parker, the former commissioner, remarked that Debra enjoyed working for the Tennessee Department of Correction. But more importantly, she cared a lot about making a difference in the lives of those who were incarcerated and liked the staff. She was recognised as a knowledgeable professional who put in a lot of effort to help and coach offenders in their rehabilitation, earning the affection and respect of her peers. Therefore, it came as a shock when she was murdered in August 2019 at her residence inside the West Tennessee State Penitentiary (WTSP) grounds.
Prison sources state that Debra's coworkers were worried when the dependable and punctual Western District administrator failed to arrive at work as usual on August 7, 2019. Around 11:30 AM, a few coworkers went to her state-owned residence at 10876 Highway 87 West in Henning and discovered she had passed away. Emergency personnel discovered ligature marks and a cable wrapped around the victim's neck. Ultimately, it was confirmed by the autopsy report that Debra had been strangled. The 64-year-old victim had been sexually assaulted, the medical examiner noted.
Who Killed Debra Johnson?
It didn't take the investigators very long to find the person who had brutally murdered and sexually assaulted Debra. On August 7, 2019, around 7:00 AM, WTSP inmate Curtis Ray Watson was let out of his cell to go on a work detail for his daily mowing responsibilities. Being a trustee at the prison gave him access to tools like a tractor and a golf cart. While working on the prison grounds, trustees are required to wear reflective vests. The police discovered Debra was alive and spoke on her cell phone at 8:10 AM thanks to her phone records.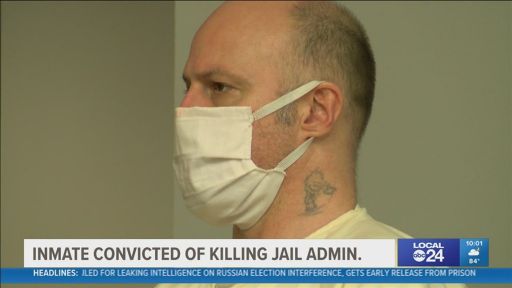 At 8:30 AM, according to correctional officers, Curtis arrived at Debra's home in a golf cart. Between 9:00 and 10:00 AM, he left with a tractor and a luminous vest. Around 10:30 AM, the authorities noticed Curtis was missing. He had requested the reflective vest from a fellow prisoner. According to a court affidavit, Debra's coworkers discovered her body inside her home about 30 minutes later. Inside her home, the investigators also found a reflective vest.
Curtis had escaped after killing and sexually assaulting a jail administrator, the alert officials realised when they discovered the missing prison tractor and Curtis' prison ID card about 2.1 miles from the prison. Reports state that a patient at the emergency room said she had been attacked on July 25, 2012. When the medical staff discovered she had been raped repeatedly throughout the day and hit in the head with a bat, they called the police. When she refused to have sex with Curtis, the officers discovered that she had been choked and hit in the forehead.
When the police went to Curtis' house, he claimed they had consensual intercourse. During the police questioning, he allegedly refused to "confess to anything" and claimed the victim had fallen in the shower. Even though Curtis claimed he offered to take her to the hospital, she turned him down. He was swiftly apprehended and ultimately found guilty of particularly severe kidnapping. Following the negotiation of a plea agreement, Curtis received a 15-year prison term in 2013. He has also previously been found guilty of abusing children.
Curtis was being kept in the minimum security section of the West Tennessee State Prison despite the brutal nature of his crime. He was also a trustee, which gave him access to unique benefits as a respected prisoner with a record of good behaviour. After five days on the run, he was apprehended near Henning, Tennessee, early on August 11th. The government offered a reward of $57,000 for information that would result in his capture. According to police records, Harvey and Ann Taylor witnessed Curtis' photos being taken at roughly 3:30 AM on their exterior camera system.
Where is Curtis Ray Watson Now?
The Taylors promptly alerted the authorities, and within 30 minutes, hundreds of law enforcement officers had arrived at the area, which was roughly 10 miles from the prison. The homeowner claimed that Curtis stole numerous water bottles while on the run as he was accessing a refrigerator in an outdoor dwelling. Around 11:00 AM, without incident, he was apprehended. Curtis stated he was going to his mother's grave and had no malicious intent during a later prison interview.
Several charges, including first-degree premeditated murder, first-degree murder-felony murder burglary, first-degree murder-felony murder rape, and particularly aggravated burglary-rape, were reportedly among the 15 that Curtis was facing. His presence at the crime site was established by many DNA samples taken from Debra's house. In June 2021, Curtis entered pleas of guilty to nine of the fifteen offences, including aggravated rape, aggravated burglary, felony escape, theft over $10,000, burglary, and aggravated criminal trespassing.
Even though the prosecution initially sought the death penalty, Curtis was ultimately given a life sentence without the possibility of parole along with a consecutive 25 years at 100% for the charge of aggravated rape. He expressed regret to the Johnson family, the state of Tennessee, and all the staff members in the West Tennessee State Penitentiary, and he gave up his right to appeal in the future. Dr. Shernaye Johnson, Debra's daughter, sued the Tennessee Department of Correction on grounds of systemic failures and incompetence that contributed to her mother's passing in August 2021. Nevertheless, the case was ultimately dropped. Curtis, 47, is currently a prisoner at the Morgan County Correctional Complex.
Our Team DCS includes 5 different writers proficient in English and research based Content Writing. We allow them and encourage them to follow the Entertainment news all day long. Our posts, listicles and even the exclusives are a result of their hard work.