Pop culture baby names are nothing new, but there are always a dozen young children with excruciatingly specific referential names like Khaleesi or Sansa for every family of siblings with comparatively common names like Luke and Leia. The popularity of fandom-inspired baby names like Bella, Edward, and Hermione skyrocketed in the late 2000s, but it now appears that Disney-owned characters are the go-to sources of inspiration for new parents.
According to a recent survey by OrganicBabyFormula.com (via Comic Book), a Marvel-inspired baby name that is becoming more and more popular isn't the name of a hero like Stark, Parker, or even Banner; rather, it's the name of the guy who is accountable for wiping out half the universe. That's right, more and more parents are naming their children "Thanos" in honour of the most evil supervillain in the Marvel Cinematic Universe.
Thanos is currently the ninth-most popular baby name derived from Disney-owned characters, which is absurdly high for a name that instantly conjures up negative emotions. Sadly, the name no longer evokes the strong, historical connotations of its genesis and is instead immediately connected with the largest bully in the cosmos. Thanos is an abbreviated form of the Greek name "Athanasios," which translates to "immortal." Can you see your kid coming home from school and telling you that Thanos, a punk youngster, tried to steal their lunch money?
Millennial parents love the Star-Lord
The analysis found the top 30 Disney-owned names, which include both unusual names like Valkyrie, Kylo, Anakin, and Loki as well as timeless famous names rooted in culture and history like Jasmine, Finn, Flynn, Ariel, Wanda, Tiana, Sebastian, Kristoff, Belle, and Elsa. Fair enough, many Marvel names have Norse or Greek mythological roots and were popular long before the MCU, but it's still incredible to believe that Thanos, of all names, managed to crack the top 10.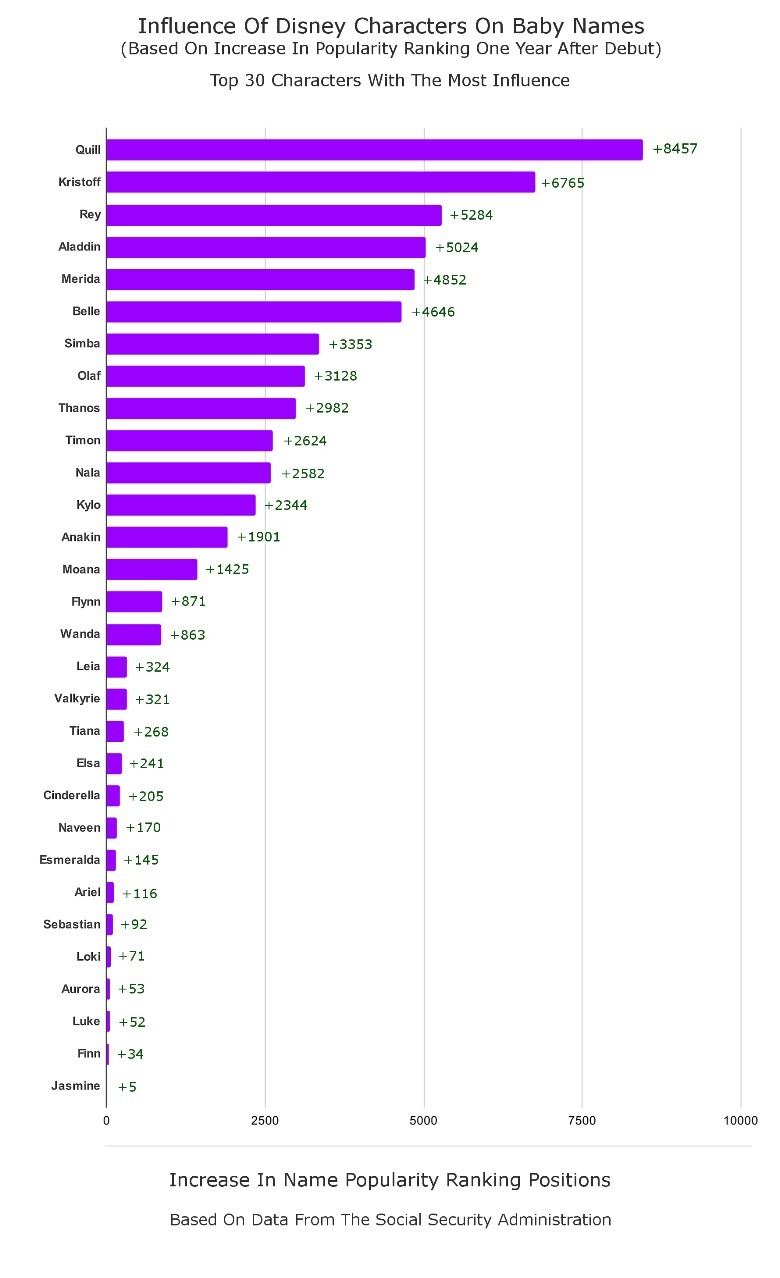 The character Quill from the "Guardians of the Galaxy" films, played by Chris Pratt, had the most popular last name on the list. This one wasn't a surprise because professional wrestlers Johnny Gargano and Candice LeRae recently gave their own child the same name in honour of the Star-Lord, and other new parents who were thrilled that their children had the same name commented on their announcement. Even though it may seem strange, calling a child Quill makes sense because you are honouring a beloved hero. On the other hand, Thanos seems to be setting a young person up for a self-fulfilling prophesy.
We all know what happens when Thanos gets angry at the universe, so I sincerely hope that no babies named Thanos in the world end up being like this girl named after a "Harry Potter" figure who grew up detesting the series despite her parents' enthusiasm with the fandom.
Being a binge-watcher himself, finding Content to write about comes naturally to Divesh. From Anime to Trending Netflix Series and Celebrity News, he covers every detail and always find the right sources for his research.