Douglas Strickland, played by Adam Rayner, is one of the main villains in the third season of "Warrior." He is a cunning railway tycoon who will stop at nothing to see his plans through. He was a close friend of Nellie's late husband and at first the two get along well, but as the season goes on, things go sour. He is given the job to construct a railway up the California coast, and he drives Nellie off her land by setting fire to her vineyard and murdering several of the females who lived there. He befriends Leary to help a candidate of his choosing win the San Francisco mayoral election, but after refusing to use Irish labour, he earns the other man's hatred. We've got you covered if the events of the "Warrior" season 3 finale have you wondering if Strickland is indeed gone. Spoilers follow.
Is Douglas Strickland Dead?
Yes, Strickland has passed away in "Warrior's" third season. Strickland contacts Nellie early in the season and requests that she sell him the vineyard. She will be compensated in this manner, he says, but the government will obtain her land for the railway. Strickland returns later and makes an unsuccessful attempt to blackmail Nellie for her relationship with Ah Toy and provide a home for other Chinese women when Nellie rejects him. When that doesn't succeed as well, Strickland orders his men to burn the vineyard down, which results in the deaths of several of the ladies who reside there.
Leary is dispatched to threaten Strickland by his adversary Leonard Pierce, but Strickland persuades him to change sides by promising authority and better treatment for the people Leary represents. Leary follows the other man as he meets with the mayoral contenders under Strickland's guidance, learning how to conduct himself in San Francisco's high society. Strickland chooses Buckley, the current mayor, despite having critical information on Franklin Thayar, the challenger, because the latter is more dishonest and susceptible to manipulation.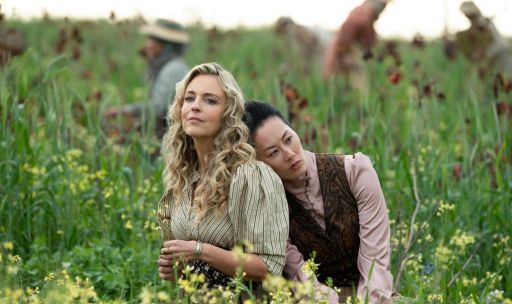 However, Strickland declines to hire Irish people after utilising Leary and his clout among the Irish populace as political currency since, in the end, he is a capitalist and will always seek out cheaper labour, which he finds in the Chinese workforce. Leary gets enraged by this and destroys a bridge that Strickland constructed. Strickland beats all of the soldiers to death when he orders them to kill Leary.
One of the girls who once resided at the vineyard, Lai, makes the decision to exact revenge on Strickland. The man who carried out Strickland's order to burn the vineyard is even killed after she infiltrates his home. Strickland, though, is a skilled sabre user and a veteran of the American Civil War. Nellie and Ah Toy promise they will pursue justice after he kills Lai and leaves her body at Nellie's door.
Ah Toy kills Strickland after easily defeating him with the dao during Nellie and Ah Toy's house invasion. Along with Bill, who is attempting to stop him, Leary has also arrived there wanting retribution. Nellie shoots at the men when they approach the women before escaping the situation with Ah Toy. Leary and Bill discover Strickland's body, and Leary chooses to dispose of it because he knows the police will come after him for it. Bill suggests the incinerator at the cement firm he works at, but he is hesitant. The men are curious about the consequences after the job is finished. There will be investigations into abrupt disappearances like Strickland's.
Did Adam Rayner Leave Warrior?
It is safe to infer that Rayner has departed "Warrior" now that his character is dead. English actor Raynar is well known for playing Tom/Fantasy. The actors Dominic Montgomery in "Mistresses," David in "Love and Other Disasters," and In "Hawthorne," Dr. Steve Shaw; in "Hunted," Aidan Marsh; Miller in "Tracers," Bassam "Barry" Al-Fayeed in "Tyrant," and Tal-Rho in "Superman & Lois," and Matthew Collier in "The Fix." Rayner holds dual US and UK citizenship. He has two kids with actress Lucy Brown, with whom he is married.
Our Team DCS includes 5 different writers proficient in English and research based Content Writing. We allow them and encourage them to follow the Entertainment news all day long. Our posts, listicles and even the exclusives are a result of their hard work.