Any kind of radio, television, or stage programme in which participants compete individually or in teams to win prizes such as cash, paid trips, or products and services from the program's sponsors is referred to as a game show. Games may involve answering questions or completing riddles. Spelling Bees and quiz shows were the first to popularise the game show genre, which first appeared on radio and television in the late 1930s. The first game show to appear on commercially licenced television was "Truth or Consequences," which was quickly followed by "CBS Television Quiz."
The game show's model has undergone continuous development over the past 40 years, including numerous new elements. These days, game shows cover a wide range of topics, from cook-off competitions to survival series. With its vast online collection of films and TV shows available for streaming, Netflix, an American media streaming behemoth, has almost reinvented the television medium. Having said that, the following is a collection of excellent game shows that are now streaming on Netflix:
Alone (2015 -)
In the immersive survival competition series "Alone," ten people's daily struggles to survive in the woods with the least amount of survival kit are chronicled. With the exception of medical check-ins, these competitors are cut off from all human contact and compete to outlast one another in order to survive. They can be withdrawn owing to medical concerns, or they can choose to "tap out" at any time. "Alone" is a true test of human resilience and wilderness prowess, with the top prize of $500,000 (USD) up for grabs for the participant who endures the longest.
Awake: The Million Dollar Game (2019)
Rich Kim is the director of the game show "Awake: The Million Dollar Game," which is hosted by James Davis on television. The show seeks people who are prepared to take on the difficult challenge of going without sleep for a full day in order to be eligible to win $1 million. Unfortunately, individuals have a difficult journey to financial independence because the true struggle begins when they are exhausted. They are then required to overcome a number of mentally and physically taxing tasks that test their mettle. Even while they might appear simple to the audience, adding the stress of insomnia makes even the most basic chore much more difficult than it has to be.
Blown Away (2019 -)
The fascinating world of glassblowing is brought to life for fans of the thrilling reality TV programme "Blown Away." The concept centres on intense competition amongst talented glassblowers, pushing them to produce elaborate artwork and jaw-dropping glass masterpieces. Participants encounter difficult obstacles throughout the series, stretching their technical and creative limits. They use molten glass as their medium to create elaborate installations, sculptures, and designs that eventually display their skill and enthusiasm for this captivating art form. For fans of reality TV and art enthusiasts alike, the show is a must-watch because of its unique blend of creativity, craftsmanship, and competition.
Busted! (2018-)

Produced in collaboration with SangSang, a Korean production studio known for shows including "X-Man," "Running Man," and "Family Outing," "Busted!" is a Netflix Original variety show. The show, which is the first Netflix original series with an all-Korean cast, centres on seven celebrity investigators who learn they are a part of Project D, an operation that involves implanting a chip with the DNA of well-known detectives from history.
Under the direction of South Korean actor Ahn Nae-sang, who goes by "K" in the show, the competitors are hired to work as private investigators, and each episode presents a fresh case to them. The seven competitors attempt to solve the enigma of Project D's origins at the same time. Every episode includes celebrity guests, many of whom portray figures bearing their namesakes who are either directly or indirectly connected to the murder investigation.
Flinch (2019 – 2023)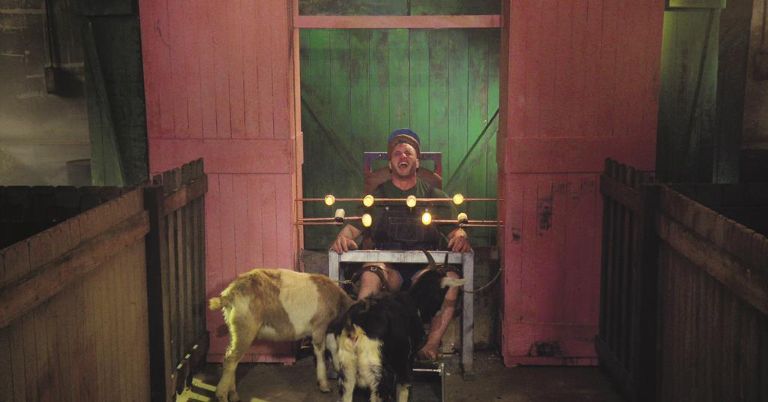 The show, which is hosted by comedians Desiree Burch, Lloyd Griffith, and Seann Walsh, urges courageous participants to confront their worst fears while remaining composed. Participants are put through a series of humorous and dangerous exploits in this isolated countryside setting, which tests their resolve and nerves. The drawback? There are repercussions if they respond, flinch, or experience an increase in pulse rate. In order to earn the cash prize, players must overcome a plethora of unexpected difficulties, such as being drenched in frigid water and facing shocking surprises. With hilarious moments interspersed with heart-pounding action, "Flinch" delivers a special mix of pleasure and terror.
Floor Is Lava (2020)
The reality television game show "Floor Is Lava," which was created by Megan McGrath and Irad Eyal, is based on the same-named kid's game. Rutledge Wood hosts the show, which centres on a group of competitors trying to survive a challenging obstacle course that's packed with bright red goop that could pass for molten lava. The competitors who give it their all and make it to the end will face off in a final match. In addition to a trophy representing their accomplishment—a lava lamp—the winners might win $10,000 US.
Forged in Fire (2015 -)
Gun lovers and collectors are passionate about adding one-of-a-kind pieces to their collections, but some choose to go the DIY route and make the weapons they like. "Forged In Fire," which is helmed by Alfonso Trinidad and Michael Pearlman, has won praise for the participants' remarkable skills in carrying out the difficult tasks given by the hosts. These jobs entail making blades, which are painstakingly evaluated for quality through demanding testing, such as slicing through a chosen subject to determine lethality and evaluating their general durability. The competition's eventual winner receives a large prize of $10,000 in addition to the title of "Forged in Fire Champion," highlighting the show's appreciation of expertise and artistry in the field of weapon forging.
Is It Cake? (2022-)
The delightful Mikey Day hosts the engrossing game show-style cooking competition series "Is It Cake?," which was created by Dan Cutforth and Jane Lipsitz. In this unusual cake-baking competition, skilled competitors create cakes that are painstakingly crafted to mimic commonplace items with the goal of tricking a group of well-known judges. Each episode's winner receives $5,000 in addition to an alluring challenge: separating real money from cake money in order to increase their winnings. The show is based on the popular internet meme and offers a delicious combination of cash, candy, and creativity.
Nailed It! (2018-)
A charming reality TV programme called "Nailed It!" has gained a lot of popularity on Netflix. The idea is that novice bakers try to replicate elaborate cake decorations and candies masterpieces. The show, which is hosted by the charming Nicole Byer and famous pastry chef Jacques Torres, celebrates the funny side of baking accidents. Participants, many of whom are not great bakers, take on difficult tasks in an attempt to take home the coveted "Nailed It!" trophy and a monetary award. The surprise is in the hilarious and usually disastrous outcomes, where moments of hilarity are experienced since the contestants' creations typically fall short of the original concepts.
School of Chocolate (2021 -)
Leading the Netflix reality competition series "School of Chocolate" is the famous pastry chef, chocolatier, and artist Amaury Guichon, who is French-Swiss. Eight talented competitors compete in a variety of creative culinary tasks in this delicious competition, displaying their skills by creating elaborate chocolate sculptures. Their ultimate objective is to win the prestigious title of "best in class" and a sizeable $50,000 cash award. The show explores the realm of chocolate craftsmanship under the direction of Amaury Guichon, fusing passion, accuracy, and inventiveness in a mouthwatering competition for culinary dominance.
Sing On! (2020)
"Sing On!" is a streaming television series of reality game shows with popular singer Tituss Burgess. The competition format of the show involves groups of candidates performing five songs, each of which carries a separate individual and team score. The team's performance determines how much money they have a chance to earn, but the point system is used to determine who gets eliminated individually. The competitors that make it to the latter rounds of the competition compete against each other in several singing challenges where the winner has the opportunity to win thousands of dollars for their performance.
Supermarket Sweep (1965-2022)
Popular reality show "Supermarket Sweep" is well-known for its hectic, grocery-themed competition. The show, which was created by Al Howard in 1965 and later brought back, involves competitors answering trivia questions and racing around a supermarket to load up on expensive goods for their carts. The idea is straightforward: seize as much as you can in the allotted period. The combination of general knowledge and purchasing strategy is what makes the show so appealing. The goal for the contestants is to accrue the largest grocery bill in order to win the grand prize of thousands of dollars. 'Supermarket Sweep' is a unique blend of shopping and entertainment that captivates fans with its lively host and adrenaline-fueled challenges.
Survivor (2000-)
The long-running reality TV programme "Survivor" puts competitors to the test in a secluded, forested setting, both physically and strategically. Charlie Parsons created the show, which Jeff Probst is renowned for hosting. Teams of contestants assemble, and they engage in a variety of activities. Each week, one member is eliminated until just one survivor is left. The show, which is well-known for its unexpected turns and partnerships, has a $1 million grand prize. "Survivor," a cultural phenomenon that has captivated viewers for more than 20 years, highlights human endurance, sly gameplay, and the skill of surviving in the wild.
The Big Family Cooking Showdown (2017-)
A BBC team cooking competition called "The Big Family Cooking Showdown" Each week, two groups of three family members compete in three challenges, with Rosemary Shrager, a cookery teacher, and Michelin Star chef Giorgio Locatelli serving as judges. The eight heat winners advance to a series of subsequent competitions until a winner is selected. In addition to Michelin-starred head chef Tommy Banks, presenter and Celebrity Masterchef champion Angelica Bell will co-host and judge the second season, which will consist of 14 episodes.
The Circle (2020 -)
"The Circle," a reality competition series hosted by Michelle Buteau, sets competitors against one another in a strategic game. The participants are not allowed to live together directly and are required to live in different apartments. However, they are provided a social platform where they are allowed to influence others' opinions of them in order to be ranked higher in place of conventional forms of engagement. Influencers are those who make superior strategic decisions; those who receive low ratings run the risk of being removed.
Ultimate Beastmaster (2017-)
Twelve competitors—two from each nation—compete in each episode of the American competition reality show "Ultimate Beastmaster," where they must navigate a brand-new obstacle course known as "The Beast." Every episode's victor is dubbed "Beastmaster." These nine-episode "Beastmasters" advance to a final course where they will compete to become the Ultimate Beastmaster.
Every episode starting in Season 3 had nine competitors, one from each of the participating nations. One of the two semi-finals will be attended by the two participants who achieved the highest score in the final stage. The top three finishers from each semifinal advance to the championship episode to vie for the title of "Ultimate Beastmaster." The international feel of the game show is preserved because each nation has its own hosts. Notably, Sylvester Stallone, the star of hit films, presented the first season of 'Ultimate Beastmaster'.