'Physical' on Apple TV+ tells the tale of Sheila Rubin, a woman who uses aerobics to escape the tedium of her existence. Sheila needs something energetic and upbeat to combat the critical voice in her head because she is battling an eating issue and is stuck in a marriage where she is greatly underappreciated. She becomes energised and discovers a new direction for her life when she discovers aerobics. When she turns the idea into a business, things really take off, but there are plenty of obstacles and rivals to face.
Sheila will compete against Kelly Kilmartin, a former actress who rose to prominence in the fitness sector, in the third season. The character, as portrayed by Zooey Deschanel, is nuanced and empathetic, particularly when it is the voice within Sheila's head. You might be curious as to whether Kelly is based on a real person given how unfiltered and authentic the Apple TV+ series feels. What you need to know about her is as follows. Spoilers follow.
Is Kelly Kilmartin Based on a Real Person?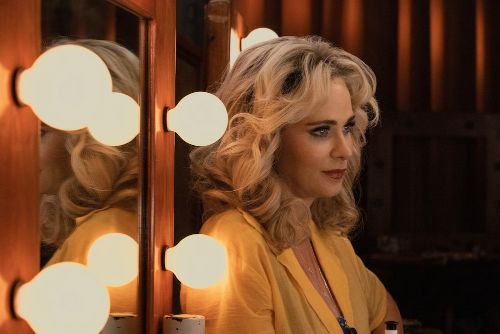 No, Kelly Kilmartin is not modelled after a genuine television actress. She was developed for "Physical" by Annie Weisman, who conceived of the TV programme to depict her personal battles with an eating disorder from the viewpoint of an 80s housewife. In the Season 2 finale, Kelly Kilmartin makes her debut when Sheila learns that the actress has previously released a product on the market that perfectly matches what Sheila had intended to reveal. As Sheila gets increasingly focused on how to eliminate the competition in order to assure her own success, things between her and Kelly boil up in the third season.
The fact that Kelly appears in two separate forms in "Physical" is one of its most intriguing aspects. The genuine Kelly, an actress and fitness expert who has worked hard to achieve the life they have, is one version of the character. Sheila's perspective of her is the alternative. Kelly portrayed a lifeguard in the television series "Trish Out of Water," which she also starred in. Almost everyone knows her in this way. Therefore, Sheila sees Trish, the lifeguard, rather than Kelly, the real person, when she imagines Kelly in her brain.
This distinction between Kelly and Trish was emphasised by Zooey Deschanel, who also effectively incorporated it into the plot. "[Kelly] is a Southern Belle who is made to work as a lifeguard on 'Trish Out of Water,' so that's the character that's haunting Sheila," explains the voice in Sheila's head. to make her feel uncomfortable, awful, and occasionally good. She is comparable to the voice that constantly tells you that you are the best.the worst, you! Sheila responds in unique and bizarre ways as a result, Deschanel said.
Deschanel was drawn to the part because she would be playing two different people. As Kelly, she portrays the well-known role of a TV actress striving to support her profession and create a name for herself as a fitness expert. But in her role as Trish, Sheila may unleash her meaner side and play the antagonist of the narrative. Deschanel created distinct accents for each of the characters, making it simple to distinguish between Trish and Kelly and emphasising the gap between a genuine person and how they are viewed by society.
Kelly was "an exploration of femininity," said Deschanel, underlining the distinction between "what's artificial and what's real." "The'real' Kelly is kind of the epitome of femininity in the 1980s. She was created with a lot of artifice and is extremely calculated. According to Deschanel, she acts in this way because she believes it is necessary for her to thrive in the show. Given everything, we can conclude that even though Kelly is a made-up character, Weisman and Deschanel did their best to establish her as a real-life person the viewer can identify with.
Our Team DCS includes 5 different writers proficient in English and research based Content Writing. We allow them and encourage them to follow the Entertainment news all day long. Our posts, listicles and even the exclusives are a result of their hard work.