The story of Larry Streeter's murder in Bigfork, Montana, the day after Christmas 1997, is told on NBC's "Dateline: Blood Brothers." For a few months, the case remained unresolved before a tip from the public enabled the police to apprehend the murderers. To give a clear picture of what transpired, the episode includes interviews from detectives working on the homicide investigation and other people connected to the case. We have information on the killers' identities and whereabouts if you're interested in finding out more. So let's get started, shall we?
How Did Larry Streeter Die?
In December 1997, Lawrence E. "Larry" Streeter, a wealthy resident of Bigfork in Flathead County, Montana, owned a number of motels. The Flathead Lake in Montana, the biggest freshwater lake in the West, is stunning in its vastness, piercing colour, and natural beauty. It contains the town of Bigfork, which is about 28 miles long and popular with wealthy people who own second homes there. One of these homes had been sold by Larry to Dr. John Bradshaw, the best-selling author of "Healing the Inner Child."
Just over a mile from the intersection of highways 35 and 83, the rural home was used by Dr Bradshaw as a getaway during the summer, and Larry decided to check on it during the winter. On December 25, the businessman decided to check on the Bradshaw home as he was leaving one of his establishments, the Glacier Park Days Inn in Columbia Falls. On December 26, at 5:15 AM, a member of Larry's family discovered his dead lying in the roadway. Seven shots had been fired at him from two separate weapons.
Who Killed Larry Streeter?
The programme claimed that Larry was a well-known businessman in the Bigfork region and the previous proprietor of a number of properties, including Streeter's Corner at the intersection of highways 35 and 83, just north of Bigfork, Streeter's North convenience store, Glacier Park Super 8 Motel, and Glacier Park Days Inn. The town was appalled by his horrific death, and Dr. Bradshaw offered a reward of $10,000 for information that would result in the killers' capture and conviction. Additionally, the Crimestoppers increased the prize money by $1,000.
However, for more than five months, there were no tips for the authorities, and as time went on, the probe was greatly reduced. Even though, one detective worked on the investigation full-time, and in early May 1998, the local authorities ran another advertisement for the Crimestoppers reward. A few days later, a member of the public spoke out and claimed his daughter had claimed one of her friends had told her they had shot Larry. Jesse Ernst was wearing the same shoes that matched prints at the crime scene when the police went to follow up on the tip.
Jesse Kyle Ernst, who was 19 at the time, informed the police that his brother, Ted Keener Ernst, had shot Larry after being taken in and subjected to a lengthy interrogation. The story demonstrated how Ted, who was 20 at the time, was revered in his community and had already completed a remarkable journey. In August 1989, tragedy struck when a typical day of play ended tragically. Ted and Jesse were hurt horribly in an accident while climbing trees, with the former suffering a severed spinal chord at the age of 11. Amazingly, he accepted his new situation without wavering.
Ted used pure willpower to convert his love of adventure into wheelchair racing and even flourished in sports like table tennis, garnering praise and the interest of potential Paralympic competitors. He developed his wheelchair racing abilities over time, earning recognition, notoriety, and a devoted following. Bigfork, where Ted was born and raised, regarded him as a local hero and gave little consideration to the fact that he was disabled. He actively pursued outdoor pursuits with his younger brother Jesse, including fishing, hunting, and hiking.
As Ted's skill increased, so did his standing as a kind and sympathetic person. Despite the physical difficulties he encountered, he continued to be dedicated to his community, to leading school groups, and to having a positive outlook on life. Ted switched from racing, though, as his health started to suffer, and he was successful there instead. Due to a family conflict brought on by divergent religious convictions, he also had to move out to attain independence.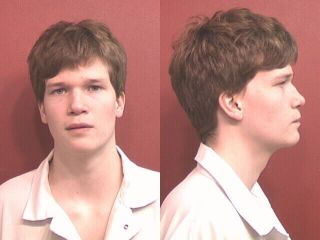 Midway through 1997, Ted, who was still looking for adventure, suggested to his brother Jesse a dangerous undertaking that would result in a series of small-time crimes and, eventually, more serious burglaries. Ted's need for excitement and financial gain propelled the expansion of their illicit activities. The Ernst brothers intended to rob the Bradshaw home on that sad Christmas Eve in 1997 when Larry came across them. When the "local hero" shot him six times with a different weapon while he was looking through his papers, he was suspicious after seeing Ted sitting in a car with a gun.
Jesse's testimony indicated that Ted ultimately killed Larry by firing the final shot with a large-caliber weapon. Jesse then assisted with clearing the area, making multiple trips back to gather any potential evidence. The seven shot casings and Larry's papers were discovered by the police in a hollowed-out book that Ted was holding. "These two men carried several guns, they had a strategy, and they were ready to kill if they got caught," Teresa Little, Larry's daughter, said. They were a ticking time bomb ready to detonate.
Where Are Ted and Jesse Ernst Now?
The Ernst brothers were detained on May 18, 1998, and they were accused of killing Larry in the first degree. Their father, Ed Ernst, testified during their February 1999 court appearance about how Jesse had always struggled academically and would go to great lengths to win his older brother's praise. He allegedly held himself responsible for the horrible accident that occurred while he was a young child and encouraged his brother to pursue all of his goals. Even after Ted gave his permission and left the courtroom, he did not testify.
After the brothers were ultimately found guilty, Ted was given a 100-year prison term with no chance of parole. Jesse received a similar 25–100 year sentence. "The Ted who killed Larry is not the Ted who grew up in our family," Ed remarked. He somehow allowed sin to rule his life after being entangled in it. Jesse, who is now 42, was found not guilty in 2001 after his defence claimed he had Klinefelter's syndrome and had been forced to assist his brother in the killing. Since Ted's name is missing from the state prison roster, the 43-year-old Ted may have also been released on parole.
Our Team DCS includes 5 different writers proficient in English and research based Content Writing. We allow them and encourage them to follow the Entertainment news all day long. Our posts, listicles and even the exclusives are a result of their hard work.