The documentary "Big George Foreman" chronicles the life of the illustrious boxer George Foreman, who makes history as the oldest heavyweight champion ever. Although he has held the title before and has won an Olympic gold medal, his path to this illustrious career has not been simple. Foreman experiences poverty as a child and looks for something to give his life purpose. At this point, he enrols in the Job Corps. He meets Desmond Baker in this location.
When the boxer wins the heavyweight title and starts to make money, George and Desmond become such close friends that the latter is given control of it. Years later, Desmond loses all of George's money, leaving him with virtually nothing, so it turns out to be a horrible choice. Here's all you need to know if you're wondering whether Desmond Baker is based on a genuine individual who misappropriated George Foreman's funds.
Is Desmond Baker Based on a Real Person?
John Magaro's character Desmond Baker is not based on a real person. He is a fictional creation made to advance the plot of the film. Most likely a composite figure, Desmond was influenced by the people Foreman had trusted throughout the years with his money. The boxer did not actually have a friend by that name who he appointed as his account manager.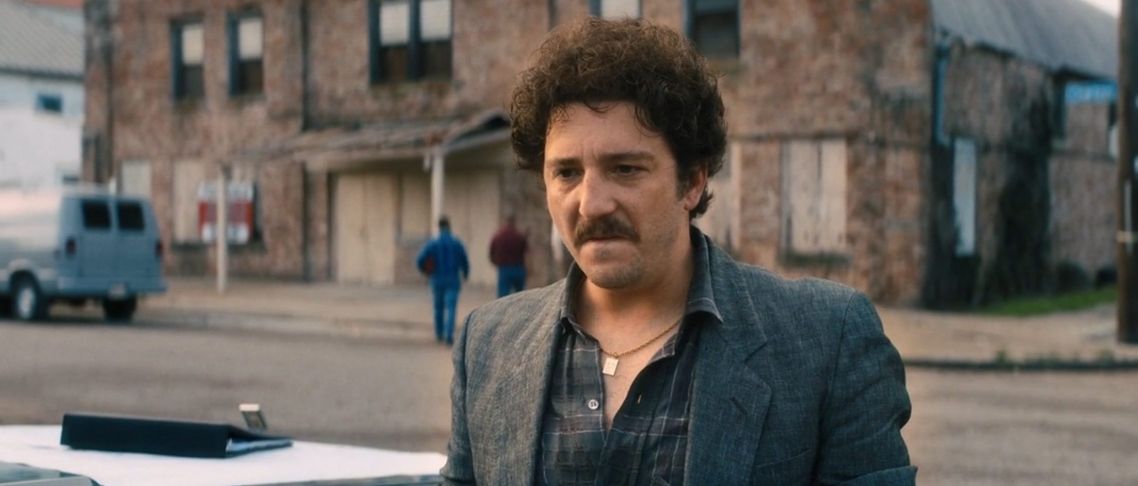 The financial situation he throws Foreman into is real, even though the character may not be real. According to rumours, the former boxer's $5 million retirement fund was squandered due to poor investments. He had retired at this point and started preaching. He had earned all of his money during the course of his fighting career. Foreman disclosed that he contributed around 25% of every match's earnings to a pension and profit-sharing plan, which he used after retiring and losing his main source of income.
"When I initially began to make money fighting, I invested 25% of all of my profits in a trust fund. I lost money on other investments I made at the time, including those in gas wells and livestock, but the trust fund was always there. I relied on that money to get by when I retired to become a minister. I learned how crucial it is to have a safety net," Foreman added. Due to the loss of practically all of his funds, he was on the verge of filing for bankruptcy.
The boxer stated, "I was only fractions, fractions, away from being homeless, and it was that scary because you hear about people being homeless." By this time, he was also in charge of a community centre, which required funding to remain operational. With no other realistic choice in view, Foreman returned to boxing. He eventually got back on his feet and earned significantly more money than before. Nevertheless, Foreman received a wake-up call from the financial crisis. He came to understand that he had to "grow up" as a result since "money does not grow on a tree and that you've got to respect every dollar."
Things didn't go as well for Foreman when he returned to boxing as was shown in the movie. He suffered defeats to Evander Holyfield and Tommy Morrison in 1991. Even so, he managed to secure a contract with HBO for his 1994 battle against Michael Moorer, which he, to his credit, triumphed in spite of all the odds. After making history and regaining his title, Foreman began getting calls from companies looking to hire him as an endorser. "They are always phoning me. They told me, 'Let him sell our products,' because I was selling myself so well, " the man claimed.
The boxer had the brilliant idea to brand a grill with his name, and it turned out to be one of his best purchases ever. He appears in commercials for brands like Doritos, Meineke, and Casual Male Big & Tall. Let's just say that he recovered every cent he had lost plus some. Foreman still recalls the lesson life taught him back then, even though he hasn't even gone close to being homeless once more.
"You might develop complacency. You can declare, "I'm successful," which is fatal. It's difficult to wake up hungry in America. It's terrifying. You run the risk of becoming comfortable and waking up tomorrow completely homeless, warned the heavyweight champion. With all of this in mind, we can argue that Desmond Baker is a fictional character created to advance the storyline of the movie, but he does serve to illustrate the needless hazards one may encounter when placing their trust in the wrong people.
Our Team DCS includes 5 different writers proficient in English and research based Content Writing. We allow them and encourage them to follow the Entertainment news all day long. Our posts, listicles and even the exclusives are a result of their hard work.