'The Out-Laws' on Netflix is an action-comedy rollercoaster that tells the tale of a morally upright bank manager named Owen Browning who is getting ready to wed the love of his life. Things start to go awry as the wedding week approaches and he finally meets his in-laws. A bank robbery committed by infamous criminals occurs only days before he and Parker are about to get married, leading him to suspect his future in-law's complicity in the heist. Tyler Spindel directs the shady scenario as it hilariously disintegrates.
Adam DeVine, Nina Dobrev, Ellen Barkin, Pierce Brosnan, Michael Rooker, and Poorna Jagannathan are among the impressive cast members. The prim and proper manager finds himself at the midst of crime, action, and never-ending comedy as the plot develops. Here is a list of films that are comparable if the raunchy notion delighted you just as much as it did me. Several of these films, including "The Out-Laws," are available to stream on Netflix, Hulu, or Amazon Prime.
Father of the Bride (1991)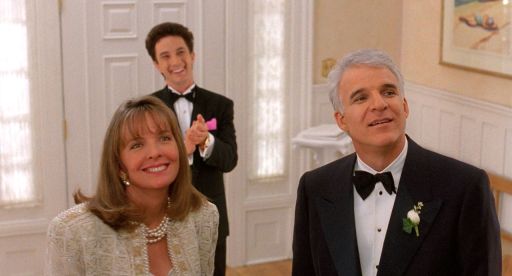 The groom and in-laws had the same exclamatory encounter in this comedy, which is about an unyielding father who thinks his daughter's fiancé is unworthy. When George Banks learns that his daughter, who recently returned from abroad, is engaged, his entire life begins to unravel. A lot of funny situations occur as he tries to make sense of the wedding preparations and deal with the flamboyance and pratfalls of the people involved. Steve Martin, Diane Keaton, Martin Short, Kimberly Williams-Paisley, Kieran Culkin, and Eugene Levy are among the cast members. So, if "The Out-Laws"' devotion to and affection for their children moved you, you'll find Charles Shyer's work to be just as captivating.
Going in Style (2017)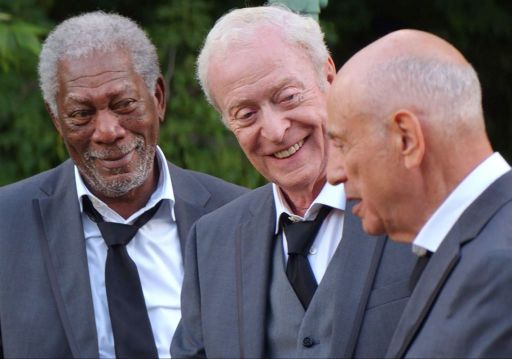 A trio in danger of becoming bankrupt is featured in this thrilling adventure. Willie, Joe, and Albert are three longtime friends whose pension fund is depleted as a result of a company disaster. The group decides to forgo retirement and commit a bank robbery in order to avoid the impending financial catastrophe. A number of amusing incidents occur as they set off on the adventure of a lifetime and resolve to loot the very bank that stole their money. The film features performances by Morgan Freeman, Michael Caine, Alan Arkin, and other A-list actors. Going in Style also includes a humorous journey that delves into economic concerns and a number of other subjects, much like Owen's in-laws, who continue to commit bank robberies well in to their retirement.
Meet the Parents (2000)
Gaylord "Greg" Focker, a nurse practitioner, is the main character in this comedy. He plans to pop the question to his love Pam Byrnes on a weekend visit to her home. The unlucky nurse, however, draws the ire of Pam's father, an ex-CIA agent, when he visits the home of his future in-laws. The film "Meet the Parents," starring Ben Stiller, Robert De Niro, Teri Polo, Owen Wilson, and Blythe Danner, also shows the devastation that results when a stiff-necked simpleton encounters demanding in-laws. Therefore, if you liked the subtleties of romance and family in "The Out-Laws," you'll find this comedy and life-retrospective to be just as fascinating.
Mickey Blue Eyes (1999)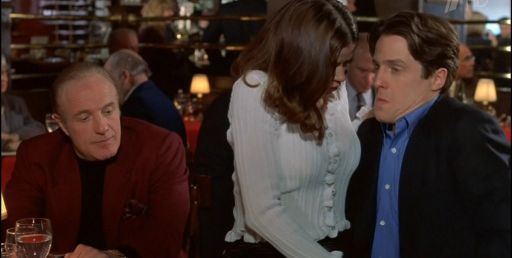 Michael, an art dealer, is smitten with his girlfriend Gina and chooses to propose to her. When Gina is about to propose, she reveals that they can't be married since her entire family is a part of the mafia. Nevertheless, the obstacle appears insignificant to the enamoured Michael. In order to get the mob boss's approval, he chooses to meet with him and Gina's father. Hugh Grant, Tony Sirico, John Ventimiglia, and Aida Turturro all star in Kelly Makin's film, which is also starring John Ventimiglia. Like Owen's unwavering determination to win over his future in-laws, "Mickey Blue Eyes" similarly follows a screwball comedy where criminality and absurd circumstances come together.
Quick Change (1990)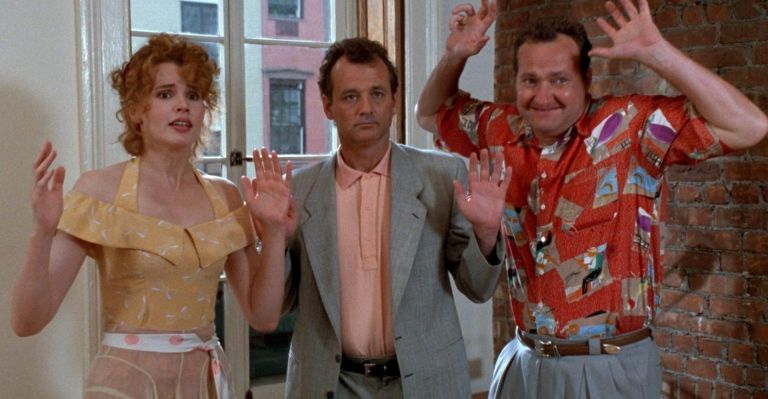 'Quick Change' depicts the life of a New York City planner who has had enough of the dishonesty and corruption in the city. Bill Murray, Geena Davis, Randy Quaid, and Jason Robards star in the film. He and his gang devise a risky plan in an effort to exact retribution. Together with his companions, he decides to carry out the impossible job of robbing a bank. However, the group faces extra challenges because they are unable to leave the city following the robbery.
In addition to mayhem and confusion, "Quick Change" also features a disastrous comedy in which a bank robbery results in a number of hysterically unfortunate circumstances. So, if you laughed at the charming and entertaining premise of "The Out-Laws," you'll laugh at this movie too.
The In-Laws (2003)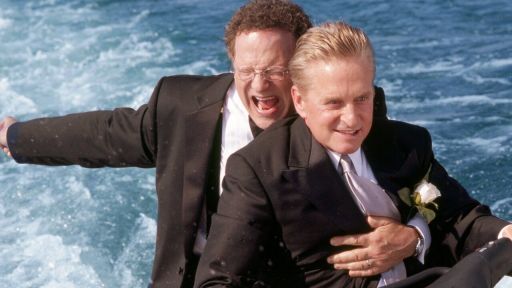 This film recounts the journey of Melissa and Mark, a young couple preparing for their impending nuptials, much like the unknowing young couple in "The Out-Laws." But when the groom's father learns the truth about his future son-in-law's father, a series of amusing events occur. This absurd in-law drama starring Lindsay Sloane, Ryan Reynolds, Michael Douglas, and Albert Brooks features action, comedy, and clandestine operations. So this will be the ideal film to see next if you liked the peculiar family dynamics in "The Out-Laws."
Three Fugitives (1989)
Lucas, Ned, and Meg are at the centre of this story about an unexpected bank robbery. Lucas, a former bank robber who has served time in prison, has made the decision to give up his illegal behaviour. Things take an unexpected turn, though, when a novice bank robber decides to take Lucas and his silent daughter hostage. In "Three Fugitives," which stars Steve Martin, Martin Short, and Sarah Rowland Doroff, there is also an oddball comedy with unusual pairings. Therefore, if you appreciated Owen's collaboration with his in-laws to execute a perplexing crime, you'll find this unintentional alliance to be just as fascinating.
Tower Heist (2011)
Josh Kovaks has been in charge of one of New York City's most opulent homes for a number of years. Josh and his coworkers, who have also lost money, are forced to take action after a resident steals more than $2 billion from his investors. The comedy "Tower Heist," directed by Brett Ratner and starring Ben Stiller, Alan Alda, and Eddie Murphy, also depicts a funny set of events that occur when a good person tries to break the law. In other words, if you enjoyed Owen's prim-turned-reckless attitude in "The Out-Laws," you'll enjoy this story about a man going crazy just as much.
Our Team DCS includes 5 different writers proficient in English and research based Content Writing. We allow them and encourage them to follow the Entertainment news all day long. Our posts, listicles and even the exclusives are a result of their hard work.