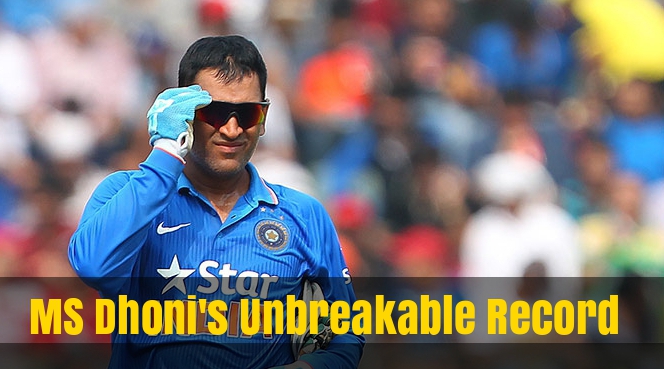 MS Dhoni Broke A World Record Like A Boss Yesterday And Nobody Is Even Talking About It
I am going to Start the article with the most famous quote, "Haters gonna hate" because a lot of people think Mahendra Singh Dhoni does not deserve a place in playing 11 in any format. But, fans know and admit that he might not be as good in test cricket (for the same reason he retired from Test cricket), he still is one of the finest limited over batsman and the best finisher the game has ever seen.
Let's take the current Sri Lanka tour for consideration. Where the current best batsman in the world, Viral Kohli is failing miserably, Dhoni is still performing like the legendary pillar he has ever been.  In the below photo, there's no number in the column because he is yet to be dismissed in the series.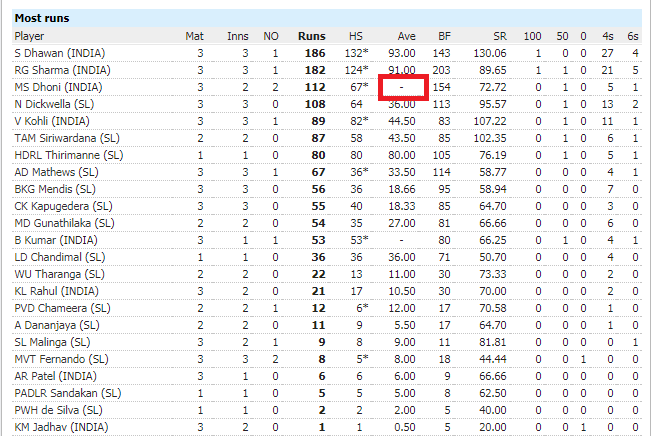 Yet, Newslines are not focusing on him. Because he is the silent hero yet again.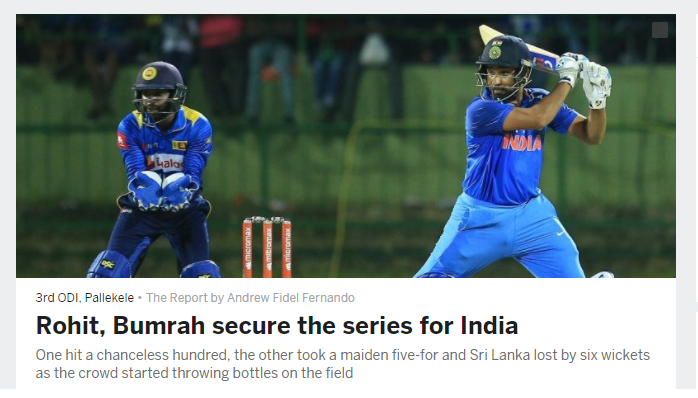 But, apart from being the silent hero he always has been, he just broke another record we all have been waiting for. If you are a Dhoni fan you probably know but if you don't, let us give you a glimpse of what records he has made till now. Not as a captain, but as a wicket-keeper batsman.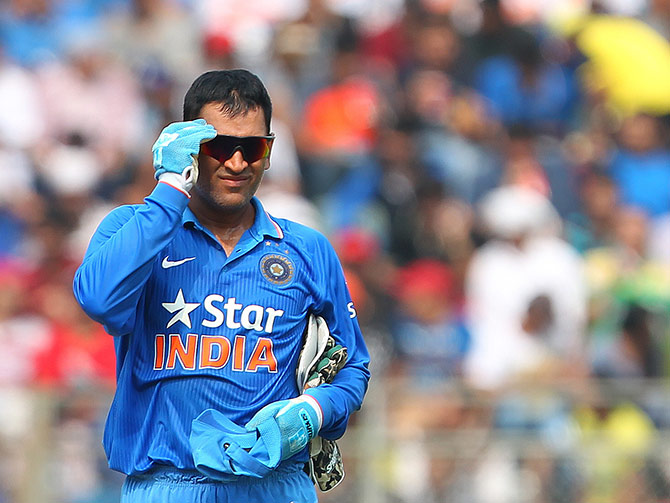 1.  He is the most successful Indian captain in all three formats.
2. He is also the second most successful ODI captain just behind another Australian in Ricky Ponting.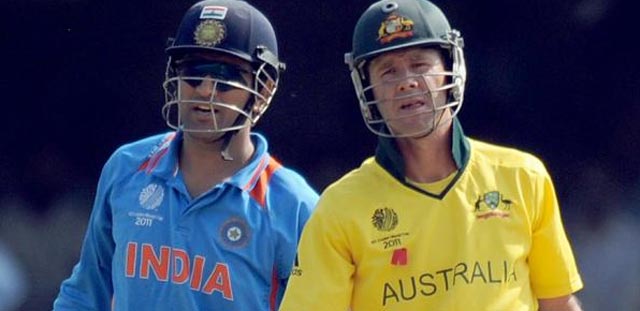 3. He has also played the most number of international games as an Indian captain.
And also the most matches by a wicket-keeping batsman.
4. He is the most capped Indian wicket-keeper.
5. He has the most centuries for an Indian wicket-keeper.
6. He's 4th in the list of cricketers to be hit the maximum numbers of sixes in ODIs. Most likely to end up in top 3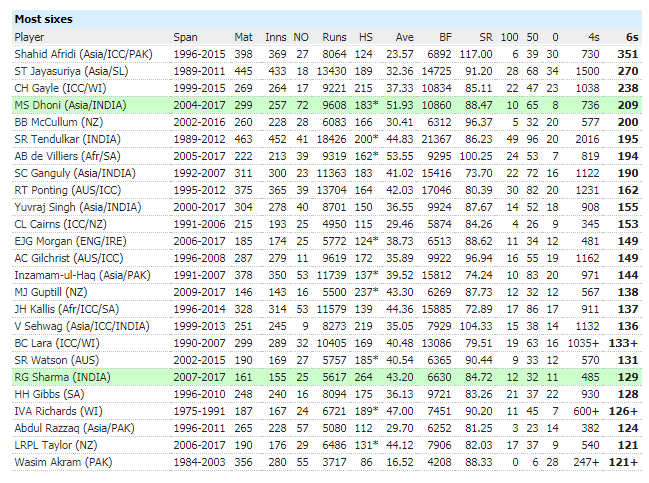 7. He also registered the highest score for an Indian wicket-keeper in the same innings.
To add to it, he also holds the record for the highest score by a wicket-keeper captain.
8. He is the first Indian wicket-keeper to score a double hundred and is the first wicket-keeper to reach the landmark in a day.
9. He has the most number of stumpings in ODI, a record shared with Shri Lanka's Kumara Sangakkara. 99 Stumpings.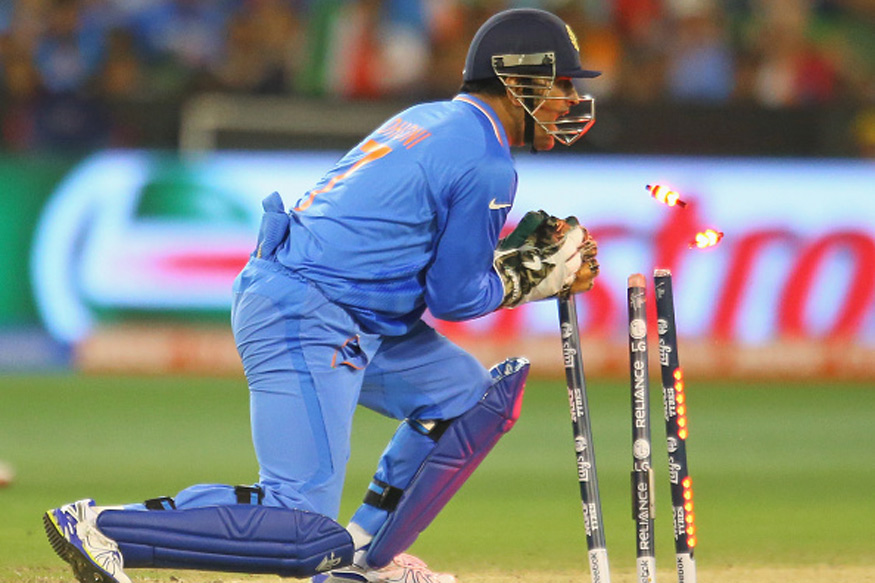 10. The only wicketkeeper to effect 9 dismissals in a single match.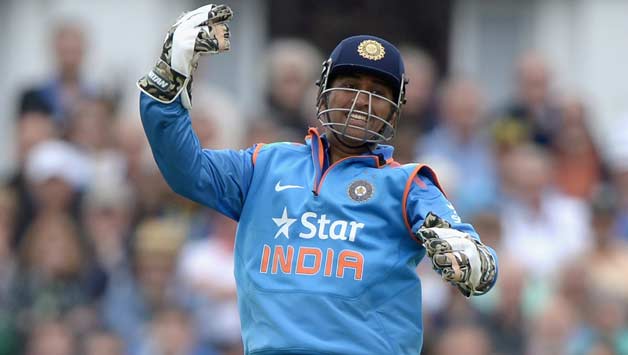 But, the record he broke yesterday has nothing to do with his consistency and about his ability to score sixes. When India secured the Trophy against Sri Lanka yesterday, he became only the 3rd cricketer to record 72nd not-outs innings which tie him up with Shaun Pollock and Chaminda Vaas, but since he is still active, he would be considered as number one in that category.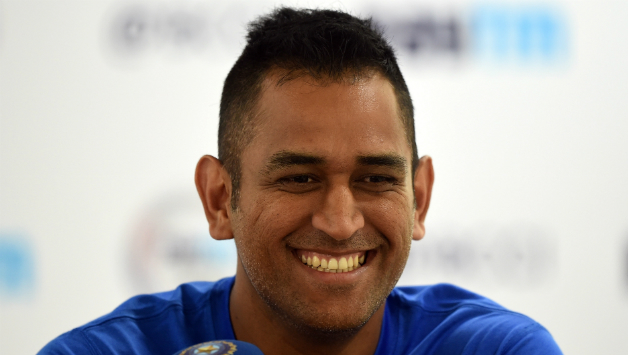 These records only stress on the fact that the Indian national team is lucky to have a player as accomplished as MSD. Though he may not be able to provide the country with major honors in the years left in his career, the most successful Indian skipper will surely be remembered by every cricket fan in the country for decades to come.
All facts Source: Sportzwiki.com and ESPNCricinfo.com