The NBC show "Dateline: Finding Savanna" tells the story of Dorothy Lee Barnett, a strong mother who ran away with her baby daughter across international borders after losing custody of her to her ex-husband. Dorothy changed their names, but her daughter didn't know it. Modern movies are getting better and better, with amazing CGI and action scenes that give you a rush. But we no longer see the mind-blowing ideas that used to make people question what they knew. Sixth Sense, Memento, The Prestige, and Se7en are some of the best movies ever made because of how well they were written and put together. These kinds of ideas don't get made into much more than a horror movie or a thriller series these days. Nefarious, which is coming out soon, might be the suspense movie you've been waiting for.
Nefarious is a new mystery thriller that Chuck Konzelman and Cary Solomon wrote and will direct. The movie, which stars Sean Patrick Flanery, Jordan Belfi, and James Healy Jr., is a prequel to Steve Deace's books A Nefarious Plot, which came out in 2016, and A Nefarious Carol, which will come out in 2020. Even though this is the name of a lot of movies, this one will be different because it will combine the paranormal and thriller genres. Still, people who like stories that make you think are happy that the movie is coming out soon. Well, here's everything we know about the upcoming horror movie Nefarious.
Nefarious: The Plot
The story of Nefarious is about Dr. James Martin (Jordan Belfi), a psychiatrist who meets a serial killer in prison who has a strange case. Edward (Sean Patrick Flanery) is going to be killed, but he tries to avoid it by making everyone think he's gone crazy. Since the killer was successful, the Gate Ward, played by James Healy Jr., goes to Dr. James to get help proving that Edward is lying about his mental illness. James accepts the challenge because he has already solved a few of these kinds of cases. However, when Edward says that a demon is controlling him, it makes things very hard.
Surprisingly, Edward proves it by doing strange things, like making the light bulb in the room explode. James thinks Edward is trying to trick him, but Edward says he will kill three people before their time is up. Edward uses James's fear to play mind games that end up shaking up the whole prison. Does he really have a demon inside him? Or is he just getting everyone to do what he wants so he can carry out his big plan?
The trailer for Nefarious was well-made and made us think of movies from the early 2000s because it had both suspense and thrills. The way Edward is portrayed is interesting. He reminds me of Dennis from M. Night Shyamalan's Split, who has many different personalities. So, if the story is good and the production values are up to par, the movie could be one of the best to come out in 2023.
Nefarious: The Cast & Crew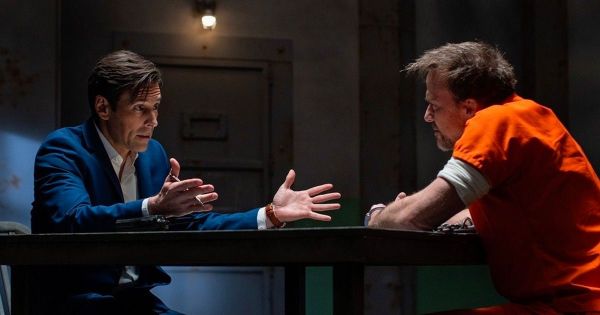 Sean In Nefarious, Patrick Flanery plays Edward, a serial killer who says he was possessed by a demon. Flanery has been in more than 100 movies and TV shows, such as Suicide Kings, Eye See You, Dexter, Saw: The Final Chapter, High Moon, The Damned Thing, The Dead Zone, and many more. But The Young Indiana Jones Chronicles, in which he played a young Indiana Jones, is what he is best known for. His most recent role was as Gunpowder in the Prime Video movie The Boys.
In the movie, Jordan Belfi will play Dr. James Martin. He is best known for playing Adam Davies on the TV show Entourage. He also played Nick for a short time on the show Grey's Anatomy. His other well-known works include Snow Bride, All American, Good Girls, The Billionaire, and Moonlight. James Healy Jr., who plays James in A Thousand Tomorrows, will also help James in the movie as the Gate Ward, which is an important part. He is also known for his roles in movies and TV shows like Law & Order: Special Victims Unit, East New York, Dopesick, and Moonrise.
In the trailer, these characters get the most attention, but here's a look at some of the other actors who are in the movie: Eric Hanson, Sarah Hernandez, Stelio Savante, Cameron Arnett, Robert Peters, Jarret LeMaster, Tom Ohmer, John Cann, Grifon Aldren, Tina Toner, and many more.
As was already said, Cary Solomon and Chuck Konzelman wrote and directed Nefarious. The directors have worked together before on Do You Believe?, What If, and God's Not Dead, so this is not the first time they've done so. In 2006's The Insatiable, they also worked with Flanery, who played the lead role. In 2019, the Faith, Hope, and Love Award went to Unplanned, which was written by Cary Solomon and directed by Chuck Konzelman.
Bryan E. Miller, who is best known for his work on Big Bad Wolf, Travel the Road, Fissure, and Scouting for Adventure, will make the music for Nefarious. Lori Cramer, Robert Cramer, Steve Dance, Chuck Konzelman, Dave Kutscher, Bob Vander Plaats, John Sullivan, and Dave Van Wyk are producing the movie with Sheila Hart and Chris Jones.
Release Date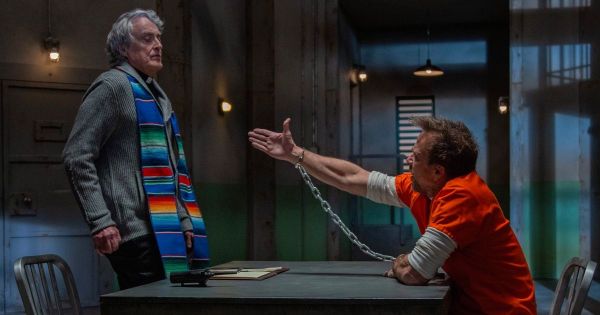 One of the most-anticipated movies of the year, Nefarious, will come out on April 14, 2023.
Our Team DCS includes 5 different writers proficient in English and research based Content Writing. We allow them and encourage them to follow the Entertainment news all day long. Our posts, listicles and even the exclusives are a result of their hard work.