Justine Siegemund was born in 1636 in Rohnstock, Lower Silesia. She loved her job as a midwife.
As a young woman, midwives thought she was pregnant when, in fact, she had a uterus that had slipped out of place.
This bad experience made her want to become a midwife and learn more about obstetrics.
A midwife for all
After her apprenticeship was over, Siegemund gave free services to women who didn't have much.
She became known quickly for being able to help women have safe births even when things were hard. Her fame grew, and people all over the country heard about her.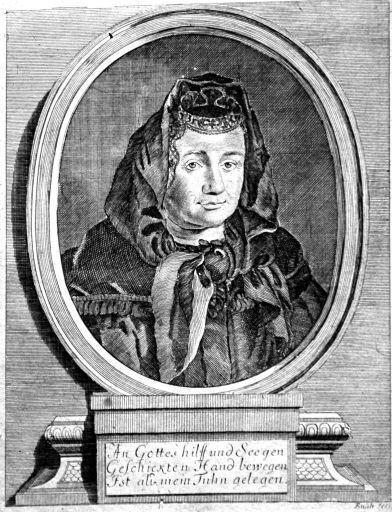 An author and educator
In 1683, Siegemund was a midwife for the city of Lignitz. Later, as the Court Midwife in Berlin, she gave birth to babies for the king.
During this time, she wrote and published "The Court Midwife," which made a big difference in Germany's health care for mothers and babies.
This was Germany's first full-length book about giving birth.
A legacy that still inspires
Justine Siegemund made it possible for people to learn about childbirth today. Her work as a midwife and an author made it possible for people to give birth in a safe way.
She gave women the power of knowledge and helped midwifery become more well-known.
Her book, "The Court Midwife," has detailed explanations of obstetric techniques, gripping descriptions of births, sworn statements from patients, and a short autobiography.
Justine Siegemund facts
Justine Siegemund was born in the town of Rohnstock in Lower Silesia in 1636.
She was wrongly told she was pregnant when she actually had a uterus that had fallen out. This led her to become a midwife.
Siegmund helped poor women for free, and he became known for helping women through hard births in a safe way.
In 1683, she was the City Midwife of Lignitz. As the Court Midwife in Berlin, she helped the royal family have babies.
Siegmund's book "The Court Midwife," which came out in 1690, was the first complete book on giving birth in Germany.
Her book has technical details about obstetric techniques, scenes of births, testimonials, and a short autobiography.
Siegmund's work did a lot to improve the health of mothers and babies in Germany, and it led to modern childbirth education.
Her legacy still inspires and changes how obstetricians work today.
Siegemund died in 1705.
When Justine Siegemund died?
German midwife and author Justine Siegemund died in Berlin on November 10, 1705, at the age of 68. She lived in the 1600s.
Most women read her German book Court Midwife, which is a guide to childbirth. By the time she died, she had given birth to almost 6,200 babies in a safe way.
Her father was a minister in the Lutheran church. He died when she was fourteen.
Her mother, who was also a midwife in the past, taught Justine how to do the job. On March 28, 2023, Google made a Doodle in her honour to honour her life.
People remember Justine Siegemund for what she did for midwifery and childbirth care in Germany in the 1600s.
Her work helped lower the number of mothers and babies who died during childbirth, and her achievements in medicine are still praised today.
Lastly
Last but not least, Justine Siegemund was an amazing woman who made a lot of important changes in the field of midwifery.
Her legacy continues to inspire and change how people learn about childbirth today.
She showed that anyone with passion and determination could make a difference and leave their mark on the world.
Our Team DCS includes 5 different writers proficient in English and research based Content Writing. We allow them and encourage them to follow the Entertainment news all day long. Our posts, listicles and even the exclusives are a result of their hard work.