Many acting careers go through ups and downs, and even the most famous actors and actresses often have hard times that contrast with their best times. Only a few actors can keep their names in the news for decades, and it takes a really talented and versatile performer to do that. One of these actors is J.K. Simmons, whose on-screen career began in 1986. Simmons has played many famous roles over the years, like J. Jonah Jameson in Spider-Man and Terrence Fletcher in Whiplash, which won him an Oscar for Best Supporting Actor. Simmons is one of the best actors of his generation, so wherever he goes, people want to see him. Many of his fans always keep an eye out for his casting announcements.
It shouldn't come as a surprise that his fans were excited to hear that he would be in the upcoming movie One Day as a Lion. The news of his role came back in June 2022. With this in mind, and now that the One Day as a Lion trailer is finally out, here is everything we know about the movie.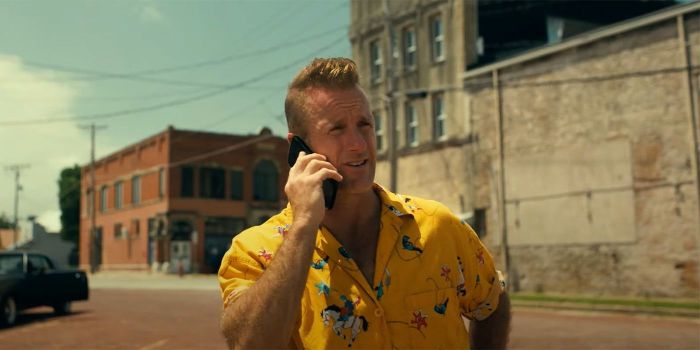 Will One Day as a Lion Be in Theaters?
On April 4, 2023, One Day as a Lion will be shown in some theatres. Tickets haven't gone on sale yet, but fans can expect that to happen very soon. The movie won't be in many theatres, so check your local showtimes to see if it will be in one near you.
Will One Day as a Lion Be Available on Streaming?
The video-on-demand version of One Day as a Lion will be available on April 7, 2023, three days after it comes out in theatres. You can watch the movie whether or not your local theatre shows it.
What is One Day as a Lion About?
One Day as a Lion seems to be the perfect action/thriller. The mob, cowboys, and family dramas are all mentioned, which is a huge draw for fans of the genre. Action/thriller fans need nonstop action to stay interested, and the story sounds like it will have that.
Jackie Powers, played by Scott Caan, is a nice guy but a bad assassin who is sent to kill a sly debtor (J.K. Simmons). Jackie just makes him mad. Jackie takes Lola as a hostage as he runs away from the scene. For Jackie to get his son out of jail, he needs money. Lola comes up with a plan to get money from her dying mother for them (Virginia Madsen). While this is going on, the person sent to kill him is sleeping with Jackie's ex… This crime comedy, which also stars Frank Grillo, is a clever homage to Tarantino and the Coen brothers.
Is There a Trailer For One Day as a Lion?
The trailer for One Day as a Lion came out on March 22, 2023. We get our first look at the movie, which has some great parts. We see the whole cast, how important the film's plot is, and what that means for the characters going forward. Watch the trailer for the movie below.
This caravan is full of nonstop action, and J.K. Simmons's rough, renegade attitude comes through in every scene he's in. Interspersed with the tough-talking dialogue are funny bits that give the caravan a chance to breathe as we move from one action scene to the next. Action movie fans seem to be in for a treat, and judging by the caravan, synopsis, and confirmed cast, this movie looks like a rollercoaster ride of high-octane fun for sure.
Who are the Creatives Behind One Day as a Lion?
Fans can feel better about the movie if they know that the people who made it have worked together before and done well. Producer Jeremy M. Rosen (Charlie Says) and director John Swab (Candy Land) have worked together before on movies like Ida Red. This is their seventh full-length movie project together. They have also worked with many of the cast members before. Frank Grillo, who was in Captain America: The Winter Soldier, has worked with the pair many times, including in the most recent John Swab movie, Little Dixie.
Who are the Cast In One Day as a Lion?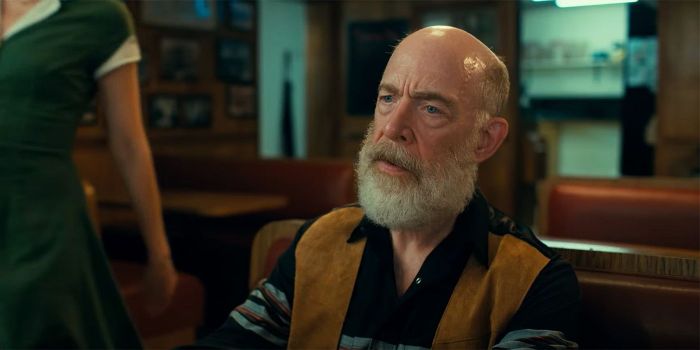 J.K. Simmons plays Walter Boggs, and Frank Grillo, who plays Pauly Russo, is also on the screen. Valerie Brisky is played by Sideways star Virginia Madsen. Scott Caan plays Jackie Powers in the movie Gone in Sixty Seconds. Taryn Manning (Orange is the New Black) stars as Taylor Love, and Marianne Rendón (Imposters) plays Lola Brisky.
Of course, this is just a small sample of the talent on display, but One Day as a Lion looks like an action movie you can't miss if all of these great actors can show their worth on screen.
More J.K. Simmons' Films to Watch
J.K. Simmons is one of the best performers in Hollywood. We're sure that One Day as a Lion will be one of his best movies, but until then, let's look at two of his other great roles. Here are two J.K. Simmons movies to watch if you're excited about One Day as a Lion.
Juno (2007) – When Juno MacGuff (Elliot Page), a teenager who is older than her years, gets pregnant, she chooses a failed rock star and his wife to adopt her unborn child. Mark, the future father, has problems when he starts to see Juno as more than just the mother of his future child. This puts both his marriage and the adoption at risk.
Simmons also stars in the movie as Mac MacGuff, Juno's father. This is one of Simmons's more underrated roles. He doesn't have the anger of Omni-Man or the extreme commentary of J. Jonah Jameson. Juno is one of his best works because it is based on a true story.
WATCH ON HBO MAX
In the 2014 movie Whiplash, Miles Teller plays Andrew Neiman, a young jazz drummer who wants to get to the top of his elite music school. Terence Fletcher (J.K. Simmons), a teacher known for his scary ways of teaching, finds Andrew and puts him in the top jazz ensemble. This changes the young man's life for good. But Andrew's desire to be perfect quickly becomes an obsession as his cruel teacher pushes him to the edge of his skills and sanity.
Simmons's best role by far is in Whiplash, which won him an Academy Award. It's real emotion, and he can be this intense character while still letting his natural wit and charisma shine through. It's a must-see for sure.
RENT ON PRIME VIDEO
Our Team DCS includes 5 different writers proficient in English and research based Content Writing. We allow them and encourage them to follow the Entertainment news all day long. Our posts, listicles and even the exclusives are a result of their hard work.