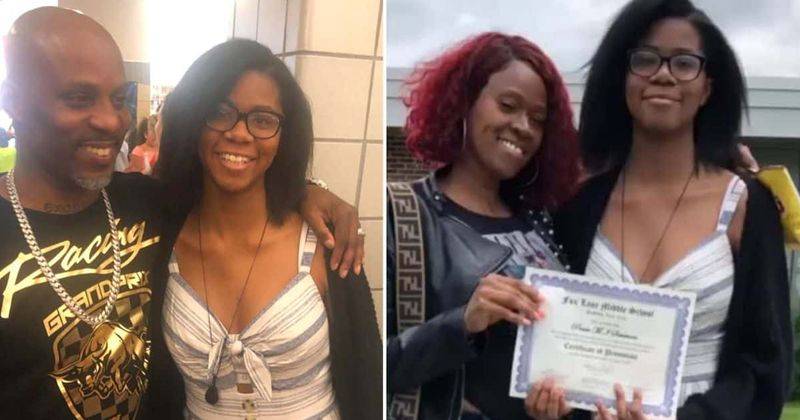 Who is Praise Mary Ella Simmons? | What Is She Famous For? | DMX and Tashera Simmons' Daughter
Following the unfortunate death of rapper Earl Simmons aka DMX at the age of 50, millions of his fans all over the world have paid respect to him. DMX's family released a statement on April 9, 2021, mourning his death after a week on life support due to a cardiac arrest caused by a narcotics overdose.
DMX leaves 15 children and his fiancee Desiree Lindstorm behind. Tashera Simmons, his ex-wife with whom he divorced in 2010 after 11 years of marriage, is said to have remained close pals with the rapper throughout the years. Praise Mary Ella Simmons is the sole daughter of the former couple's four children. DMX is said to have been a loving father to Mary Ella and has been photographed with her on several occasions.
Who is Praise Mary Ella Simmons?
The 16-year-old was born on April 18, 2005. Praise Mary Ella Simmons is DMX and Tashera Simmons' only child. Xavier, Tacoma, and Shawn Simmons are her three brothers, and she has 11 step-siblings.
Praise Simmons is described as compassionate and intelligent by E Celebrity Mirror. Tashera Simmons, her mother, frequently posts images and passionate remarks about her on social media. "She once wrote about Praise, "Blessed for having such a strong girl." She also referred to her as "On Instagram, she described herself as "brilliant, humorous, articulate, compassionate, attentive, and full of light and love."
Tashera Simmons wrote a nice message on Instagram with photographs of her family with Praise shortly after her graduation in June 2019.
"I meant to post Friday My baby girl "Praise" graduated! So so proud of her! New chapter… High school last one in middle school! Unreal. Grateful. You did it mamas. God is great. Life is truly a beautiful journey of what you make," she wrote.
A photo of DMX and his daughter, Praise, was also included in the message. A visibly proud DMX can be seen hugging his daughter and stroking her hair in a video uploaded with the post as a demonstration of profound affection and father-daughter bonding.
Praise Mary Ella's social media sites are private, indicating that she is guarded about her personal life.
Why did DMX and Tashera Simmons divorce?
After knowing one other since the age of eleven, the former couple began dating at an early age, while both of them were still teenagers. They married in 1999, but it was far from a happy union.
DMX and Tashera Simmons' marriage was hampered by his frequent incarcerations and several adulterous affairs. He also fathered a large number of children outside of his marriage as a result of his extramarital encounters. Tashera was also said to have been victim to DMX's verbal and psychological assault. After appearing on VH1 Couples Therapy, she split from the rapper in 2010 and filed for divorce in 2012.
Tashera addressed up about her divorce in an interview with Essence, saying, "Even after everything X has put me through, I still feel guilty about obtaining a divorce because I took my vows very seriously. And I know X will never love anyone as much as he loves me, and I have the same feelings about him. But there comes a point when you've given everything you've got, and you know you've given everything you've had, and it's time to go on."
After the divorce, DMX, who later filed for bankruptcy, reportedly withheld financial support for Tashera and their four children. Tashera Simmons struggled to raise her children despite adversity. It appears that the two eventually became friends later in life.