Update : Siesta Key Season 5 : Cast Started Filming | Release Date, Plot, Cast
Jordana Barnes announced that filming for Siesta Key season 5 has begun, so fans have a lot to look forward to. The MTV reality show initially broadcast in 2017 and featured Alex Kompothecras' lavish lifestyle in Florida. The original celebrity had numerous affairs, including a love triangle involving Juliette Porter, Kelsey Owens, and him. After a series of his racist social media remarks were published, Alex was fired from the show before season 3b aired. Juliette became the major cast member as the show shifted its focus to her. Season 4 of Siesta Key was similarly broken into two parts, with season 4b, which ended on May 26, depicting Juliette and Sam Logan's painful breakup.
Juliette moved out of Sam's house after becoming tired of his partying and immaturity, so she could focus on herself and her swimsuit firm, JMP The Label. Juliette's decision was not well received by the Florida millionaire, and the rest of the season was devoted to the repercussions of their breakup. First, Sam began posting photos of Miami-based model Meghan Biscoff on his Instagram page, which enraged Juliette and prompted her to seek reconciliation with her ex-boyfriend. Unfortunately, things did not work out, and they were forced to call it quits. Juliette moved on to her current lover, Clark Drum, amid other drama involving Juliette, Jordana, Cara Geswelli, and Chloe Trautman.
Jordana mentioned that MTV is preparing for Siesta Key season 5 after one of the most dramatic seasons yet. Jordana posted a photo on her Instagram Story of herself in a car, with Sam being tested for COVID-19 in the background. She wrote, "First covid exam of season 5." The network revealed a few weeks ago that the show, along with a new The Hills spinoff named The Hills: Next Gen and Jersey Shore 2.0, had been renewed for another season, angering the original Jersey Shore ensemble.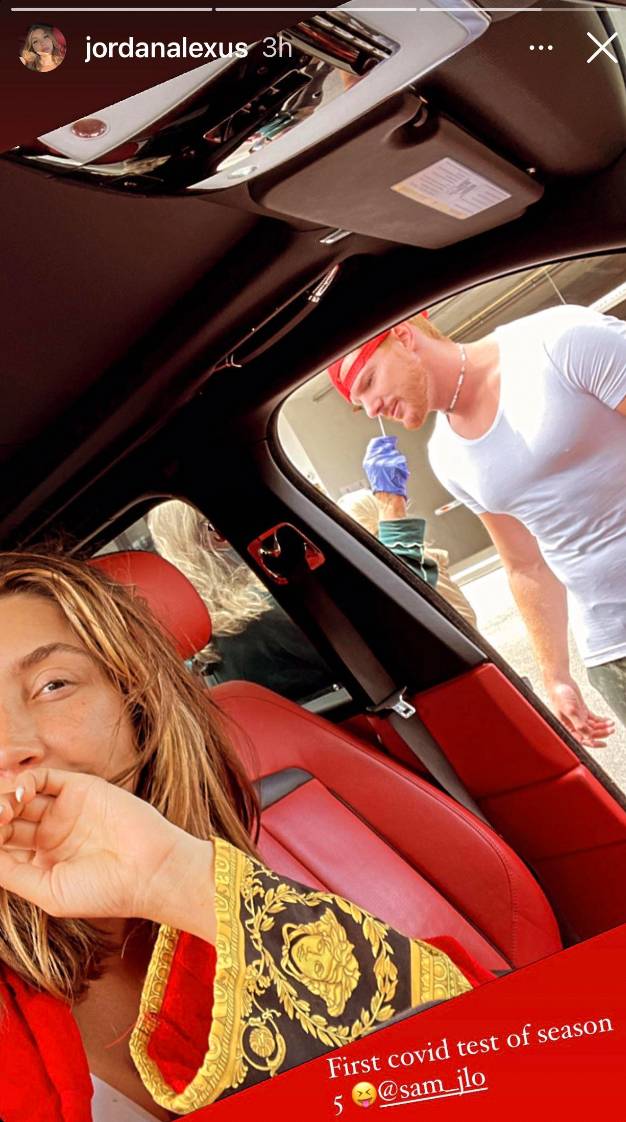 For months fans believedthat Siesta Key may be moving to a new city. When Brandon Gomes tweeted that he had relocated to Miami, many of his cast members responded, implying that they would be joining him. Juliette later stated that she will be relocating to Miami, and Jordana and Sam have also relocated to the Sunshine State. MTV has yet to confirm anything, but all signals point to a change in site for season 5 of Siesta Key. With Juliette's company's success, it appears that the show will shift its focus to the stars' careers.
Fans are excited to see what Siesta Key season 5 has in store, especially after the drama of season 4b. Jordana and Sam have already confirmed their participation, but there is no word on who else will return to the reality show. Garrett Miller has declared that he will be leaving the programme, but it has not been verified whether any other cast members would be leaving as well. After an upsetting season finale in which Madisson Hausberg discussed her stillbirth, anything can happen on Siesta Key, and season 5 is sure to be full of memorable experiences.
What's the plot of the TV series "Siesta Key"?
For those of you who don't know, Siesta Key is an MTV series that centers on the lives of four friends who live on the Florida island of Siesta Key. The television show Laguna Beach: The Real Orange Country from the early 2000s served as inspiration for Siesta Key.
The series' creators are Mark Ford and Warren Skeels. The show is produced by Tara Long for Entertainment One Television, while MTV is represented by Daniel Blau Rogge and Jennifer Aguirre.
The series' opening theme, which was once known as Cut to the Feeling, was sung by Carly Rae Jepsen. The show's distributor has been Viacom CBS Domestic Media Networks.
On July 31, 2017, the MTV series Siesta Key debuted its first season. There were 18 episodes in total. The last season of the program was released in two parts; the first was made available on May 12, 2021, and the second on March 10, 2022.
Here is everything we know about "Siesta Key's" fifth season.
Since we know you're all eager to learn more about Siesta Key's fifth season, we should let you know that, as of right now, neither its production nor cancellation have been determined. The future of the Siesta Key television series has not yet been officially announced by the network. There are a few opportunities for the show's fans to have one more season, which they are yearning for.
Let's talk about the potential for a fifth season of Siesta Key. If the series' fifth season is, by chance, produced, it will debut in 2023, most likely in the first few months.
More information on the 'Siesta Key' Season 5 cast
The primary cast of the series, which has consistently been present in the season, will be on display, exactly like in prior seasons. There is a remote probability among the show's cast members. With the intention of making the cast more intriguing for the series' viewers, you could notice a change in the cast.
For Siesta Key's upcoming fifth season, the following cast members are eligible for a contract extension: Juliette Porter, Madison Hausburg, Brandon Gomes, Kelsey Owens, Chloe Trautman, and Garrett Miller.
Are you anticipating Siesta Key's fifth season? Please share your opinions with us in the space below. Keep checking back with us for the most recent information from the entertainment industry.