Sophia Culpo appears to be back on the dating scene! With a number of TikTok videos, the Culpo Sisters actress appears to have announced the end of her relationship with NFL player Braxton Berrios.
Sophia Culpo, the younger sister of former Miss Universe Olivia Culpo, recently shared a few films on the video-sharing platform TikTok in which she discussed her personal life. Continue reading to find out why Sophia Culpo and Braxton Berrios broke up.
Did Sophia Culpo and her NFL boyfriend Braxton Berrios split?
In a few TikTok videos she posted on Wednesday night, Sophia announced her breakup from her NFL lover Braxton Berrios. The Miami Dolphins athlete and Culpo are no longer dating.
In the caption of the video, Sophia included the hashtags "breakup tiktok," "single life," and "so single" before revealing that she had recently ended a long-term romance. She said, "In other exciting news, you know I used to live with Olivia and then I relocated to the East Coast with my ex and now I'm back in California.
I have a new apartment that I'm moving into, I just have to go back to New Jersey and grab all of my stuff, which I've been sort of delaying just because transitioning out of a long-term relationship when you guys live together, that's extremely hard, the reality TV star continued.
When did Sophia Culpo and Braxton Berrios begin dating?
For the uninitiated, let us inform you that the NFL player and the social media personality began dating in 2021. For the 2022 NFL season, Sophia was frequently observed supporting her boyfriend and his club at numerous New York Jets games. Also, the athlete made time in his schedule to honour her birthday in November.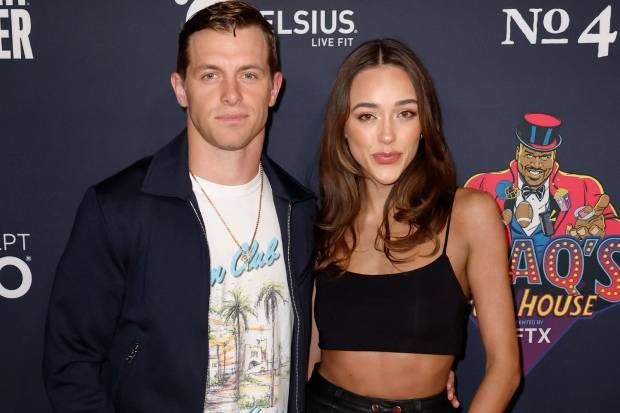 Following nearly two years of dating, Culpo and Braxton decided to call it quits in March 2023. It seems unlikely that the two of them will be together forever. The ex-couple hasn't yet disclosed why they split up, as of right now.
All you need to know about Sophia Culpo's ex-boyfriend, Braxton Berrios
Wide receiver for the Miami Dolphins of the National Football League, Braxton Berrios is an American football player. He is currently 27 years old and was born on October 6, 1995, in Raleigh, North Carolina.
In the sixth round of the 2018 NFL Draft, Berrios was selected by the New England Patriots. Soon after, he made the decision to sign with the New York Jets in 2019. Between 2019 until 2022, he was a member of the Jets.
Braxton agreed to a one-year deal with the Miami Dolphins on March 16, 2023. He even made a few appearances on the reality TV programme The Culpo Sisters while he was dating Sophia Culpo.
Do you believe that Sophia Culpo and Braxton Berrios weren't destined to be together? Please share your opinions with us in the space below. Keep checking back with us for the most recent information from the entertainment industry.
Being a binge-watcher himself, finding Content to write about comes naturally to Divesh. From Anime to Trending Netflix Series and Celebrity News, he covers every detail and always find the right sources for his research.