The connection between a person and their in-laws is frequently difficult, but in Netflix's "The Out-Laws," it intensifies. The film, which was directed by Tyler Spindel, stars Adam DeVine as Owen, a bank manager who was so dull that his coworkers thought Parker (Nina Dobrev), his fiancée, was a made-up character. When Owen learns that Parker's parents chose to attend the wedding at the last minute, his excitement for the wedding only grows. Both Parker and Owen are meeting them for the first time at this occasion.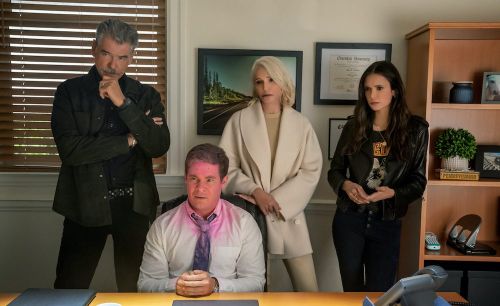 When Billy and Lilly, Owen's future in-laws, are introduced, it becomes evident that they come from a totally different world and do not approve of Owen as a father-in-law. But when Owen's bank is robbed, things spiral out of control, and he begins to wonder if his in-laws may have been involved. He is in a difficult situation. How does one inform their fiancée that her parents are criminals? He wants to talk to Parker about it, but how? With this approach, "The Out-Laws" establishes an intriguing premise, but things quickly descend into farce.
The Netflix film, which is an action-comedy, focuses on vehicle chases and shootouts while attempting to inject humour into them. The majority of this results from Owen's struggles to fit in with his in-laws' way of life and his learning how to rob banks and do other crimes. When playing Owen, Adam DeVine conveys the instinct of the everyday man, where he wants to rob a bank but is also concerned about protecting people. His work gives him a planning advantage, but when it comes to execution, he frequently makes mistakes.
The only adjective that comes to mind when describing these events is ridiculous, but you can't help but laugh aloud when you see them. Even though you are aware that this is not the best picture you have watched recently, let alone in the action-comedy category, you find yourself laughing out loud throughout the entire film. The actors, who give their characters realism and support one another, deserve praise for this.
When compared to his in-laws, played by Pierce Brosnan and Ellen Barkin, who exude a hardened-criminal air, DeVine's Owen stands in stark contrast. Billy and Lilly frequently respond to Owen's actions in uncanny time with the viewer, which oddly makes the comedy funnier. The characters who primarily play supporting roles, however, stand out. Richard Kind and Julie Hagerty portray Owen's critical parents, who believe that their future daughter-in-law is a stripper rather than a yoga instructor. Every scene features the couple brilliantly, and they give the parts a unique flair that could have been lost on a lesser performer.
We wish there was more Michael Rooker since he is so enjoyable to watch as FBI agent Roger Oldham. The same is true for Nina Dobrev and Poorna Jagannathan, who perform admirably despite having little to work with. Lauren Lapkus, however, is the MVP. Despite having the shortest amount of screen time, she completely controls the role and elevates it to a highlight. Every scene she is in ranks among the greatest in the film.
'The Out-Laws' had a lot of potential with a star-studded ensemble like this, but the movie had too many bad points to counteract the bright points. The movie's first half struggles to get going and seems a touch odd. The second half of the film is when the action gets up and all of the best sequences are presented. The plot is too shaky to keep anything connected. The characters might have used a little more development, particularly when examining Parker's connection with her parents.
'The Out-Laws' comes off as a bland action comedy from a broad perspective. With this one, you'll most likely never get around to watching it again. When you do watch it, you may anticipate having fun, especially if you're in the mood for something that doesn't require much thought or focus. For an hour and a half, it promises nothing but entertainment and is often humorous. You might want to choose something else if you want your jokes to be funnier or sharper. This watch is ideal for anyone seeking for something ridiculous and absurd.
Our Team DCS includes 5 different writers proficient in English and research based Content Writing. We allow them and encourage them to follow the Entertainment news all day long. Our posts, listicles and even the exclusives are a result of their hard work.