The 23rd season of The Voice has a winner! On Tuesday, May 23, 2023, at 9/8c on NBC, the singing competition programme The Voice's season 23 grand finale took place.
For those of you who are unaware, let us inform you that after 23 seasons as a judge on The Voice, Blake Shelton has officially said his final farewell to the competition.
Grace West and NOIVAS from Blake Shelton's team, D.Smooth from Kelly Clarkson's team, Sorelle from Chance the Rapper's team, and Gina Miles from Niall Horan were the five contestants who advanced to the season 23 finale of The Voice. The winner of The Voice season 23 will be revealed in the following paragraphs.
Gina Miles was named the winner of 'The Voice' season 23
Yes, it is what you read. The winner of season 23 of The Voice, a singing competition programme, is Gina Miles of Team Niall. Team Blake member Grace West finished the competition in second place.
Team Kelly's D.Smooth finished third. Sorelle from Team Chance and NOIVAS from Team Blake, on the other hand, finished in fourth and fifth place, respectively. The NBC competition series' grand finale was presented by Carson Daly.
Here's all you need to know about Gina Miles (including her age, background, and more)
The 23rd season of The Voice is won by Gina Miles. Her hometown is Paxton, Illinois. She is currently 19 years old. She knew from a young age that she wanted to work in music. She made the decision to relocate to Sacramento and live with her aunt.
DJ was her father. She has spent the majority of her life surrounded by music. She was raised by a single father who worked as a DJ on the weekends. She decided to pursue music seriously after turning 14 and asked her father for aid in securing a few gigs. In 2022, she released Who Are You, her debut EP.
Miles nailed the famous song The One That Got Away by Katy Perry during his The Voice auditi on. Coach Kelly Clarkson was the first to change. Niall soon swivelled his chair. Kelly then remarked, "You had me in the beginning." Gina's voice had a "feel" and "character" that Niall recognised. Horan was ultimately chosen by her as her coach.
Blake Shelton bids adieu to 'The Voice' after 23 seasons
The Voice's current season served as Blake Shelton's final one as a coach. After a total of 23 seasons, he made the decision to end the show. During the show's grand finale, he received a kind farewell. As he leaves The Voice, he was recognised as the GOAT (Greatest of All Time).
Numerous celebrities, including Dolly Parton of country music, Jimmie Johnson of NASCAR, Jackie Joyner-Kersee of track and field at the Olympics, Peyton Manning of the former NFL and Olympic gold medalist Lindsey Vonn, stood up to honour Blake Shelton as he left the stage.
Blake's jean jacket, which celebrated his nine season victories, was also retired on Tuesday night. Blake Shelton's statistics on the programme were also clarified by the show's host Carson Daly, who said, "He has pushed his button nearly 600 times, coached over 300 artists, worn 210 pairs of boots, and drunk 100 gallons of whatever is in this cup."
Gwen Stefani shared a sweet message for her husband Blake Shelton as he retires from 'The Voice'
Gwen Stefani, Shelton's wife, whom he met on the show Additionally, The Voice posted a video message in which she discussed how the show altered their lives and how she met her "soulmate."
"When I first came on the show, our lives were having this parallel destruction happening, and then the next thing you know, Blake and I start becoming best friends and falling in love," Stefani is heard saying in the video. I find it difficult to discuss it without breaking down in tears.
Blake expressed how much he enjoyed watching the video and revealed to Daly that they talk about their relationship "at least once a week." We pause and ask, "Can you believe that happened?," he continued. We met on the show, and how did it happen? And it truly has been the best thing that has ever happened to me.
Last year, Blake Shelton announced that he was leaving the show 'The Voice' after 23 seasons
The Come Back As A Country Boy singer revealed that he was prepared to end the The Voice era in October 2022. The seasoned coach then posted a lengthy statement to his Instagram page. Additionally, he explained why he left the singing competition.
After some deliberation, Blake declared, "I've decided that it's time for me to leave The Voice after the upcoming season. The reality singing competition, he continued, "changed his life in every way for the better."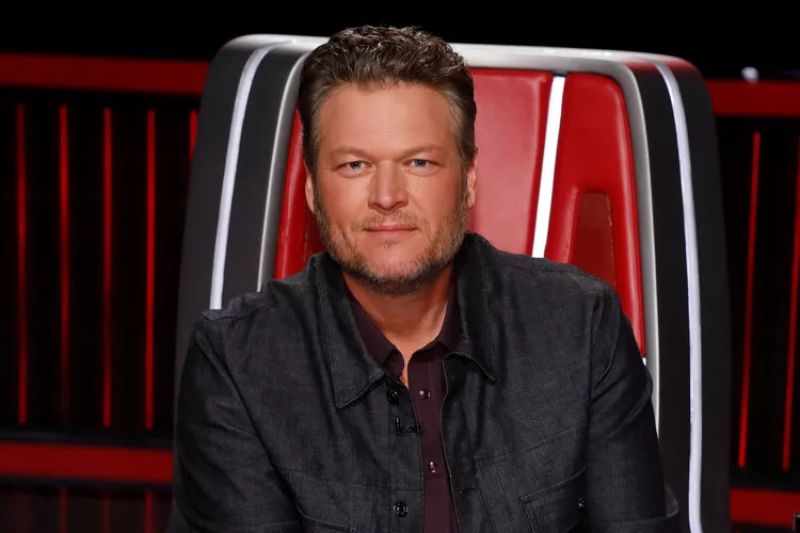 "I have to give a huge shoutout to the singers — the voices who come on this stage season after season and amaze us with their talent," the country singer said. "And a special thanks to those who chose me to be their coach."
Shelton expressed gratitude to all of the The Voice fans in his closing remarks. He also expressed his gratitude for their commitment over the years to the reality competition's cast and crew. He said that he has "lifelong" friendships with his co-stars.
Then, Blake's wife Gwen expressed her pride in him and said, "I am so happy to have discovered you. I feel very fortunate to be a part of your life's path, and your ability makes so many others happy.
Gina Miles is the season 23 winner of the singing competition The Voice, and we express our warmest congratulations to her. I wish her the best of luck in all of her future endeavours. Keep checking back with us for the most recent Hollywood news.
Being a binge-watcher himself, finding Content to write about comes naturally to Divesh. From Anime to Trending Netflix Series and Celebrity News, he covers every detail and always find the right sources for his research.