'Physical' on Apple TV+ stars Rose Byrne as Sheila Rubin, a housewife who is dissatisfied and disillusioned with her life and longs for change. Additionally, she struggles with an eating disorder and a negative voice in her head that always makes her feel worse than she actually is. Sheila discovers aerobics in between, and it transforms her life. She not only develops a business out of exercise in addition to feeling better about herself.
Sheila has achieved significant success by the third season, but she is up against competition from other, more well-known individuals. Kelly Kilmartin, a former TV actress who starred on the programme "Trish Out of Water," presents the toughest challenge. Here's all you need to know about this show if you're unsure if it's real or not. Spoilers follow.
Is Trish Out of Water a Real TV Series?
The fictional television programme "Physical" was created by Annie Weisman. Sheila, Kelly, and all the other characters on the programme are creations of Weisman's imagination. The fictional television programme "Trish Out of Water" was also developed to fit the plot of Shiela's tale. The significance of the show is that it gives Sheila a mental lens through which to view Kelly Kilmartin.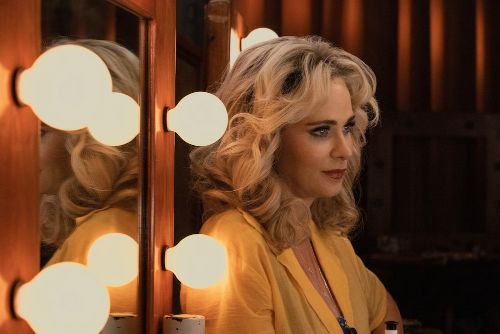 Kelly is an actress, and despite the fact that they both work in the same field now, their paths have never really met. As a result, Sheila is unaware of Kelly's voice or her true personality. Sheila only knows Kelly from the television show "Trish Out of Water," thus when she imagines Kelly, the actress plays the role of Trish. Kelly appears as Sheila's inner voice because Kelly, in Sheila's opinion, is superior to her in every way.
Kelly has already defeated Sheila in her game and is younger, blonder, more well-known, more successful. Because Sheila only knows that version of Kelly, the voice that makes her feel bad about herself adopts Trish's voice rather than Kelly's. Actress Zooey Deschanel explained the significance of the distinction between Kelly and Trish and how it affects the story: "She's in Sheila's head, and the 'imaginary Kelly' is a character the actual Kelly plays on 'Trish Out of Water. Kelly, a Southern Belle who is coerced into working as a lifeguard on "Trish Out of Water," is the figure that keeps coming back to haunt Sheila. to annoy her, to make her feel horrible, and occasionally to make her feel wonderful," she stated.
Deschanel went on to explain the distinction between Kelly and Trish and how she modified her performance subtly to highlight it. "The'real' Kelly is kind of the epitome of femininity in the 1980s. She was created with a lot of artifice and is extremely calculated. She acts in this way because she believes it is necessary for her to survive, the 'New Girl' star continued. The TV show is only Kelly's audience's impression of her, and 'Trish Out of Water' was inserted into the narrative to emphasise this distinction.
Our Team DCS includes 5 different writers proficient in English and research based Content Writing. We allow them and encourage them to follow the Entertainment news all day long. Our posts, listicles and even the exclusives are a result of their hard work.