The 2016 crime drama 'Adulterers,' directed by H.M. Coakley, was originally titled 'Avouterie,' and explores the ramifications of adultery on a marriage. Samuel Dueprey, a devoted and caring husband, discovers Ashley cheating on him with another man, Damien Dexter Jackson, on the day of their first wedding anniversary. After making the revelation, Sam enters a rage that forces him to kidnap Ashley and Damien and act as their judge, jury, and executioner. He also forces him to keep them at gunpoint.
By focusing on an extramarital affair and its violent consequences as its main premise, the movie offers a troubling yet realistic scenario. The narrative constructs an intimate closed-off atmosphere that exclusively focuses on Sam, Ashley, and Damien and gives a character analysis for them, with only three people having any bearing on the plot. Viewers might be interested to know if "Adulterers" has any basis in reality given the story's convincing plot. Let's investigate!
Is Adulterers a True Story?
'Adulterers' is, in fact, based on a true story. H.M. Coakley, who wrote and directed the entire movie, claimed that an incident involving a member of his family served as the motivation for the story. The incident left the director wondering what he would do if he were in the same situation, which inspired him to make "Adulterers." It's plausible to infer that much of Sam's character qualities are based on Coakley and his thoughts since the main focus of the movie is an investigation into Sam's personal what-if scenario.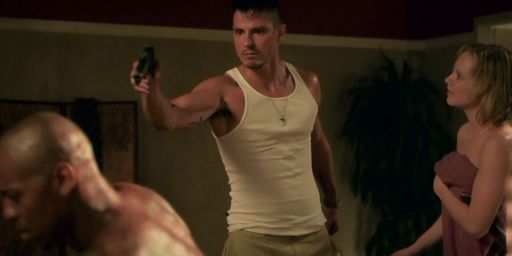 In that regard, the movie lives up to its opening sequence's promise that it is based on a genuine story. However, it's crucial to remember that the precise sequence of events described in the story has little to do with reality. As a result, Sam, Ashley, and Damien are fictional characters that aren't based on real persons.
Nevertheless, the characters have some real-world foundations considering the subject matter of the movie. An organisation focused on relationships called HackSpirit reported in a journal on Marriage and Divorce that 70% of Americans cheated on their spouse at least once. Despite the fact that there is a wide range of conflicting facts on the subject of infidelity, most research agree that it is a widespread social phenomena.
As a result, a large portion of the audience can identify with one of the three characters and form their own opinions regarding their morality. As a result, the movie creates a story that encourages audience participation and engagement through empathy and critique. Another important component of the movie is its treatment of religious subjects, particularly Christian perspectives on adultery as they are described in the Bible. The same also increases the movie's appeal to a particular audience.
Many films dealing with the subject of cheating have been produced in Hollywood throughout the years, with varied degrees of similarity to the "Adulterers." A similar plot of betrayal and violence sparked by a wife's affair is followed in the infamous 1969 French film "The Unfaithful Wife," which was directed by Claude Chabrol and titled "La Femme Infidèle" in the original dub. Similarly, other films about unfaithful women that result in violence include the 2002 thriller "Unfaithful" and the 1981 romance drama "The Postman Always Rings Twice."
The movie also depicts the real-life problem of males turning to cold-blooded murder after discovering their female partner's extramarital affair. Pedro Grajalez, a 52-year-old guy, just killed his girlfriend Nilda Rivera by stabbing her to death for having an extramarital affair before capturing images of her horrifying corpse in April 2023. In a similar vein, Peter Nash was determined to have killed his wife Jillu and daughter Louise. Nash made an attempt to use his wife's adultery as evidence during the trial to defend his crime.
Even though these crimes have little to do with Coakley's movie, they provide a comparison between "Adulterers" and real-world crimes. In the end, the movie is only loosely based on a real event. Only in the sense that it illustrates a man's imagined course of action in the event that his wife betrays him, which is something the director pondered about. Events and characters in the movie are all made up.
Our Team DCS includes 5 different writers proficient in English and research based Content Writing. We allow them and encourage them to follow the Entertainment news all day long. Our posts, listicles and even the exclusives are a result of their hard work.