Danielle Bregoli became well-known after her appearance on The Dr. Phil Show went viral. But, as the rapper Bhad Bhabie, she's built a new life for herself since then. She's only been making music for a few years, but she's already proven that she's capable of producing major hits. Her songs and talent have proven to the world that she is more than a meme, and this has resulted in her earning a lot of money.
Danielle is well-known for her music, but she's diversifying her sources of income. She's auctioning off her own NFTs (Non-Fungible Tokens) to give fans a chance to acquire one-of-a-kind artwork and collaborations from the artist herself. She's also created an account on OnlyFans that has earned her almost $1 million in a single day. It's no surprise that she has such a large net worth after so much achievement. Let's take a look at how she acquired her wealth.
First of all, what are NFTs?
NFTs are digital assets that have the potential to generate a lot of money. ETH me Outside is a one-of-a-kind collection created by Bhad Bhabie. This collection includes artwork, music, and her well-known "Cash Me Outside" meme. The collection is presently offered for auction on Opensea, Rarable, and Zora until April 1, 2021. The collection is a collaboration between 15 artists and comprises of 20 NFTs, all of which are based on the meme for which she is famous.


"At first the idea was just to make an NFT for the meme and sell it but then we found all these amazing artists that wanted to make pieces for the drop," Bhad Bhabie said in a statement. "So many of them wound up being girls that we did our own female and non binary drop called Crypto Bhabies. A few of these I'm definitely hanging on my wall."
Now, Bhad Bhabie has an OnlyFans account.
Bhad Bhabie turned 18 in March 2021 and pretty much immediately decided to add to her net worth with an OnlyFans account. Right now, it's not clear if she's making NSFW content for the platform, but she has said she's made millions. "Not bad for 6 hours," she said in an Instagram post showing that she made $1,030,703.43 on the platform over that short amount of time. "We broke the f–k out of that OnlyFans record."
Right now, there's no public content on Danielle's OnlyFans, but for $23.99 a month, users can get access to everything. In captions, she's suggesting that her content may be NSFW with things like, "I be wearing too little sometimes" and she did promote the page while wearing lingerie sets. She also says that she checks her DMs, so fans may have a chance of getting to talk to her via the subscription service.
What is Bhad Bhabie's net worth?
Bhad Bhabie is said to be worth $4 million, but the money from OnlyFans may easily increase that figure. Given her rapid success in the music industry, she owes a significant portion of her fortune to it. Danielle was the youngest female singer to ever chart on the Billboard Hot 100 at the age of 17 years old.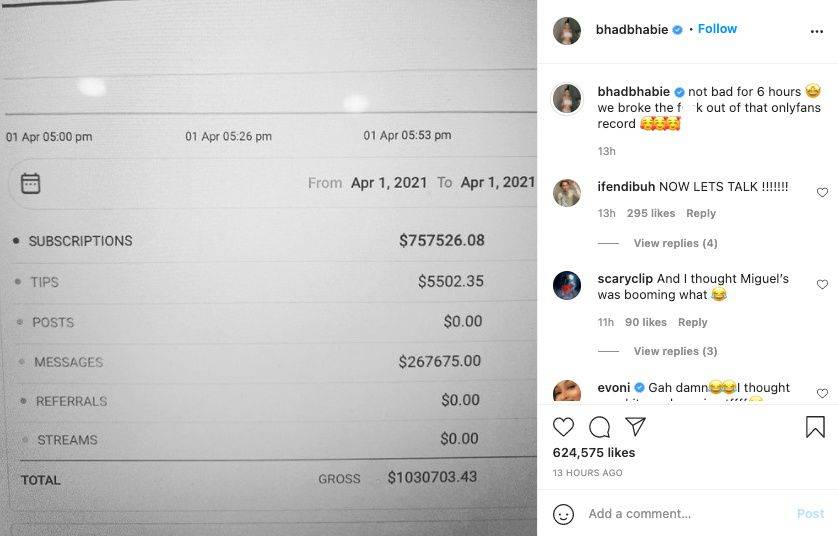 Her victories have continued since then. She's done social media sponsored posts for Fit Tea and Postmates. She's also making a lot of money from the NFT business because she has such a massive following.
Bhad Bhabie also secured a million-dollar agreement with Pulse Music Group in July of this year. Her music has continued to gain a lot of attention and appreciation since then. She has her own Snapchat show, Bringing Up Bhabie, and was paid $900,000 in 2019 to advertise CopyCat Beauty. According to TMZ, the collection includes makeup, brushes, and facial masks, and the rapper is paid a percentage of sales.
None of this, however, covers anything Bhad Bhabie possesses. She isn't one to hold back when it comes to flaunting her wealth on social media. She spent $90,000 on a Porsche before she was even 14 years old. In addition, she purchased her own property in California. It's safe to say she's living nicely these days — and things will only get better as her NFTs go up for sale and she continues to dominate the OnlyFans scene.
Our Team DCS includes 5 different writers proficient in English and research based Content Writing. We allow them and encourage them to follow the Entertainment news all day long. Our posts, listicles and even the exclusives are a result of their hard work.