IPS officer is more than a title; it is a tough job that spans the entire country. Every year, millions of people attempt to pass the Indian Civil Service test, the majority of whom are men; women, on the other hand, are in the minority but yet manage to shine.
If you ask any IPS officer how to become an IAS/IPS official, they will tell you that you must first have a purpose and try to comprehend your motivation. You will get answers if you make reasons. These top IPS women officers taught you about the importance of the Indian Police Service and motivated and inspired you to do something positive with your life. They keep their promises and are steadfast in their commitment to their responsibilities.
Women alone are capable of handling all responsibilities, whether domestic or national. All you need is the courage to stand up and fight the crime. Here are some of the fearless female IPS officers who have shone like stars in the fight against crime.
Aparajita Rai
Aparajita Rai is Sikkim's first female IPS officer. In 2011 and 2012, she took the UPSC Civil Service test and passed both times. She is the first individual from Sikkim to achieve such a high rank in the Civil Services Examination. Aparajita got numerous prizes during her training.
Her tale inspires people to take action and make a difference. Aparajita was born into a well-educated family, but she lost her father when she was only eight years old. Her father was a forest divisional officer. As a result, she had to support both her mother and herself. During this time, she became aware of government employees' callous treatment of citizens. Then she resolved to work hard and make a difference.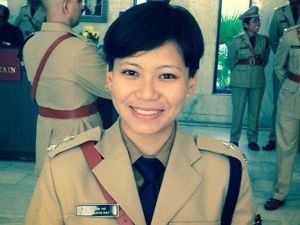 Shri Umesh Chandra Trophy for Field Combat, The 55th Batch of Senior Course Officers Trophy for Best Turn Out, 1958 Batch IPS Officers' Trophy for Best Lady Outdoor Probationer, and West Bengal Govt Trophy for Bengali are among Aparajita's main achievements. "Anyone who comes to me should not be subjected to the same harassment or suffering that individuals regularly experience in government offices," she argues.
Archana Ramasundaram
Archana is a retired IPS officer who served in the Tamil Nadu Police Department. She was an IPS officer for 37 years before retiring in 2018. She became the first woman police officer in India to oversee a government paramilitary unit on February 3, 2016, when she was appointed Director General, SSB.
Archana is a postgraduate in Economics from the University of Rajasthan, and she is from the 1980 batch. She also served as a lecturer there before being appointed to the IPS and assigned to the Tamil Nadu cadre. She worked as a Special Agent in Charge of the Prohibition Enforcement Wing, where she prosecuted a large number of bootleggers and prohibition violators. She later served in Chennai as a Special Prosecutor for Vigilance and Anti-Corruption.


She received numerous honors, including the Meritorious Services Police Medal in August 1995 and the President's Police Medal for Distinguished Service in 2005.
In 1999, she was appointed as a delegate to the Central Government and assigned to the Central Bureau of Investigation in New Delhi as a DIG.

Archana Ramasundaram is the first woman to lead a paramilitary force as an IPS officer.
Dr. B. Sandhya
B. Sandhya is the Kerala Police's Additional Director General. She received HR management training from Wollongong University in Australia in 1998 and a PGDBA from Pondicherry University in 1999.
In 2006, she became entangled in a sexual harassment probe involving former Kerala Public Works Minister P.J. Joseph. In 2009, she also successfully established the Janamaithri Suraksha Project, a successful community policing approach.
Sandhya received an International Scholarship of Distinction from the IAWP, a non-profit organization established in the United States, in 2010. Sandhya received the President's Police Medal for Meritorious Service from the Kerala police in 2006.
In 2007, her novel Neelakoduveliyude Kavalkkari won the Edasseri Award. In addition, he received the Gopalakrishnan Kolazhi Award, the Abudabi Sakthi Award, and the Kunjunni Puraskaram Award in 2013.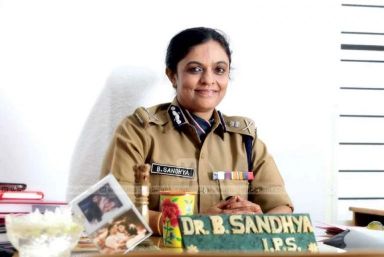 Dr. Ruveda Salam
Ruveda Salam made history by becoming the first IPS officer from Kashmir, fulfilling her father's goal. Her father had always expressed his desire for her to become an IPS officer when she was in youth. She completed the Civil Services Examination twice after obtaining her MBBS in Srinagar, and in her second attempt, she was promoted to the IPS cadre.

Ruveda acquired her training at Hyderabad and was assigned to the Tamil Nadu Police Department in Chennai as an Assistant Police Commissioner.
She is currently employed as an Assistant Commissioner Income Tax Officer in Jammu after deciding to pursue a career in the Revenue service. Ruveda also delivers a number of motivational speeches to young women. She encourages them to sit for the IAS test in Jammu and Kashmir.
Kanchan Chaudhary Bhattacharya
Kanchan was the first woman to hold the position of Director General of Police, and she retired on October 31, 2007. She was also the country's second IPS officer, after Kiran Bedi, and the first woman to be appointed DGP of Uttarakhand, as well as the first woman IPS officer in the state of Uttar Pradesh.
In her career, she has received numerous decorations, including President's medals in 1997 for distinguished service and meritorious service in 1989, the Rajiv Gandhi Award in 2004 for exceptional effort, all-rounder performance, and an excellent woman achiever.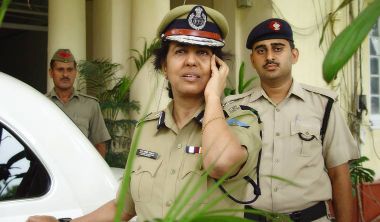 Kanchan was chosen to represent India at the Interpol meeting in Cancun, Mexico in 2004. She hosted the 2nd Women in Police Conference and received appreciation from India's President for her outstanding performance. Her work as the chairman of the All Indian Women in Police, Uttarakhand Police, is her most well-known accomplishment.
On behalf of the Bureau of Police Research and Development, she addressed the subject of recruiting, training, and retention of police women in India at the DGPs Annual Conference and also to the training chiefs of entire countries.
Kanchan Chaudhary died in 2019 at the age of 72 after a protracted illness.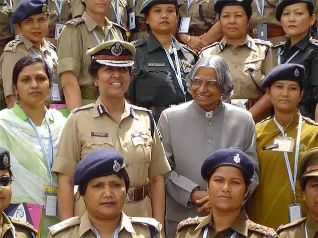 Kiran Bedi
Kiran Bedi is a social activist and a retired IPS officer. From May 28, 2016, to February 16, 2021, she was the Lieutenant Governor of Puducherry. She was the first woman to join the IPS in 1972, and she stayed for 35 years. She leaves her position as Director General of the Bureau of Police Research and Department in 2007.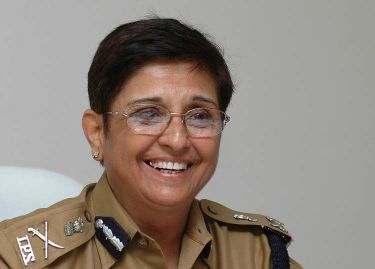 She was sent to the Delhi Prison as Inspector General. She has achieved worldwide acclaim for her work at Tihar Jail, where she introduced various improvements.
In 1994, she also received the Ramon Magsaysay Award. In 2003, Kiran became the first Indian woman to be appointed as a Police Advisor to the UN Secretary-General in the Peacekeeping Operations Department.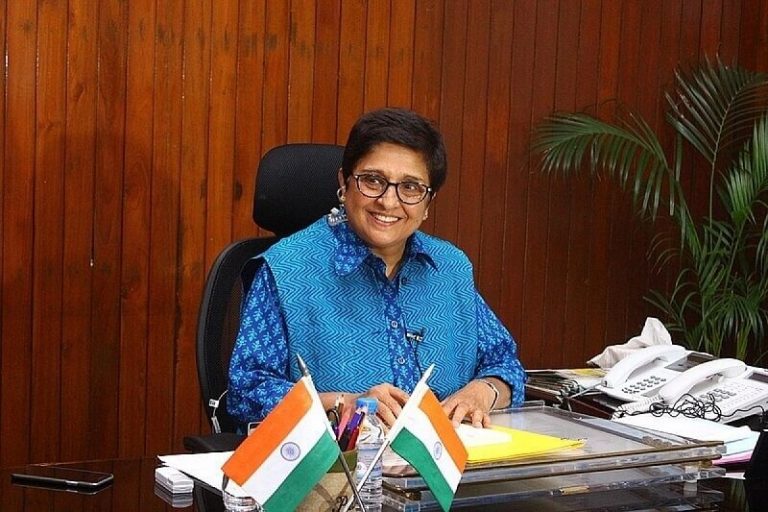 She is the founder of the Indian Vision Foundation and the author of various publications.
Meera Borwankar
Meera Borwankar became the first woman to lead Mumbai's Crime Branch Department in its 150-year existence in 2001. A tough officer who has solved a number of challenging cases, including the extradition of Abu Salem, the Jalgaon sex scandal (including several politicians), Iqbal Mirchi, and others.


Meera joined the Maharashtra Cadre of the Indian Police Service in 1981 and worked as a Deputy Commissioner of Police in Mumbai. She worked in the CID branch in 1993-95. She worked for the CBI in Mumbai and the DIG of the New Delhi Anti-Corruption Bureau.
Meera was the inspiration for the film Mardaani, and she watched the execution of Yakub Memon, who was convicted of a 1993 Mumbai serial booming, in 2015. She was also awarded numerous awards, including the President's Medal, the Police Medal, and the Director General's Insignia in 1997. She believes that women are far more capable than men in every way, and she encourages women to become independent, brave, and self-assured, and to pursue their aspirations.
Merin Joseph
At the age of 25, Merin Joseph is the youngest IPS officer in the Kerala cadre. She has wanted to be an IAS official since she was a child, but fate has other ideas. She scored 188th in the UPSC Civil Service Exam after graduation in 2012.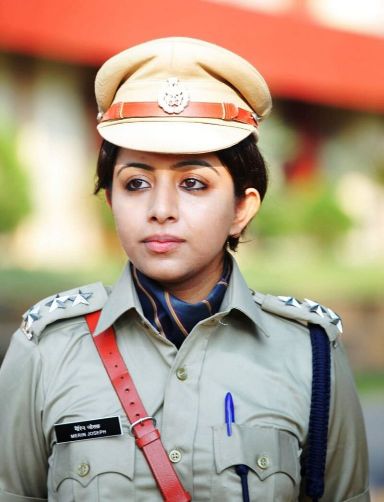 She was chosen from the Sardar Vallabh Bhai Patel National Police Academy to lead the Indian delegation to the Y20 Summit. after she was included in a media outlet as one of the most attractive female officers. Merin condemned the sexist essay as well as society's patriarchal mindset for objectifying women in this way.
She recently did an outstanding job by traveling all the way to Riyadh, Saudi Arabia, to apprehend a rape suspect who had been on the run for two years. Merin also undertakes a lot of social welfare work and is a role model for everyone.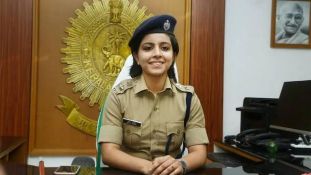 Sangeeta Kalia
Sangeeta Kalia is the courageous cop who spoke up against ministers abusing their position. Actress Kavita Chaudhary, who played an IPS officer in the 1990s TV series Udaan, motivated her to pursue a career as an IPS officer.
Sangeeta worked as an associate professor after getting her master's degree in Economics and took the UPSC test three times to realize her ambition of being a real-life hero. She passed the exam on her third attempt.
Her father worked as a painter for the Fatehabad police department and was a huge supporter of her. She became an IPS officer with the Haryana Police in 2010. Her father was retiring at the time, and seeing her daughter like this was a joyful moment for him.

When Sangeeta was acting as Police Superintendent in Fatehabad in 2015, she became well-known and drew a lot of attention. Sangeeta had a disagreement with Haryana's Health Minister, Anil Vij, since he requested her to leave a meeting, and she refused. As a result, she was sent to a separate area by the Health Minister. She received a lot of support for speaking out against the abuse of ministerial power.
She also detained a band of criminals who were taking money from ATM machines. There were numerous complaints against them, and it was tough to apprehend them. However, Sangeeta Kalia was able to apprehend the perpetrators thanks to her meticulous planning and execution.
Sanjukta Parashar
Sanjukta Parashar is an IPS officer from the 2006 batch. For insurgents in Bodo Assam, this name becomes a nightmare. She has already killed six extremists and detained more than 64 in just 15 months. Aside from her outstanding accomplishments, she is the first female IPS officer from Assam. She received an 85 on the civil service exam and chose IPS duty over administrative employment.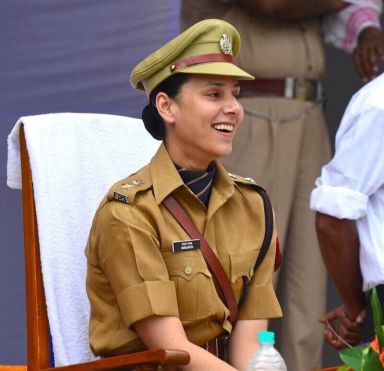 She leads a team of CRPF Jawans with AK-47s in a terror-infested zone as Police Superintendent of Sonitpur District. She also received a number of death threats from National Democratic Fronts, but she seemed unconcerned. She's one of the most feared cops in the city.
The most recent information we have about her work is that she is leading a study into the Bhopal-Ujjain train explosion.
Sonia Narang
Sonia Narang is an IPS officer from the 2002 batch. She received a gold award in Sociology from Punjab University in 1999. She rose through the ranks of the Crime Investigation Department to become Deputy Inspector General of Police. Sonia was motivated by her father, retired Deputy Superintendent of Police A.N. Narang. Sonia just had one goal in mind: to wear the khaki. "I never thought of something else," she stated in an interview with Indian Express. From high school on, it was simply civil service."

She's also known as the Iron Lady since she has no patience for individuals who cause problems. She rose to prominence after slapping an MLA during a 2006 riot between the Congress and the BJP. She really had to reintroduce a lathi charge to restore order, but BJP MLA Renukacharyaa refused to leave from where he was standing. She then smacked the MLA and sentenced him to prison.
Sonia was implicated in a Rs 16,000 crore mining fraud, according to the CM in 2013. She quickly issued a statement to the media claiming that she had never been allocated to regions where illicit mining occurs, so how did money get up in her pocket?
She not only expelled offenders, but she also exposed a racket operating within the Lokayukta office. She is only the second female Deputy Commissioner in Karnataka's long history, and she is in charge of Bangalore's South Division. In the Crime Investigation Department, she was also elevated to the position of Deputy Inspector of Police.

She was appointed as the National Investigation Agency's Superintendent of Police for a four-year term. She is currently serving as the Enforcement Directorate's Additional Director.
Soumya Sambasivan
Shimla's first IPS officer is Soumya Sambasivan. An IPS officer from the 2010 batch who began a serious probe into the drug mafia and was successful in putting many of them behind jail. Her name was put forth for consideration for the President's Police Medal.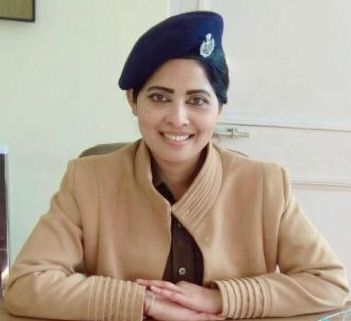 In Shimla, Soumya is the first female superintendent of police to be appointed. She was also assigned to the Sirmaur district for two years. Because of her tough and disciplined character, she became well-known and well-liked. During her tenure in Sirmaur, Saumya also helped solve six murder cases. Saumya is well-known for teaching women self-defense and how to correctly use pepper spray in self-defense.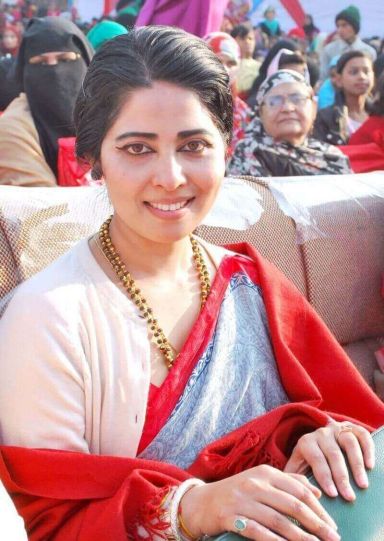 Most of the time, she is in the spotlight for her quick and powerful measures against criminals, giving the police department an advantage and strength.
Subhashini Sankaran
Subhashini Sankaran is the first woman IPS officer in independent India to be assigned to the protection of the chief minister. She proves herself and defies different prejudices, particularly in roles where there is no room for error.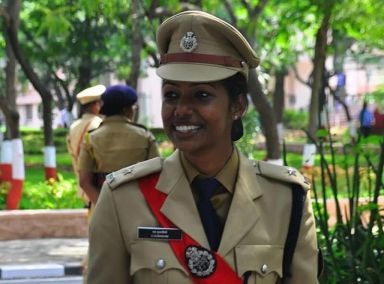 Subhashini received a 243 in the UPSC Mains test. On December 23, 2014, militants from the National Democratic Front of Bodoland's splinter organization in Sonitpur District massacred 30 tribals. Subashini and her crew arrived in less than 20 minutes and immediately recognized the gravity of the situation. To avoid further inflaming sentiments, the authorities took care of bodies to be picked up before the situation became law and order.
During her time in Assam, she was also instrumental for breaking a rhino poaching gang operating near Kaziranga National Park.
Vimal Mehra
Vimal Mehra is the first and only woman to be appointed to the prestigious position of Special Commissioner Police in the history of the Delhi Police.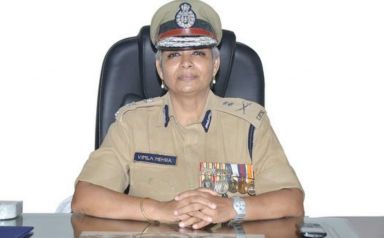 After Kirana Bedi, she is well recognized for being the second female Director General of Delhi's Tihar Jail. By introducing foreign language classes for women in jail, she made a significant difference. As the head of the Crime Against Women Cell, she created Women's Helpline (1091). She also started self-defense training programs for women, which she considers to be one of her accomplishments.
Vimal interacted with the battalion for the first time in Delhi during anti-Sikh rioting. She introduced a self-defense training school run by the police department.
Our Team DCS includes 5 different writers proficient in English and research based Content Writing. We allow them and encourage them to follow the Entertainment news all day long. Our posts, listicles and even the exclusives are a result of their hard work.