The next ten years of Tory Lanez's life will be spent in prison. Rapper from Canada was recently given a 10-year prison term for shooting Megan Thee Stallion, who wrote the smash song "Savage." The New York Times reported that a judge in Los Angeles made the decision regarding Megan Thee Stallion's roadside shooting in 2020 on Tuesday.
When Lanez's legal team filed a plea for a new trial in March, things changed. Lanez, who is best known by his fans for his popular songs like The Colour Violet, Say It, and In For It among many others, was originally scheduled to be sentenced earlier this year in February.
Why did Tory Lanez get sentenced to 10 years in prison?
For shooting Megan Thee Stallion, Tory, whose actual name is Daystar Shemuel Shua Peterson, received a 10-year prison term on Tuesday. 2020 was when the shooting event actually happened. He was initially due to get his sentence in February 2023, but his legal team submitted a motion for a fresh trial in March, which was ultimately denied.
The Luv rapper's sentencing date was postponed multiple times over the following few months. According to reports, the prosecutors requested a 13-year sentence and noted three violations of the court's pre-trial directives, telling the judge that Peterson had "waged a campaign to humiliate and re-traumatize [Megan]."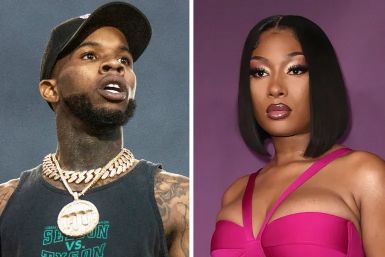 Daystar's attorneys asked for probation and obligatory rehab while addressing his alcoholism and childhood trauma. They also asked for a sentence of three years in prison or probation.
Even letters of recommendation from Lanez's family, friends in the nonprofit sector, and musicians like Iggy Azalea were presented by his legal team.
More details about the 2020 shooting incident
In case you didn't know, Daystar has been held without bond after a jury found him guilty on December 23 of three felonies involving firearms stemming from a shooting that took place on July 12, 2020.
After they left a party at Kylie Jenner's home in the Hollywood Hills, Tory allegedly shot fellow rapper Megan Thee Stallion in the feet. Tory stopped working with his trial attorney George Mgdeysan following the court's decision, and he just selected Jose Baez to take over the case.
Megan Thee Stallion, whose real name is Megan Pete, claimed in a statement that was read aloud in court on August 7 that "He not only shot me, he made a mockery of my trauma. This is a message to all survivors that their lives matter and that any form of torture that occurs in conjunction with violence will not be tolerated.

In sum, Lanez was found guilty of three felonies: careless discharge of a firearm, carrying a loaded, unregistered firearm in a moving vehicle, and assault with a semiautomatic pistol. He was convicted of it last year.
"When the guilty verdict came on Dec. 23, 2022, it was more than just vindication for me," Megan Pete said in an essay for Elle. "It was a victory for every woman who has ever been shamed, dismissed, and blamed for a violent crime committed against them."