"Dragged Across Concrete" is a 2018 crime thriller movie directed by S. Craig Zahler. It stars Mel Gibson, Vince Vaughn, Tory Kittles, Michael Jai White, and Jennifer Carpenter, among others. It tells the story of two police detectives who are being investigated for police brutality and are involved in a plan to rob a bank because they need money badly. But their paths cross with those of two old friends who also need money for their own reasons. Given the movie's complicated, layered, and intertwined plot and its dark and gritty tone, viewers must want to know more about where it came from. We were also interested in the same thing, so we looked into it on our own. Here is everything we learned about how "Dragged Across Concrete" came to be.
Is Dragged Across Concrete a True Story?
No, "Dragged Across Concrete" is not based on something that really happened. The idea for the movie came from the writer and director, S. Craig Zahler. Zaheler began his writing career as a novelist. His first book, "A Congregation of Jackals," came out in 2010. Zahler has worked as a cinematographer on a few short films since 1995. He made his first full-length movie, a Western horror called "Bone Tomahawk" that starred Kurt Russell. Zahler wrote the screenplay for "Dragged Across Concrete" right before he started making "Brawl in Cell Block 99," his second feature film as a director. Vince Vaughn plays the main role in that movie.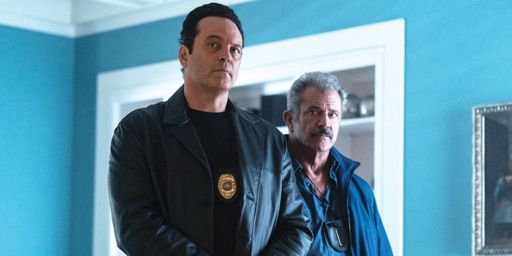 Zahler talked to Flickering Myth about how he came up with the idea for the movie. Zahler said that when he came up with the idea for the movie, he wanted to break the rules of the buddy cop subgenre. During the interview, he said, "It's funny, I always thought buddy cop movies were so light and funny that I never thought of this as a buddy cop movie." But the writer-main director's goal was to show how different characters' relationships with each other were complicated.
"I knew I wanted to make a movie with a lot of connections between people. The officer and his wife. A cop and his future wife. A man who just got out of jail, his mom, and his younger brother. Zahler said, "That guy and his childhood friend who is in the underground." He was talking about how the characters in the movie interact with each other. "I knew I wanted these different relationships and different parts of these characters in different situations. Also, I wanted a big story about crime," the director said. Zahler also said that he didn't try to mix buddy cop stereotypes with the complicated relationships in the movie on purpose.
Zahler said in a separate interview that he wanted to look at how different relationships show different sides of characters, which was something he hadn't been able to do in his previous feature films. Zahler also said that the 1981 American neo-noir crime drama film "Prince of the City," which was directed by Sidney Lumet, influenced the idea for "Dragged Across Concrete." In the same way, the director also talked about movies like Stanley Kubrick's 1956 noir film "The Killing" and Sidney Lumet's 1975 film "Dog Day Afternoon." Zahler also used some slice-of-life scenes in the screenplay to help people understand his characters and how they think.
'Dragged Across Concrete' is not, in the end, based on a true story. Even though the story was written and directed by S. Craig Zahler, who may have used his own experiences as inspiration, it is not a direct account of any real events. Instead, from what Zahler said, we can figure out that the director wrote interesting characters based on what he knew about people and crime. So, "Dragged Across Concrete" is a violent, dirty, and gritty noir film with buddy cop elements. It has a sliver of realism because the characters feel real.
Our Team DCS includes 5 different writers proficient in English and research based Content Writing. We allow them and encourage them to follow the Entertainment news all day long. Our posts, listicles and even the exclusives are a result of their hard work.