American actor and pop singer Edmund Dantes Urick, also known as Eddie Ames and more commonly known as Ed Ames, was born and raised in America. On July 9, 1927, Ed Ames was born in Malden, Massachusetts, in the United States. He was the son of Jewish immigrants from Ukraine to America named Sarah and David Urick.
Early life, career, and achievements:
Ames was the youngest of nine children born to Jewish immigrants in his early years. He became passionate about singing and began to perform in local churches. Their parents instilled a passion of music and literature in them from a very young age. Their mother instilled in them a love of Shakespeare and Saturday night broadcasts of the Metropolitan Opera. When Ed Ames and his siblings moved to New York City, they started a band called the Ames siblings. Abe Burrows came up with the idea for the band's name, Ames Brothers. They initially signed with Decca Records and started releasing music in 1947. Following that, Ed Ames and his brothers Vic, Joe, and Gene got a contract with Coral Records, and in 1950, their cover of "Rag Mop" became a hit. They also published the classic song "Sentimental Me" in the 1950s, which was a huge success for the group. In the 1950s, they scored many hits with songs including "You, You, You," "The Naughty Lady of Shady Lane," and "It Only Hurts For a Little While" after subsequently signing with RA Victor Records.
The brothers chose to dissolve the Ames Brothers despite their band's enormous popularity. The Ames Brothers had 49 singles that reached the top of the charts before breaking up in 1963. After the band split up, Ed Ames launched a lucrative solo career. The songs "Who Will Answer?" "Try to Remember," "My Cup Runneth Over," and other blockbusters were among those he released. Ames started his acting career in addition to his music career. He attended the Herbert Berghof Drama School in New York in the 1960s while acting on Broadway in 'Carnival'. He also participated in other significant productions, including "The Fantasticks" and "The Crucible," the latter of which marked his debut in an Arthur Miller-produced role.
He costarred with well-known actors including Gene Wilder, William Daniels, and Kirk Douglas in "One Flew Over the Cuckoo's Nest," which was performed on Broadway. Despite being of Russian and Jewish descent, Ames spent most of his acting career playing Native American roles. He rose to fame for his multiple-season performance as Mingo, a Cherokee Indian with a British father, in the Fess Parker Western series "Daniel Boone" that aired on NBC. Ames made a tomahawk throw on "The Tonight Show" with Johnny Carson, which aired on April 27, 1965, and hit a wooden panel with a cowboy outline, which helped him become famous. Intriguing cameos by Ames have been seen on a number of TV episodes, including "McCloud," "The Rifleman," "It's Garry Shandling's Show," "Jake and the Fatman," and "Murder, She Wrote." He showed off his flexibility as a performer throughout his career, succeeding in both acting and music. Ames is married to his wife Jeanne and has five great-grandchildren, seven grandchildren, and two children, Ronald and Sonya. He also has a stepson, Stephen Saviano.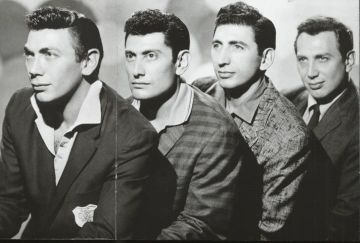 Sad News to the Fans:
On May 21 at the age of 95, Ed Ames, the youngest member of the well-known 1950s singing trio the Ames Brothers, went away from Alzheimer's disease. Ed Ames' wife, Jeanne, said he had a great and lovely life in a recent interview on May 27. Fans were grieved by the news of Ed Ames' demise, and many of them shared their sorrow by paying tribute to the late actor and musician on social media. Twitter fans honoured Ames' accomplishments and contributions to the entertainment industry by posting images, videos, and heartwarming memories of him. Fans will always treasure his great talent, unforgettable performances, and iconic moments as part of his legacy.
Our Team DCS includes 5 different writers proficient in English and research based Content Writing. We allow them and encourage them to follow the Entertainment news all day long. Our posts, listicles and even the exclusives are a result of their hard work.