As the defensive ace of the Los Angeles Rams, Aaron Donald has established a name for himself in the NFL. The professional athlete has a tender side that manifests itself around his wife Erica Donald, despite his seeming rough exterior on the field.
Ever since they first met when Erica started working for the Rams, Aaron and Erica have kept their relationship a secret. On Erica's birthday, the two became engaged. They now have a son together with Aaron's two kids from a previous relationship.
After Aaron and the Rams won the Super Bowl in 2022, Erica posted on Instagram, saying, "You are wonderful." "the most incredible husband, parent, and person. built-in best friend of mine"
Who is the wife of Aaron Donald? Here are some facts about Erica Donald.
She works in sports marketing
View this post on Instagram
In 2015, Erica started working for the Rams in player engagement and community affairs in St. Louis before the team relocated back to L.A. In 2014, Aaron started suiting up with the Rams.
According to her LinkedIn, Erica was employed in 2020 by game1, a content firm that specialised in the fusion of sports and Hollywood, as vice president of player alliances. She formerly worked with Kanye West's Donda Sports, where Aaron signed a contract in May 2022. Following West's antisemitic remarks in October 2022, the pair made the decision to cut relations with Donda Sports.
In a joint statement, Erica and Aaron noted that the recent expressions of hatred and antisemitism "are the exact opposite of how we chose to live our lives and raise our children." We consider them to be reckless and contrary to all we as a family stand for.
Erica has been in control of her husband's marketing strategy since since she left Donda Sports.
On the insideLINES podcast, she said, "From a career sense, [I look forward] to continuing to help, support, and uplift my spouse," noting that working alongside your significant other has advantages and disadvantages. "Generally speaking, we don't butt heads at work. When I need to discuss something [work-related] with him when he returns home from a difficult or long day, that's when things get hard."
She graduated from Louisiana State University
According to her LinkedIn profile, Erica graduated from Louisiana State University in Baton Rouge, Louisiana, with a bachelor of arts in mass communication and public relations. She served as president of the student activities board while she was a student and maintained a leadership position within the Delta Sigma Theta sorority.
Aaron proposed to her twice

The sportsman twice made a marriage proposal to Erica: once without a ring and once with one. After four months of dating, "he proposed to me for the first time," Erica told People (the TV Show! ), adding that he did it while on vacation without a ring.
She explained, before displaying one of the three bands he gave her that day, to host Lilliana Vazquez, "The second time he did it, it was my birthday."
She's a mom
View this post on Instagram

Jaeda and Aaron Jr., children of Aaron from a previous relationship, have Erica as their stepmother. Aaric, the couple's first child, was born in September 2021.
On Aaron's 30th birthday, May 23, 2021, she posted on Instagram that she was expecting a child. She commented, "Grateful that you were given life 30 years ago today and blessed to create another with you.
The name Aaric is a mix of Aaron and Erica.
She loves Aaron's thoughtful gifts
Aaron has a history of surprising Erica with extravagant, thoughtful gifts. He gave her a diamond-studded love locket bracelet with a childhood picture of her and her late brother inside during their engagement. Aaron explained to jeweller Moe Diamonds that "that's her guardian angel."
After presenting her a video montage of her family members who were unable to join her for her birthday celebration, he gave her the gift.
She remarked in a video Aaron posted on YouTube, "When we first started dating, I was like, "I'm not emotional," and now I'm like, "I'm emotional." She grinned and said, "You always do this to me," as she hugged her husband.
She lives in Southern California
In Southern California, Erica resides with Aaron and their son Aaric. According to ESPN, the Donald family relocated to a new house in the San Fernando Valley neighbourhood of Los Angeles in April 2022.
Jaeda and Aaron Jr., Aaron's two elder kids, reside in Pittsburgh. Aaron has been thinking of retiring due to the distance, especially after Jaeda started school and had less time to visit her dad.
When asked why he might call it quits at his prime, he told Sports Illustrated, "I'm thinking about my kids, first, always."
She likes to bake
Aaron enjoys cooking at home, but Erica said that she had made cookies and football-shaped cake pops in order to host a gathering for Super Bowl LVI.
She admitted to cooking cookies for a few weeks, according to People (the TV programme!).
Additionally, she ordered personalised cookies with a shirtless Aaron; nevertheless, her husband wasn't very fond of the sweets.
He frequently asks, "Erica, why?," she said in jest.
She supports Aaron's mental health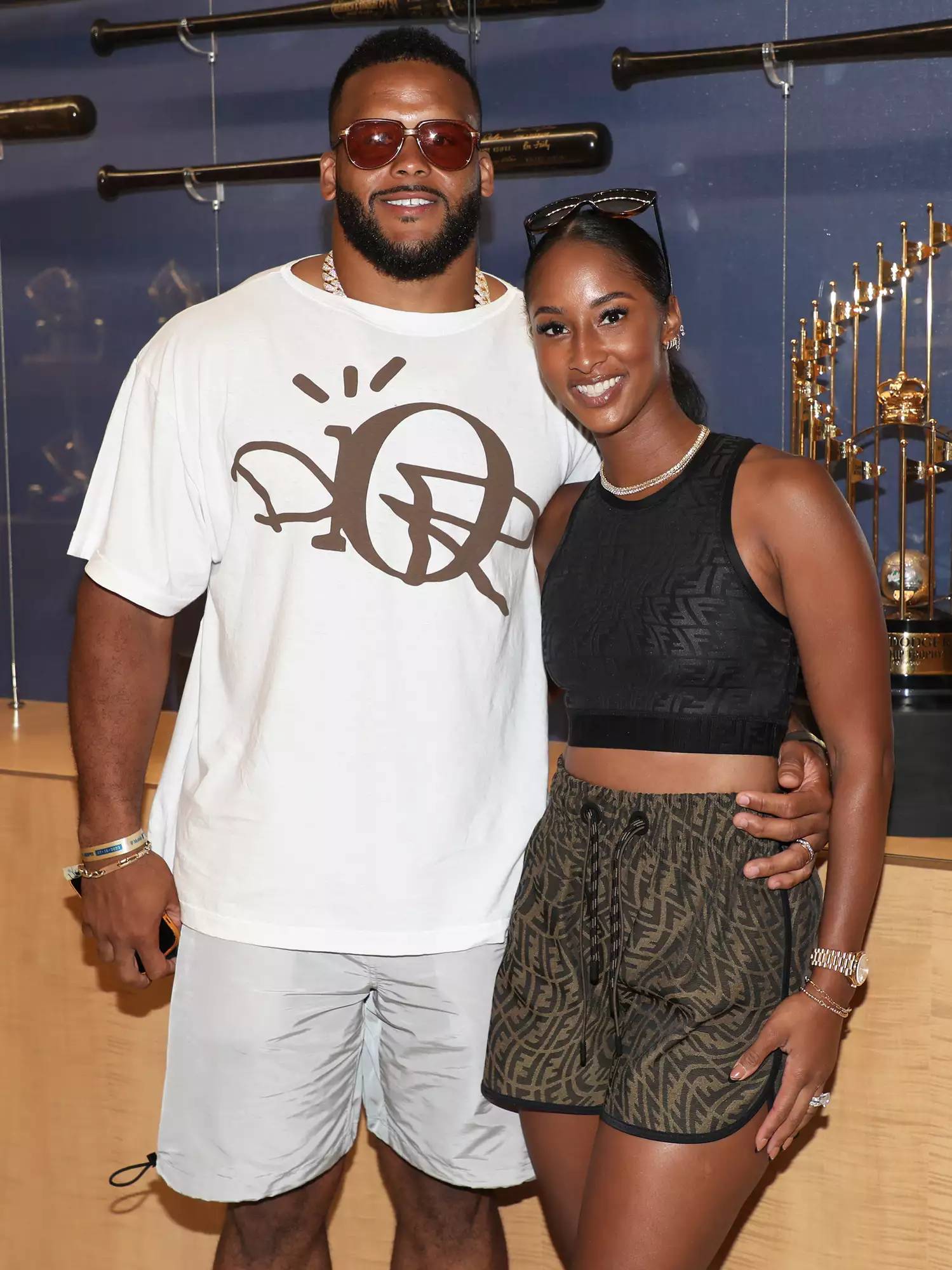 Aaron told Sports Illustrated, "I don't know where I would be mentally if it weren't for [Erica]. The Rams player talked candidly to SI about how managing his blended family hasn't always been simple. It took a toll on Aaron to be away from his older children, and he asked for time off from the Rams to travel to see them in Pittsburgh.
"I wasn't myself when I got home. If things with my kids aren't in order, everything in my life is out of order. Since the beginning, it has been about [them] "said he.
Aaron's career milestones have also received encouragement from Erica. She shared a collection of images from the Rams' post-game celebration after they won the 2022 Super Bowl. She wrote, "Congratulations on reaching greatness in your career since you have exceeded it in your personal life. "What a ride it has been to watch you win the Super Bowl in addition to returning there. We are grateful for the sacrifices you have made and are now making for your family because you maintained your word. You are a living example of how perseverance is rewarded. This narrative is one of the best written ever. You have my undying love. We always have your back. World Champion, Mr. It's not over yet."
Being a binge-watcher himself, finding Content to write about comes naturally to Divesh. From Anime to Trending Netflix Series and Celebrity News, he covers every detail and always find the right sources for his research.