There are many amazing species in the world. We occasionally stumble across new animal species and subcategories that we had never seen before. Pictures of one such animal, the Felis Salamandra Cat, are now widely shared on social media.
Pictures depict a stunning black cat with yellow patches that resembles a hybrid of a cat and a fire salamander. While some people are awestruck by the creature, others are sceptical about its existence and believe that the photos of the Felis Salamandra Cat are fake. Find out by reading on.
Pictures of Felis Salamandra Cat Go Viral on Social Media
On every social networking site, including Facebook and Twitter, the Felis Salamandra Cat has gained enormous popularity. On Twitter, a user who posted images of the animal commented, "Incredibly beautiful Félis Salamandra (Wild Cat)." The cat's stunning appearance is due to its all-black coat and yellow spots.
The cats, according to a user, are uncommon and can only be found in tropical highland areas. "Finding of the uncommon wild cat subspecies Felis Salamandra. According to a widely shared Facebook post, researchers have discovered a new subspecies of wild cat called Félis Salamandra.
This subspecies is extremely rare because it is restricted to a tropical mountainous location and is thought to be a subspecies of the Asiatic small leopard. This explains why it was just recently discovered. This discovery is particularly intriguing since it highlights the value of protecting endangered species and biodiversity, it continued.
Is the Felis Salamandra Cat Real?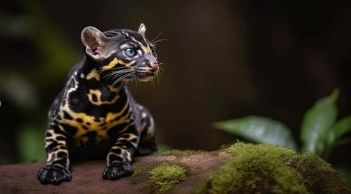 The Felis Salamandra Cat is not genuine, to be honest. No matter how realistic and stunning the images of the wild cat appear to be, they are not true. The fake images, according to reports, were made by AI. An image of a cat with snake-like skin and yellow patches that was identical to this one went viral earlier this year. Later, AI was also credited with creating the beast, known as Serpens Catus.
A social media user by the name of Kâma Usha Bengal claimed that the images were made and spread as an April Fool's Day hoax last month, which led to the discovery of the Felis Salamandra Cat. Bengal utilised AI to apply yellow patterns over a photograph of a cat using images of Fire Salamanders.
Felis Salamandra Cat Divides Social Media
Some social media users were mesmerised by the cat's beauty, but others were able to recognise that the pictures were fake. "Nah, are they true? My, they are lovely! I wannu," a surprised user wrote. Someone else tweeted, "Wow! I've never seen an animal like this before! Beautiful. I'm hoping for their safety and that they will always exist.
They're bogus, a user said in the comments. It's getting harder to distinguish between what's real and what isn't because of that goddamned AI. Would be so awesome, another person wrote. People are accepting it as true without doing any additional research, according to a post I recently read. Additionally, a user wrote, "Based on the name I'm gonna say this is fake."
Our Team DCS includes 5 different writers proficient in English and research based Content Writing. We allow them and encourage them to follow the Entertainment news all day long. Our posts, listicles and even the exclusives are a result of their hard work.