Camping is one of the best things to do with your friends and family if you like being outside. But people who have camped before know how hard and frustrating it is to set up a tent. Not only does it take time, but it seems almost impossible for first-time campers to get everything "just right."
In episode 16 of season 14 of "Shark Tank," entrepreneurs Ken Heove, Monique Keefer, and Ryan Guay pitched an alternative solution to the Sharks that would completely change the way camping is done. Flated is a new product that makes road trips easier and more fun. Now that we have your attention with such a useful product, let's look into the company's history and see how it has grown.
Flated: Who Are They and What Do They Do?
Flated is a great alternative to other materials for tents and other camping gear. With Flated, you can feel the cool breeze and watch the sunset in the best comfort and ease, so you don't have to deal with any extra trouble. In March 2020, four co-founders named Ryan Guay, Dan Watts, Monique Keefer, and Ken Hoeve came up with the idea as a way for outdoor enthusiasts who want to travel easily.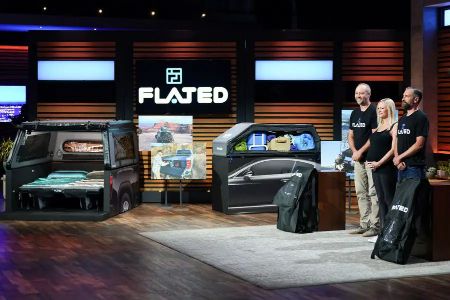 Ryan Guay has a lot of schooling under his belt. He has degrees from the University of Montana, the University of Colorado Boulder, Universidad del Pas Vasco/Euskal Herriko Unibertsitatea, and Fort Lewis College. Ryan's first job was as a professional cyclist for Dr Pepper/7UP. Later, he worked for Navigators Insurance. He later became the General Manager of Double R Timbers and an Independent Sales Representative for Smartwool and Merrell. He also worked in important roles at Boardworks Surf, the Stand Up Paddle Industry Association, Surftech, Faction Skis (also known as The Faction Collective), FORLOH INC, and Flated, where he is the CEO and inventor.
Dan Watts got his Bachelor of Arts in Applied Design from San Diego State University. He started out as an Art Director at Transworld Media. In 2004, he became the Publications Designer at DC Shoes. He was also the Creative Director at Flow Sports and Surftech. Dan works as the Chief Product Officer at Flated right now. He also works as a Designer/Consultant at Watts Design and Consulting, where he has been since April 2021.
Monique Keefer went to Santa Barbara City College and has worked for companies like Delicate Productions, Global Brand Marketing Inc, The Greenwald Company, Boardworks Surf, Surftech, and LEUS in good jobs. In 2018, she started her own business called Best Coast Bookkeeping & Consulting, where she worked until 2022. She is the Chief Financial Officer (CFO) at Flated right now. Ken Hoeve is the most experienced person in the outdoor industry and is the CMO of Flated. He is very good at marketing, and he tells the story of Flated through real marketing campaigns with Athletes, Ambassadors, and Affiliates. He is also a representative for YETI Outdoor.
During the pandemic in March 2020, when the idea for Flated came to mind, The idea came from the need to use the same material as inflatable kayaks and paddleboards, like the inflatable stitch technology, to make useable space on vehicles. Flated makes inflatable car accessories that are unique and of high quality. Flated was made by experts in outdoor gear and stand-up paddleboards. It is known for being the first company to make an inflatable rooftop freight carrier and an inflatable truck topper. The products are perfect for anyone who wants to go outside and have a smooth time.
Where is Flated Now?
Flated has grown by leaps and bounds since it began in 2020. All Flated products are easy to transport and store because they can be inflated or deflated and have patent-pending travel and storage options. The business is happy to be a part of SEMA, which is the most important group for the aftermarket automotive industry. Flated was founded in Carlsbad, California, a popular place for stand-up paddleboarding and surfing. It has only recently built a research and development facility and a customer service office there. The company is dedicated to coming up with new ideas and giving them to everyone who wants to go on more adventures.

Flated wants to give other travellers on the road a way to customise their cars that is both durable and affordable. The company's unique products offer a lot of ways to do this. Flated uses tested inflatable drop-stitch materials and new design ideas to make the best car accessories. The Air-Carrier is perfect for long trips with the whole family or as a unique gift for newlyweds who need to move a lot of stuff around town. The Air-Topper is made to be strong enough to attach equipment (or an air carrier) directly to the roof and tall enough for people to lie down comfortably.
There are different prices for each product that the company sells. For example, an Air-Topper CAP Small-Truck-FORD Maverick costs $1,099, an Air-Topper- Small-Truck-FORD Maverick costs $1,399.00, and an Air-Topper Mid-Size 5′-Short Bed costs $1,399. The Air Carrier comes in three sizes, starting at $629 for the smallest. The Air Deck is also one of the most useful things that you can easily store. The product is also available in three sizes, and prices start at $549. The Air Chalet, which is made just for pets, is the cheapest thing the company sells.
The product is now on sale for $229, which is less than its original price of $349. At the moment, Flated sells its products directly through its website as well as REI.com, Amazon, and other stores that specialise in cars. They were on "Shark Tank" because they came up with a creative way to combine products. They're ready to move on to the next stage of growth, so they're asking the sharks for a big investment. This would help the company make more money and grow across the country.
Our Team DCS includes 5 different writers proficient in English and research based Content Writing. We allow them and encourage them to follow the Entertainment news all day long. Our posts, listicles and even the exclusives are a result of their hard work.