The terrible voyage of passengers on board Vista Pacific Airlines aircraft 7500 is depicted in Takashi Shimizu's supernatural horror film from 2016, "Flight 7500." The midnight trip from Los Angeles to Haneda has some small turbulence, which causes Lance Morrell, one of the passengers, to mysteriously pass away. After Morrell dies, the 10-hour journey becomes into a waking nightmare as otherworldly forces begin to torment the passengers and leave them with no way to flee. Here is all the information you need to know about "Flight 7500's" conclusion if you're curious about how it goes and what happens to the passengers. SPOILERS AHEAD!
Flight 7500 Plot Synopsis
Brad and Pia split up a while ago, but they still find it difficult to change their plans to see their good friends Jack and Lyn. As a result, they choose to conceal their breakup and embark on a lavish three-week trip to Japan with the other couple. Along with their seatmate, gothic Jacinta, a small-time crook named Jake, and a young woman named Raquel, other passengers on their flight include newlyweds Liz and Rick who are travelling on their honeymoon.
The aircraft experiences some brief turbulence after takeoff, which dissipates swiftly. All of the passengers are safe, but one jittery businessman, Lance Morrell, begins to have respiratory problems. After a few spasms, Morrell takes his final breath as blood starts to drip from his mouth. With Rick's assistance, Brad, a paramedic, moves Morrell to the back and does CPR, but it is unsuccessful.
The crew of the aircraft switches every first-class traveller to an economy seat and stores Morrell's body upstairs until the aircraft lands. The majority of passengers who are aware of the occurrence are sufficiently alarmed by the whole situation. When the cabin pressure unexpectedly lowers, the situation becomes chaotic as the oxygen levels drop. However, the pressure returns to normal, and the flight attendants watch out for the passengers' safety.
They figure out Jake went upstairs to steal Morrell's Rolex from his dead body after Suzy realises he's vanished from his seat. But as of right now, neither Jake nor Morrell's bodies are present. Meanwhile, Liz and Brad have unsettling encounters that drive them and their companions Rick and Pia to look into Morrell. When the couples discover his carry-on, they search through the contents and discover vials of hair inside, each labelled with the name of a different woman.
Jacinta takes Morrell's enigmatic wooden box that he boarded the plane with to Brad, the others, and the others after she discovers what Brad and they are doing. Suzy and Laura intercept the group before they can open it, forcing them to return to their seats since they found it intrusive to look through a deceased man's possessions. Nevertheless, they are aware that the vessel is home to some strange activity. Laura goes to examine Morrell's checked bags in an effort to learn more about him.
Brad and the others unlock the wooden box in the interim, revealing a sinister doll. The doll, according to Jacinta, is a Shinigami, a spirit of death in Japanese tradition. Soon, something sinister emerges from the shadows of the luggage hatch and moves towards Laura. Similar to this, Suzy meets her demise after being dragged into the upper head compartment in the first-class section of the aircraft. Finally, after Liz finds the pilot dead in their cabin, the group learns the shocking truth: all of the other passengers, including Brad, Liz, Rick, and Pia, are already dead in their seats.
Flight 7500 Ending: Are the Passengers Dead?
Brad and the other passengers realise they have been dead from the beginning when they see their own dead bodies fastened to their seats. The lack of oxygen earlier in the plane causes every passenger and member of staff on board to perish. However, some passengers experience a paranormal impact from Morrell's Shinigami doll because it is present on the aircraft.
Shinigami is a Japanese spirit of death, according to Jacinta, who is obsessed by death. A person's soul has difficulty crossing over if their existence ends abruptly and too suddenly. The soul won't be able to find peace and will continue to be trapped between realms unless they are able to let go of whatever is keeping them bound to the living world. The Shinigami will take the person to the afterlife once they have completed any unfinished business.
The main cast of characters in the novel struggle to let go since they all have unresolved issues. The first victim is a small-time crook named Jake who dislikes laws and authority and perishes after stealing Morrell's pricey watch. Jake is already dead in the situation, so he doesn't pass away. As an alternative, the Shinigami steals his soul to allow him to pass through to the other side. His seat neighbour Raquel's relationship with her partner is problematic, most likely as a result of her concern over a possible baby.
Raquel's soul crosses after she uses the pregnancy test as a result. Suzy, who has been Nick's fiance for months but hasn't yet wed, is also unable to go until she confronts the reality about their relationship. The Shinigami snatches Suzy when she takes off her engagement ring and publicly acknowledges the flaws in her relationship. Laura terminates her relationship with Pilot Pete, a married man, and finds closure after being moved by Suzy's candour about her love life.
Except for Morrell, every character that passes away on TV is merely a spirit who exits the living world. Only Brad, Pia, Liz, and Rick are left at the end. Brad and Pia still have affections for one another after splitting up because of difficulties producing children. As a result, they probably saw this vacation as a chance to complete their unfinished business by getting back together.
However, Brad and Pia, along with Rick, are only ready to accept their deaths after they learn the whole truth. They see the plane's television come to life as the news reports on Flight 7500's status after finding everyone's dead bodies. Once the plane falls into the ocean, their souls cross over after realising they have already passed over as a result of oxygen deprivation.
What Happens To Liz?
Brad, Pia, and Rick, the remaining passengers, go to the afterlife, but Liz's soul stays behind. Only a small amount of fuel is left in the aircraft after five hours of autopilot flight. The same news story forecasts that the ship would shortly crash into the Pacific Ocean. Pia, Rick, and Brad all voluntarily die. For Liz, things aren't quite as simple. Since being introduced, Liz has behaved like a "bridezilla" who is totally preoccupied with herself and her recent marriage.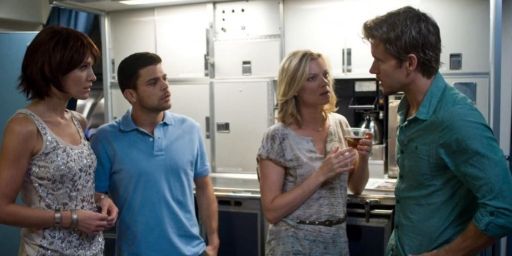 Whether or not they share her passion, Liz wants to show everyone the wedding images. She spends the early hours of the journey praying for the same, and in a same spirit, she wants to make sure that everything about her honeymoon is ideal. She therefore leaves her spirit behind when she passes away. In contrast, Rick's spirit remains behind because he yearns for more from life and finds it difficult to accept that it will end in a plane in midair.
After the plane plunges into the water, Rick comes to terms with his fate, but Liz does not. She doesn't fully grasp the seriousness of the situation until she is by herself in the jet wreckage. Whatever their relationship, Liz loves Rick and needs him to be her pillar of strength. The Shinigami therefore appears for Liz from within a garbage disposal can after she realises Rick's spirit has left and her dream life has ended for ever.
How Did Lance Morrell Die?
Lance Morrell is the only person who discovers a different death despite the fact that all the other passengers on Flight 7500 perish from low cabin pressure. Numerous ideas are tenable because it is difficult to reconstruct all the specifics of his demise. The most logical answer at first seems to be that he passes away naturally. While it is initially believed that everyone is dying at the hands of a ghost, most likely Morrell's, we soon learn that asphyxiation was the only cause of their deaths.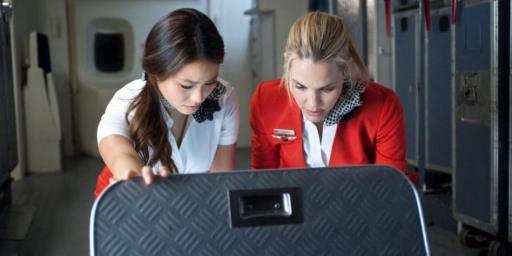 Consequently, the paranormal activity on the aircraft is limited to what occurs to the characters' souls. The same leads one to the conclusion that Morrell also passed quite suddenly. Morrell presents as a man who is growing more frightened. He quickly experiences a panic attack that turns into a heart attack after the plane experiences light turbulence.
On the other hand, his relationship with the Shinigami also suggests evil denials. Shinigami, the spirit of death, may have attracted to Morrell since he was carrying a doll that contained the spirit. Given the hair found in his luggage and his strange phone discussion regarding eyes, it is obvious that Morrell is a doll aficionado. However, it is speculative whether or not he was aware of the doll's supernatural potential. Morrell, though, has a connection to death, making him the first casualty on a plane where death is the only thing in store for the future.