'I'm A Virgo,' a surrealist comedy series on Prime Video, centres on the life of a 13-foot-tall man. Cootie is raised in isolation from the outside world because of his abnormal height. Because they are aware of how quickly the world might turn against someone who resembles Cootie, his parents wish to keep him hidden for as long as they can. They work well for nineteen years. Cootie then makes the decision to go outside and discover the world for himself. His freedom is first enjoyable, but things quickly go south when everything turns out precisely as his parents had dreaded.
Boots Riley's bizarre television programme explores social and political topics through an engrossing narrative. With each new episode, the bizarreness just increases, yet the topics also develop deeper and provoke deeper thought from the viewers. You might question if "I'm A Virgo" is based on a comic book because the plot concerns characters who have superpowers. What you need to know about it is as follows. Spoilers follow.
Is I'm A Virgo Based on a Comic Book?
Boots Riley, known for creating the beloved absurdist comedy movie "Sorry to Bother You," has created an original story titled "I'm A Virgo." Riley's enthusiasm for superhero tales is to blame for "I'm A Virgo's" appearance as a comic book narrative. "As a child, I was undeniably a comic book nut. That was in fact one of the driving forces for obtaining jobs early. Gymnastics is what I was doing. I was studying karate. I had all the books on ninja stars and was throwing them. Like Batman, I was practising how to skulk into a room undetected. This seems like a real thing you could do to me," he declared.
Riley's fascination in contractions and how they may mean different things about the same thing gave rise to the concept for "I'm A Virgo." I'm drawn to stark inconsistencies, he said. There is this setup, which one can only hope is worthwhile and conveys something. But after that, there's another statement that might seem ironic, right? You weren't anticipating it, like a contradiction. It astounds. It highlights something. Riley considered developing this notion further by writing a story about an Oakland-based 13-foot-tall Black man. (As a point of reference, Robert Wadlow, who measured roughly 8 feet 11 inches tall, is the tallest person ever known.)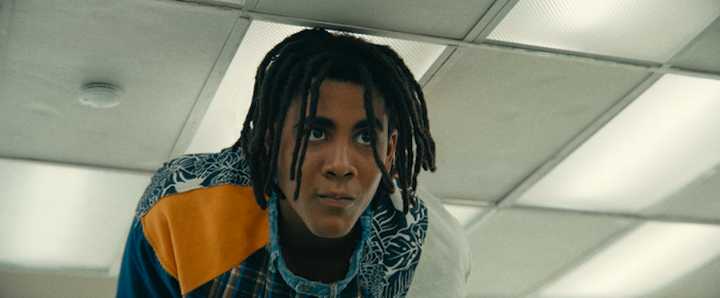 This setting was ideal for exploring how contradictions function. It all boiled down to your perception of yourself against how the outside world perceives you. "The last thing you're thinking about when you see a 13-foot-tall Black man named Cootie going down the street is how he feels about himself. Everything depends on what you want to think and project. There are numerous things it leads to, but specifically race. Nobody cares in this scenario, as the title indicates. His astrological sign is the last thing anyone is thinking about," the writer-director stated, elaborating on the show's significance.
Riley consulted his contacts and acquaintances when developing the show's characters. Cootie is an isolated child who views everything as a discovery. When he learns about bass, he is charmed and feels that his parents did him a disservice by not exposing it to him earlier. This facet of his personality was inspired by an ex-girlfriend of Riley's who was raised in a cult and had no exposure to music. She demanded an explanation for everything, acting as though she were from another planet. Cootie experiences the same thing.
Riley didn't want Jay Whittle, alias The Hero, to be viewed negatively because of the horrible things he was doing. Because the Hero was abiding by the law and defending the system, which he is unaware is based on exploitation, he wanted the Hero to think he was in the right. This is another area where the story's topic of capitalism is present. "So much of what we do will always be influenced by how we live, and how we live is influenced by the economic system in which we find ourselves. We currently live in a capitalist society. Riley continued, "The contradictions of capitalism—how it operates—are going to reverberate through practically everything we do.
In a similar spirit, he drew inspiration from the people he met while working as a volunteer at the age of 14 to create the character of Jones, a young activist who is considering the broader picture. "I volunteered to take part in this summer initiative that assisted farmworkers in the Central Valley who were attempting to establish an anti-racist farmworkers union. These activists were really radical. They weren't only discussing labour disputes. They had a strategy. The plan was to first organise this valley and make this organising strategy well-known before using it to aid in the formation of a revolutionary movement, he continued.
Riley didn't create "I'm A Virgo" to merely educate viewers despite its abundance of such subjects. "I believe that most of us believe we understand what is wrong. However, the question is almost always, can it be altered? What can you do about it, if anything? But truly, even with that strategy, my art can only go so far, he remarked, hoping that people would have the resources to effect that change. Taking into account everything, it is evident that 'I'm A Virgo,' despite being a fictional drama, keeps a close eye on reality to offer the audience something to think about after they have finished watching it.