Natalia Grace, a 6-year-old native of Ukraine, was adopted by Michael and Kristine Barnett when Jacob Barnett was just a young child. But not long after she entered their lives, she started acting violently, endangering the family's lives. The 'The Curious Case of Natalia Grace' on Investigation Discovery illustrates how the Barnetts perceived Natalia as a threat and even shows Jacob's bond with his adopted sister. So, if you're curious about the specifics, let's dive in and learn where he is right now.
Who is Jacob Barnett?
Despite the fact that Jacob Barnett refers to himself as Natalia's adopted brother, he insisted that their bond wasn't particularly close to begin with. Jacob, Michael and Kristine's oldest biological son, was in his early teens when she joined the family; he was born in 1998. He and his siblings were naturally thrilled to have a new playmate, and they joyfully accepted her into the family.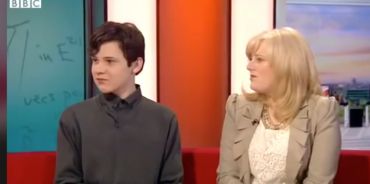 Jacob was identified as having moderate to severe autism when he was just two years old, according to reports, despite having a 170 IQ. Thus, Michael and Kristine homeschooled their oldest son until he enrolled at Indiana University as a graduate student at the age of ten, determined not to let his great mind go to waste. Since that time, Jacob hasn't turned around and has become known as one of the brightest and youngest pupils in his class. Even his instructors praised him, so the young guy chose to make a career out of mathematics.
Natalia grew close to Jacob soon after moving into the Barnett household and frequently requested to sit next to him. Michael and Kristine originally dismissed her advances as natural, but when she allegedly attempted to toss the 11-year-old out of a moving car, they understood her nefarious intentions. A few days later, the Barnetts reportedly found Natalia with a knife as she stood on the side of their bed when they awakened.
When Michael and Kristine began to question the girl's young age, they went to court and requested that the judge review the girl's birth certificate. The court then determined that Natalia should be considered an adult and adjusted her birth year from 2003 to 1989, therefore making her an adult. Despite the fact that she had a disorder called spondyloepiphyseal dysplasia congenita, Michael and Kristine forced her to live alone and moved her to an apartment in Westfield, Indiana.
The family ultimately made the decision to permanently emigrate from the United States by the time the lease on the Westfield flat expired since Jacob had been given the chance to complete his Master's degree at the Perimeter Institute for Theoretical Physics in Waterloo, Ontario, Canada. Natalia was forced to remain in a Lafayette flat rather than travelling with them.
Where is Jacob Barnett Now?
Natalia's Lafayette neighbours eventually complained to child protective agencies about the incident. Michael and Kristine Barnett were accused with multiple counts of child neglect following a thorough investigation. She however went forward to testify against her former foster parents, insisting that they forced her to leave their home despite her desire to remain there.
Unfortunately, Jacob's doctoral studies in Canada prevented him from being able to attend his father's 2022 trial. As a matter of fact, according to reports, he is still a resident of Canada and a student at the Perimeter Institute for Theoretical Physics in Waterloo, Ontario. Although Jacob still has a good relationship with his parents, he said he hasn't spoken to Natalia in a long time. We wish him the very best in the future as he works hard towards a prosperous career.
Our Team DCS includes 5 different writers proficient in English and research based Content Writing. We allow them and encourage them to follow the Entertainment news all day long. Our posts, listicles and even the exclusives are a result of their hard work.