The trustworthy and devoted Jason Adams was assassinated at his East Harlem, New York City, apartment in the middle of October 1998, according to Oxygen's "New York Homicide: Spanish Harlem Slaying." The severe lack of forensic evidence within the home that would have enabled the authorities to apprehend the offenders initially baffled the authorities. However, an unusual witness came forward and offered the police assistance in finding the murderers. Here is what we know about the case in case you want to know more.
How Did Jason Adams Die?
Jason Adams contributed significantly to the development of the East Harlem neighbourhood in New York City. He moved into the five-story residence on East 106th Street in 1989, where his presence would have a lasting impact for many years. In 1967, jazz vocalist Gloria Denard bought the five-story structure on East 106th Street and opened Manna House Workshop, an East Harlem institution devoted to jazz and dance. The first two stories are used by her school; tenants are rented the other floors.
Jason started working as the building's handyman in 1997, but his varied responsibilities went beyond what a handyman typically did. His compassion flowed through his contacts with the building's residents; he was a friendly and welcome character. The sincere connections Jason made showed his dedication to building a feeling of community. He was sometimes referred to as a "big brother," and he accepted the title with enthusiasm, taking the Manna House Workshop pupils on outings to the movies and the park.
Jason went above and above the call of duty by showing compassion for the people living in the building by giving them nice Christmas cards and flowers. He put his money and time into it, hiring young people from the neighbourhood to help with maintenance. Jason evidently embodied hope for the area, which was rife with drug selling and had a high crime rate, as he relentlessly picked up marijuana-filled cigarette ash, firm in his conviction that positive change was possible.
In archival video used in the programme, Jason can be seen speaking with a local television station a week or so before he was brutally murdered in his flat. "Some of them [have] given up to their surroundings and thought they can't do any better," he said, his comments resonating with tenacity and hope. But you need to keep moving forward. You cannot give up or submit. Christian Lozada, a friend of Jason's, reported that Jason also had a job at the nearby candy shop. "He was such a good man and a helping hand," he continued. Everybody cherished him.
Police were called to a distress call at Jason's 106th Street home on October 16, 1998. After being unable to reach him on the phone, a worried buddy dialled 911. In an innovative attempt to wake him up, the buddy threw pennies at the window. The room was marred by horrific violence when he finally crept in to find Jason's partially naked body laying face down on his bed. The police found Jason's body was covered in over 50 stab wounds, including those to the head, back, arms, and legs.
Who Killed Jason Adams?
It was a passionate thing, according to retired NYPD Detective Scott Wagner of the 23rd Precinct in East Harlem. Overkill was used. Even though Jason's apartment's devices were missing, the lack of physical evidence, such as blood traces, DNA, and fingerprints, perplexed the homicide detectives. The community was alarmed and its trust was weakened since the undisturbed locks showed familiarity with the attacker. After conducting numerous neighbourhood searches with no success, the police decided to revisit the crime scene in search of fresh evidence.
Ralph Marrero and Richard Rivera//Source: oxygen
Jason's home was thoroughly searched, and it turned up reams of personal photos that friends and relatives later recognised. Two people, however, remained unidentified. The blood-stained business card of a Bronx parole officer puzzled detectives because the victim had a spotless record. The officer's visit showed no relationship. After 11 days, a significant development occurred when a reputed "notorious cop fighter" approached detectives close to Jason's building.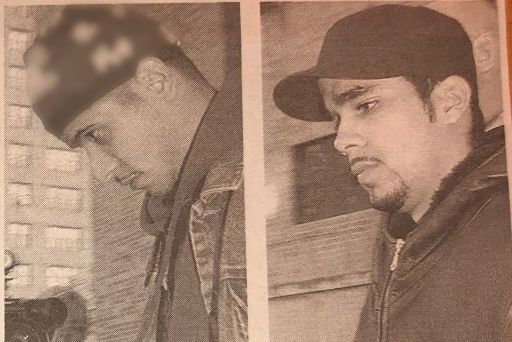 The witness was acquainted with the victim and his attackers, and he recognised one of them as "Richie" from a nearby Foot Locker. Richard "Richie" Rivera, a parolee with a criminal record who was fired from the business, was found by the police because to this relationship. He had served time alongside the second unnamed man, who was Ralph Marrero, according to information obtained from Oneida Correctional Facility employees. It's intriguing that the person whose card was found in Jason's apartment was Ralph's parole officer, which begs more concerns.
The detectives planned a vital convergence of Ralph's parole officer appointment and Richie's arranged encounter after identifying the culprits just a few days beforehand. To strategically capture both suspects at once, Richie's parole officer changed his appointment time to coincide with Ralph's. Richie was challenged by the investigators on November 4, 1998, when he went to his parole officer's office to ask for permission to visit his mother. Investigators started a chat about Jason while being cautious to avoid raising suspicion.
Richie claimed to be friends with the victim but denied being aware of the incident while expressing a readiness to help. While Ralph missed his appointment, plain-clothes officers discovered him packing a duffle bag at his last-known location. The plan changed to separate interrogations of the suspects as there was no "concrete evidence" to support an arrest. Richie was approached first by the detectives. He indicated knowing someone who might have been involved — Ralph — while being careful not to implicate himself.
In response to Richie's assertion, Ralph admitted they had thought up a scheme to rob Jason. They had gotten to know him well, spending time with him and even helping him buy a computer. In essence, they were courting him, Detective Wagner said. He was getting familiar with them. On the night of the murder, they went to see Jason with the intention of having sex; Ralph held Jason down while Richie launched a ferocious stabbing assault. Jason asked in his dying breath, "Why?" before he bowed his head in prayer.
The pair took a shower after the heinous act, packed Jason's possessions, and left. Even though Jason dumped evidence down a sewer, Richie's girlfriend eventually discovered Jason's stolen goods there. Strangely, the victim was holding the ID of Ralph's parole officer. Ralph informed us, "Because I wanted to use Jason as a character reference because Jason was going to help me get a job," according to Detective Wagner. When Richie eventually admitted it, Ralph was also blamed. During a heist, both were accused of first- and second-degree murder.
Where Are Richard Rivera and Ralph Marrero Now?
Ralph Marrero and Richie Rivera were put on separate trials because their testimonies of who stabbed Jason differed. The first court case involved Richie, who retracted his confession and entered a not guilty plea but had his recorded admission included as evidence. Felix Laborda, a friend of Jason, expressed his disgust and emphasised how the victim's mistaken confidence contributed to his untimely demise. According to accounts, Ralph was on parole until April 1999 after serving a one- to three-year sentence for attempted robbery.
Richie, on the other hand, was found guilty of breaking and entering and given a sentence of two to four years before being freed in April 1998. He had a parole period that lasted till 2000. In the end, he was found guilty on all counts and given a life sentence without the possibility of release. Ralph was given a 15-year to life sentence after entering a guilty plea to second-degree murder. At the Wende Correctional Facility in Alden, Richie, aged 53, is incarcerated and serving his term. Ralph, who is now 48, served more than 20 years in prison at the now-closed Oneida Correctional Facility before being granted parole in February 2021.
Our Team DCS includes 5 different writers proficient in English and research based Content Writing. We allow them and encourage them to follow the Entertainment news all day long. Our posts, listicles and even the exclusives are a result of their hard work.