Jaye Rutter, Justin's mother, had no idea he would never come back when he left his home on October 8, 2009. Before vanishing without a trace, Justin, 14, was last heard talking to a buddy and said he did not want to go back home. 'Never Seen Again' from Paramount + chronicles the investigation into Justin's disappearance as the authorities make every effort to determine what happened. Let's investigate the specifics and learn Justin's current whereabouts.
What Happened to Justin Rutter?
When Justin Rutter vanished from Ottawa, Canada, he was only 14 years old. He was remembered by those who knew him as a happy and vivacious kid who wanted to live life to the fullest and treated everyone with kindness. Justin enjoyed spending time with his friends, much like most boys his age, but he also had a special relationship with his parents. Furthermore, Justin's teachers acknowledged his potential and spoke highly of him while discussing his lofty goals. The 14-year-old was actually well-liked by most, and none understood why he might not want to go back home.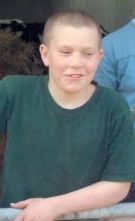 On October 8, 2009, Justin's mother, Jaye Rutter, didn't give it much thought when her son left their Ottawa home. She anticipated Justin would return home soon because he frequently played outside with his pals. However, Justin met a friend on Côté Street close to St. Laurent Boulevard at around 10 p.m., a few hours after leaving his house. Justin seemed fine, but the 14-year-old stated he didn't want to go home and was intending to remain out all night. The pals even had a proper chat.
Jaye was concerned about her kid in the interim because he did not arrive home within the allotted time. She then reported her kid missing to the police and set out to find him with the help of a few volunteers. Soon after, law enforcement officers joined the search. They made use of all the tools at their disposal, including sniffer dogs, but to no avail. Sadly, Justin Rutter was nowhere to be seen, and as the hours passed, his loved ones started to worry that the worst might have happened.
Is Justin Rutter Found or Missing? Is He Dead or Alive?
We regret to inform you that Justin Rutter has not been found despite the police believing the inquiry is still active. However, Justin's loved ones are still holding out hope for his safe return and are continuing their search. When the police realised that a haphazard search for Justin would not provide any results, they ordered officers to scour the neighbourhood where he was last seen while detectives canvassed nearby homes in search of potential witnesses. Additionally, even though the majority of Justin's pals insisted they were unaware of his locations, law enforcement investigators spoke with a number of them.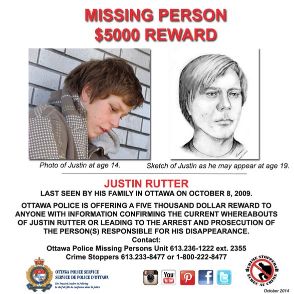 The police found after conducting a comprehensive investigation that although Justin may have been seen at the Salvation Army men's shelter on George Street just hours after he was reported missing, he was allegedly seen nearby the Ottawa Mission on Waller Street about three days after he vanished. A week into the inquiry, the police received an interesting new development when numerous witnesses reported they may have seen Justin speaking to a group of pals in Ottawa's Vanier neighbourhood.
But when Justin's pals were questioned, they insisted Justin had just mentioned wanting to avoid going home and denied any role in the disappearance. When Jaye Rutter received a video that revealed that Justin had gotten into a fight with an older kid just hours before his disappearance, the case was in danger of becoming cold because all leads in the investigation were heading to dead ends. According to reports, this adolescent and his companions even boasted about stabbing Justin and dumping his body, but the police never looked into this in depth. The authorities continued to get several leads on Justin's whereabouts, and it was laborious to investigate each one.
Nevertheless, in 2014, investigators revealed that some promising information suggested Justin might be in Vancouver. A $5000 reward was offered for information regarding his whereabouts. But this too proved to be a dead end, and as Justin's family received no updates on him or his condition, they quickly became impatient with the ongoing investigation. Sadly, there have been no new developments about Justin's disappearance since 2014, despite the fact that the Ottawa Police still have a few active detectives working on the issue. Meanwhile, Justin's family members are still hopeful for his safe return and have even urged members of the public to come forward if they have any information regarding the case.
Our Team DCS includes 5 different writers proficient in English and research based Content Writing. We allow them and encourage them to follow the Entertainment news all day long. Our posts, listicles and even the exclusives are a result of their hard work.