Based on the British programme of the same name, Peacock's "Love Island USA" has consistently had viewers on the edge of their seats with unexpected turns and surprises. There was no difference in the recently published season 5, notably in terms of the romance between Vickala "Kay Kay" Grey and Keenan Anunay. Fans all around the world are wondering if the couple is still together because of the emotional on-screen trip they had during their time on the dating reality series, and we are here to find out!
Kay Kay and Keenan's Love Island USA Journey
Vickala "Kay Kay" Grey had no delay in selecting Keenan Anunay as her partner as soon as he appeared on the show, which resulted in the two starting to date. In fact, within their first few days together, everyone was able to recognise them as a couple with possibly the greatest potential of all. But after Kassy Castillo broke up with Leonardo Dionicio and displayed interest in Keenan, their relationship had its first real test.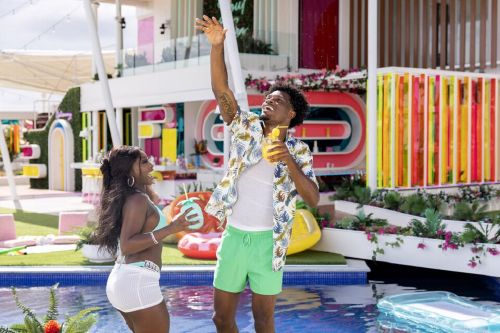 Despite admitting to developing feelings for her, Keenan told Kay Kay that Kassy had expressed interest in him and that he wanted to investigate the possibility of a connection between the two of them. Even though she wasn't entirely pleased with this particular development, Kay Kay said she wouldn't stop him from considering his options and acknowledged that the two were still up for discussion. Kassy was excited to watch how their relationship developed, but she did push Keenan away when he briefly kissed her during a party game since she evidently did not want to do so in front of Kay Kay. Soon after, Keenan made the decision to give up on Kassy and told Kay Kay that he was now only interested in her.
For a while, it appeared that Kay Kay and Keenan's situation may actually turn out okay. The two reality TV stars slept together because the couple was the first pair to be sent to the hideaway by the cast. But when Emily Chavez came in and said that Keenan was one of the men she wanted to get to know, Keenan's resolve was put to the test once more. The man in question approached Kay Kay once more to express his wish to go on an adventure with Emily. Despite being extremely disappointed, she did not disagree to his decision and declared that she would always be open to him.
Keenan was reunited with Kay Kay after Emily ended up getting together with Harrison Luna, but their tensions began to escalate rapidly. It didn't help that Keenan told his partner once more that he wanted to explore how things would develop between him and the newest guest at the villa once Imani Wheeler entered the home. Kay Kay made the decision to get to know Mike Stark after becoming quite unhappy over the fact that this had happened three times already.
Keenan and Kay Kay never did pair up their new possible partners, although the former was very upset with the latter's actions and asked for some space. All the girls, including Kay Kay, walked to Casa Amor with a sense of unease between t he two; this left Keenan sad because he had hoped to ask Kay Kay to be exclusive. Both of them discovered suitors for themselves while they were away.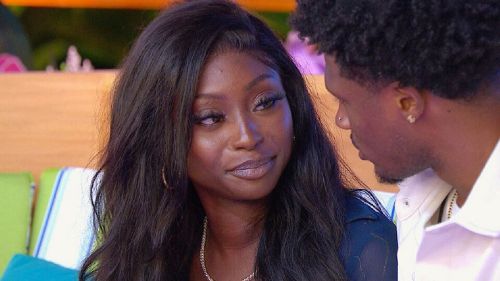 Kay Kay made an effort to be open-minded about possibly making another connection while living there, but she didn't seem to have totally let go of Keenan. Although many people speculated that she might end up dating Brandon Janse Van Vuuren, she did not fully investigate the possibility. But when the two began to share a bed and even appear to have shared some intimate touches, Keenan and Najah Fleary's relationship solidified quickly.
Kay Kay seems to have made up her mind about what to do next after becoming quite agitated over the brief glimpses of Keenan she had seen in the video that the showrunners sent the girls. Keenan did choose Kay Kay during the subsequent recoupling ceremony, and his anticipation increased when he witnessed her returning alone. He was shocked when she said, "I'm not going to couple up with anyone," though.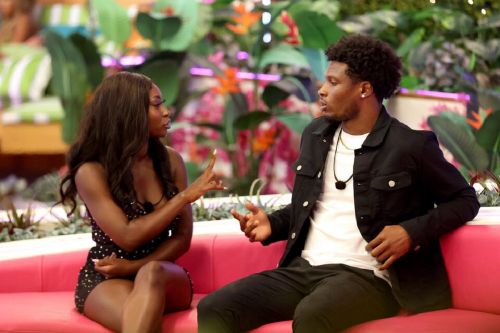 Kay Kay and Keenan spoke candidly about their time together over the course of the following few days. Kay Kay slowly warmed up to Keenan again and forgave him for his wrongdoings in spite of her initial decision to not go back with him. This happened even after she discovered that he had not told her about his physical intimacy with Najah. When it was revealed that Keenan had been eliminated during the following elimination ceremony because he had earned the fewest votes from the audience, Kay Kay stood up and said she wanted to leave with him.
Are Kay Kay and Keenan Still Together?
View this post on Instagram
Vickala "Kay Kay" Grey and Keenan Anunay have not yet provided any formal updates on the status of their relationship as of the time of writing. Having said that, it appears as though the two are still going strong. Keenan just said on Instagram that his experience on "Love Island" was done and he had received his goal. I consider myself extremely fortunate to have gotten to know everyone beautiful who lives in the villa and the extraordinary staff who work tirelessly on the project. Above all, I'm grateful to have met [Kay Kay] and am ready to answer any questions or hear any personal comments once I've told you guys about my trip, whether they are positive or negative.
View this post on Instagram
Similar content was shared by Kay Kay, who also thanked her followers for their love and support. "I'd like to thank everyone who has supported me and followed my journey. I can't wait to let you know what's coming up for Keenan and myself. You guys are the best," she said. It's plausible that the two are still dating based on how supportive they seem to be of one another. In any event, we wish them both the very best in life and pray that their hopes of finding true love quickly materialise.
Our Team DCS includes 5 different writers proficient in English and research based Content Writing. We allow them and encourage them to follow the Entertainment news all day long. Our posts, listicles and even the exclusives are a result of their hard work.