One of the voices most associated with the entertainment industry is that of Kristen Schaal. She has been employed in the comedy industry for more than ten years and keeps developing her skills. Kristen Schaal is best known as a performer for her unmistakable voiceover work over the past 10 years in popular animated programmes. Her background as a stand-up comedian has also benefited her in developing the timing and variety of emotions necessary to produce explosive performances that have connected with audiences of all kinds.
Kristen Schaal has excelled and utilised comedic timing or emotional versatility in a number of shows and movies. A list of her top performances is provided below.
Bill & Ted Face the Music
Kelly, Rufus' daughter, is portrayed by Kristen Schaal in Bill & Ted Face the Music. Respectfully, no one else should take on the role of Rufus, which comedic genius George Carlin handled with ease. Kelly, his daughter, instead leads the well-known pair on their subsequent journey. She joins Bill and Ted on their subsequent excursion, launching the narrative into the stratosphere. Shaal's acting is amiable and welcoming, and she is an important part of the story of the movie.
Bob's Burgers
The popular animated comedy series Bob's Burgers and its upcoming motion picture, The Bob's Burgers Movie, both include Louise Belcher as a standout character. Beware of anyone attempting to remove Louise's bunny ears; she is a nine-year-old girl with a smile in her eye. Kristen Schaal does an excellent job of bringing out Louise's energy since she is, to put it mildly, a firecracker. This is one of her most iconic voice-over performances since the character is hysterically funny and downright evil in the best way. Louise's voice is still provided by Kristen Schaal after 13 seasons and more than 260 episodes.
Bojack Horseman
One of the most significant characters in the entire Bojack Horseman series is Sarah Lynn. She exemplifies the ascent and decline of child celebrity. But her consequences result in disaster. As Sarah Lynn, Schaal gives her most intense and dramatic performance to date. She portrays the role throughout the entirety of the character's brief life. Her early years are replete with her upbeat and adorable wit. Schaal is able to smoothly develop this character in flashbacks of her youth and in the current day whenever the character is on screen, but as she reaches adulthood, we see a more existential aspect to the character.
Cloudy with a Chance of Meatballs 2
Cloudy with a Chance of Meatballs 2 has a lot of great qualities. It cleverly builds on the outrageousness and silliness of the first movie. Our introduction to Barb, who is as sassy as she is bright and entertaining, was one of the film's finest moments. Chester V, Flint Lockwood's favourite artist, created Barb. She has an attitude and the orangutan brain of a human. Schaal gives the character a cunning and animalistic side. The slapstick animation that makes the Cloudy with a Chance of Meatballs movie so distinctive and entertaining wonderfully complements this performance.
Flight of the Conchords
Kristen Schaal's early roles in the HBO comedy series Flight of the Conchords received much recognition. When it comes to her undeniable passion to the band members she fancies, Mel plays the part of superfan who is surprising, encouraging, and resourceful. Mel is the Flight of the Conchords' superfan who goes above and beyond to express her love for the characters Jemaine Clement and Bret McKenzie play as the band's members. The HBO series, which had two seasons, launched Schaal's career.
Gravity Falls
One of the more well-liked contemporary animated series on Disney Channel was Gravity Falls. Thanks in part to Kristen Schaal's portrayal of 12-year-old Mabel Pines, the programme has been a success. Compared to her brother Dipper, Mabel is the lighter and funnier character. While some of the things that happen in the programme and Mabel's interactions with the otherworldly are frightening, she always plays the role of the cool, collected adult. Two seasons of the popular show were tragically cut short in 2016, leaving viewers inconsolable.
The Last Man on Earth
Will Forte played Tandy in the well-liked network television series The Last Man on Earth, while Kristen Schaal played Carol. In one of her most noteworthy live-action performances, she gets to emphasise physical humour and deliver humorous speech using her recognisable voice. Her affection for Tandy, who ultimately becomes one of the most important aspects of the story, gives her performance heart.
The Mysterious Benedict Society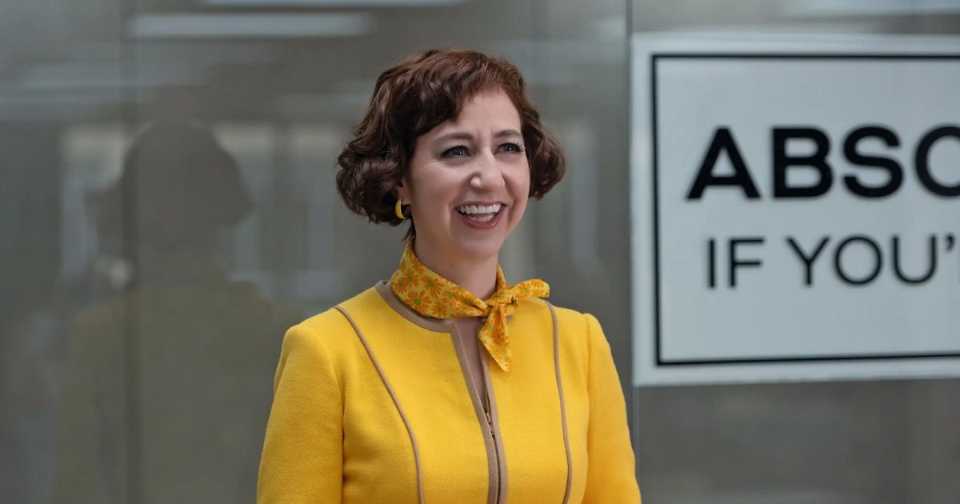 On the Disney+ series The Mysterious Benedict Society, Kristen Schaal played Number Two, Mr. Benedict's assistant. The two-season series was cancelled as a result of the streaming service's extensive cost-cutting plan, despite having run for two seasons. Number Two was performed by Schaal with levity and a commitment to the original work. She is entirely on Mr. Benedict's side and follows the rules. Although she is stern, she is not in a "Umbridge" manner. She does provide some humour to the part, but it's intriguing to see Schaal give the character a weirdness that ends up being a series high point.
Toy Story Franchise
Trixie is portrayed by Kristen Schaal in Toy Story 3, as well as all subsequent films in the series, including Toy Story 4. One of the comic relief characters that helped the third movie's more dramatic and epic tone become so well-known is Trixie. Schaal delivers her tech-savvy speech in funny, lighthearted bursts. Despite not being one of the main characters, Trixie's time on screen is unforgettable.
What We Do in the Shadows
The television version of the same-named film starring Jemaine Clement and Taika Waititi is titled What We Do in the Shadows. The Guide, played by Schaal, emerges as a messenger summoning the vampires to a higher council. Schaal appeared on the show as a guest at initially, but as her character gained popularity, she began to make more appearances. Her performance is not just dynamic and spooky, but also humorous. She exudes a sort of craziness that goes well with the show's self-awareness and humour that breaks the fourth wall.