The dating world is very complicated because there are so many various personalities, skills, interests, goals, and dating preferences involved. This much is unquestionable. This is actually amply demonstrated in Netflix's "Too Hot to Handle," but it also sheds light on how honesty and sincerity may alter the dynamics of one's close relationships. Shedre "Dre" Woodard from season 5 is the best illustration of this; therefore, if you're just interested in learning more about his relationship with stunning Linzy Luu, we've got the information for you.
Linzy and Dre's Too Hot to Handle Journey
Dre has made it clear that all he wants is to have the summer of his life from the moment he first appeared on our screens, leading us to believe he was on a brand-new series called "Love Overboard." The fact that he sobbed when he saw he had mistakenly registered for a chastity retreat with a talking cone instead of "sex on a boat" was therefore not at all surprising. When he learned that the grand prize was $200,000, though, his entire perspective completely changed, especially given how much good this would do for him and his ten siblings.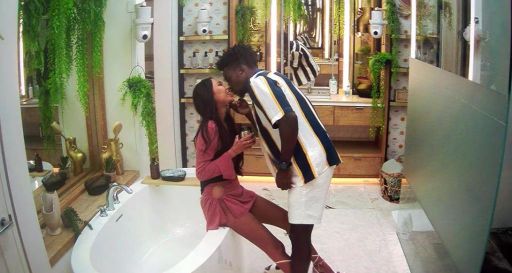 To put it another way, a decoupled Dre transformed into Detective Dre with the sole purpose of making sure his fellow players behave appropriately, which obviously did not go as intended. He wanted to have some fun by breaking the rules too because they had lost about half of this pot by the time they reached their midway point, and Linzy Luu joined them to assist. In fact, the bombshell had selected Louis to be her first date at the retreat, but Dre was able to trade places with her because of the former's previous relationship with Christine.
At that point, Dre set out on his mission to win Linzy over with charm and sincerity—qualities he knew would be crucial given that she had gently acknowledged he wasn't physically her type. Eye contact, discussions of their previous failed relationships, and candour about their issues followed. Only then did they realise how at ease they genuinely were with one another. Consequently, despite the fact that he wasn't the type of guy she typically preferred, his subsequent direct flirting piqued her interest to the point where, by the end of the evening, they were both letting their wild sides out.
Are Linzy and Dre Still Together?
View this post on Instagram
As of this writing, it is unclear exactly how Linzy Luu and Shedre Woodard spent their remaining time at Lana's celibacy villa, but it is safe to assume that neither of them regretted their passionate kiss. Due to the fact that they already have a certain level of mutual understanding, it is more probable than not that they stayed together to forge a genuine connection with the purpose of continuing it outside of their virtual world.
View this post on Instagram
But since neither the actor/model/entrepreneur who lives in Atlanta nor the Hawaii-raised Los Angeles model have confirmed or denied anything regarding their current relationship status, we are unsure if they are still together. It may be a sign of their current relationship that they are not followers on the same social media sites, but it's also likely that they have chosen to keep their distance in order to conceal their relationship until the end of the programme. However, given their shared sincere experience at the island property, we at least hold out hope that Linzy and Dre are currently still on friendly terms as friends.