Sometimes the only thing you can do is get back up, shake the pea soup off your shoes, and walk away as dignified as you can. Les Cookson did it on his first appearance on Shark Tank following a disastrous and unprofessional presentation of his invention, the CarSik Bib. He made sensible decisions by returning to his initial line of work, LUCIDArt, where he created exquisite reproductions of art historical tools used by Old Masters painters from the Early Renaissance to the Romanticism Movement, including Vermeer, Caravaggio, da Vinci, and Ingres.
While enrolled in a college painting school, Les developed an interest in the methods of the Old Masters, particularly the camera lucida (Latin for "light chamber"), which superimposes a subject onto canvas or paper to ease drawing. He had been creating art since he was a little child, and his reproductions of the camera lucida were incredibly popular and profitable. His works are on exhibit all around the world in the prop departments of major television and film studios, universities, and museums.
Les could use his money to work on fixing the issues with the old camera Lucida, which had a small, dim, and shaky image and was prohibitively expensive.
After extensive investigation and testing, Les turned the antique camera lucida into the cutting-edge and functional LUCY Drawing Tool. He kept the device's beautiful features while improving its ability to deliver larger, brighter, and more steady images at a reasonable cost.
LUCY Flex and LUCY Pro
There are two LUCY models: LUCY Flex and LUCY Pro Les. Both of them impose the subject directly onto the canvas (e.g., canvas or paper). Optical mirrors reflect a translucent "ghost" image of the topic when you gaze through the view hole.
LUCY Flex
made from polycarbonate with fibreglass added.
The two-foot-long flex-neck arm attaches to a desk or easel with a clip.
produces a steady image that is up to 19 by 27 inches.
Brightness can be changed.
A lens may duplicate or 300% expand pictures.
includes a microfiber cleaning cloth and two optical filters.
Acrylic glass with a high shatter resistance is used to make mirrors and filters.
includes a unique carrying bag.
LUCY Pro
lightweight aluminium alloy is used.
The powder-coated steel clamp anchors the two-foot-long flexible neck-arm to the work surface.
possesses a sturdy mechanical arm and a diagonal cross support.
produces an image that is stable up to 20 by 37 inches.
Brightness can be changed.
A photo enlarger can increase the size of a 4-by-6-inch image to 16 by 24 inches.
Acrylic glass with a high shatter resistance is used to make mirrors and filters.
includes a unique carrying bag.
Since neither need plugs, batteries, or electricity, they both travel well.

Using the LUCY Drawing Tool
Fix the LUCY to a desk or easel using a clamp.
Your subject should be in front of you.
Observe the view hole from below. The "ghost" of your subject appears on your painting surface thanks to the optical mirrors.
The image's brightness can be changed.
You can cover the reflected image with as much or as little drawing or painting as you choose. Mark the outlines, shadows, and highlights, for instance, and determine the proper perspective, proportion, location, shape, etc.
After that, put your LUCY aside and enjoy creating your masterpiece in your own style.
The LUCY is appropriate for both amateurs and experts. Put any thoughts of "cheating" out of your head if you consider yourself a purist. You can utilise such a "magic tool" if Vermeer, for example, was able to do so. Additionally, the LUCY is an effective tutor for individuals with little drawing experience. The technique improves the synapses between your hands, eyes, and brain. With or without LUCY, you can still generate impressive sketches.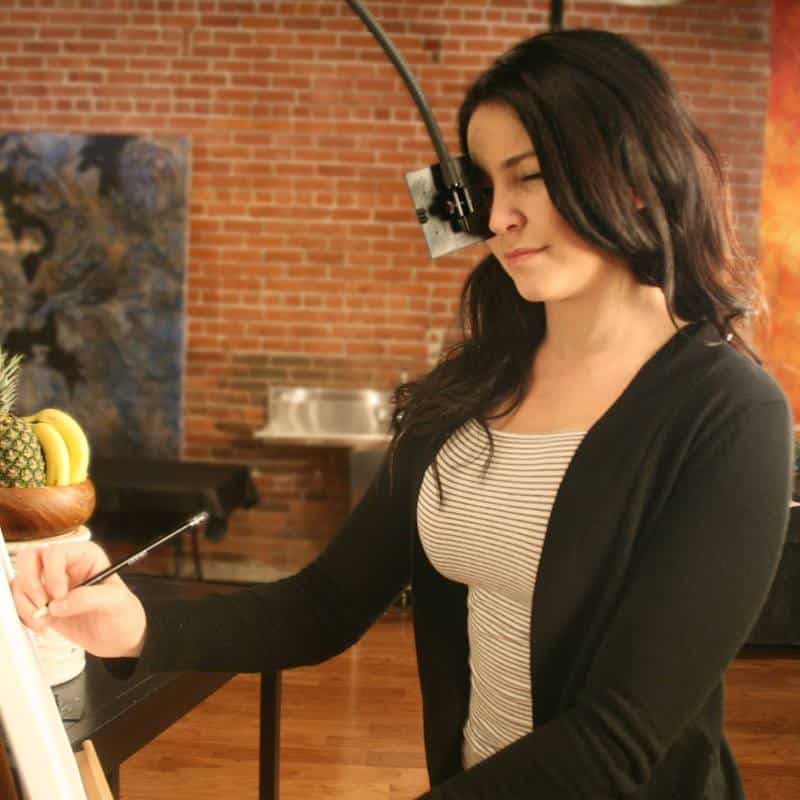 Compared to the last time, when he left behind the pea soup mess, Les felt considerably better as he entered the Tank. The Sharks laughed him off the last time, but this time, because to his millions of dollars in sales, he is the one laughing all the way to the bank.
After Shark Tank deal , what happened to Lucy Drawing Tool?
Following Shark Tank, Lucy Drawing Tool gained popularity on national television, and when people first started seeing it, they really appreciated the invention. It aids the artist in producing a simple result. Anyone who enjoys creating art but is not a professional can do so.
This product has a high price but an average price, so everybody can get it. Daymond Even though months have gone since John and Les signed this agreement, they are still connected to this company.
Les has soldered these copies, optical toys, and drawing tools to artists, academic institutions, and museums around the globe. He had offers from film and television production companies as well, including Walt Disney, Warner Bros., 20th Century Fox, and Paramount Pictures, to furnish his own output.
Currently the LucidArt Company is worth more than 2 Million Dollars
Shark Tank Season 13 Episode 19 aired on April 8, 2022.
Being a binge-watcher himself, finding Content to write about comes naturally to Divesh. From Anime to Trending Netflix Series and Celebrity News, he covers every detail and always find the right sources for his research.