I Can't Resist My Instincts! is the title of episode 6 of the anime series "Uchi no Kaisha no Chiisai Senpai no Hanashi" or "My Tiny Senpai." Takuma has dreams about Shiori, and his supervisor oddly counsels him to refrain from obsessing over them. Surprisingly, Akina aids Hayakawa in finishing her manuscript. Yutaka decides to find out why Takuma has been acting abnormally after noticing it. 'My Tiny Senpai' episode 6's conclusion is explained in detail here. Spoilers follow!
My Tiny Senpai Episode 6 Recap
Takuma has a dream in which Shiori commands him to deliver gifts while dressed provocatively for Christmas. As things start to become a little hotter between them, he abruptly wakes up. Akina texts him at precisely the same time that he decides not to worry about the dream for some weird reason. The next day at work, Takuma and Shiori find out that Hayakawa needs assistance from someone to finish the manuscript she has been working on for some time. Akina, who is interestingly offering to assist with the artistic side of things, turns out to have some experience as well.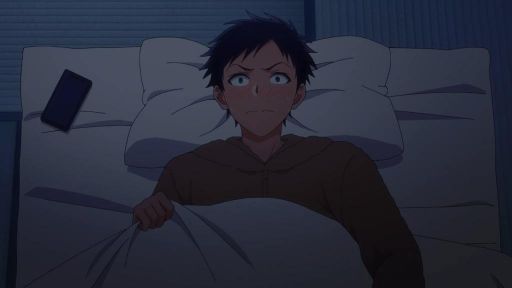 Later, Hayakawa and Akina work together to finish the manuscript on time. Later, when Hayakawa's buddy thinks Akina is her lover, they even attempt to sell it at a festival. On January 1st, Shiori musters the confidence to phone Takuma and express her gratitude for all that he has done. The two make a commitment to continue working together in the coming year. Yutaka, meanwhile, has been observing her brother intently for some time and has seen significant changes in him. She is under the impression that she must learn the truth right away. It's interesting that Akina tells Takuma to meet Shiori at the Hatsumode temple.
My Tiny Senpai Episode 6 Ending: Does Yutaka Meet Shiori?
Yutaka chooses to investigate her brother's behaviour after noticing that he has been acting suspiciously recently. She has a good feeling that he has a girlfriend. She therefore probes him with a few questions in an effort to uncover the truth. Yutaka tells her brother that she needs to get some information from him. She initially asks him which animal, out of three, he would want to pet if they encountered on the street: a dog, a hot female cougar, or a cuddly kitten. Takuma is astonished when the cat makes him think about his bizarre fantasies. The female he is dating is definitely a kitten type, his sister deduces when he picks up the kitten.
Yutaka asks more questions since he is not finished. She exercises Takuma's imagination by asking him questions about how the cat is acting in his eyes. Shiori comes to mind right away, and he describes her as fluffy, meow-meow-ey, and smiling. Yutaka deduces from his answer what his brother's girl is probably like in real life. The next day, Takuma goes to the shrine and runs into Shiori and his other coworkers there. His sister has been following him up till now without his knowledge. Takuma is in awe of Shiori's traditional attire and is unable to keep his eyes off of her.
Shiori is visible to Yutaka from a distance, and she recognises her right away as her brother's girl. She merely takes the chance to give her a direct embrace from behind rather than making an attempt to introduce herself. Shiori is understandably shocked as Yutaka compliments her appearance and calls her the cutest. She is subsequently informed by the management that Takuma's sister she is. Shiori is overjoyed to meet her and thanks Takuma for all of the assistance he has provided at work. Yutaka gives Shiori one more embrace after being moved by her generosity.
She continues to display her love for his senpai as Takuma panics and tries to soothe his sister. In the meantime, the manager interjects and says that the two of them are wonderfully compatible. When he finds out that Yutaka wants a younger sister, he even goes so far as to suggest that Takuma should simply wed Shiori so that Yutaka can have one. Takuma makes an effort to explain the situation and help Shiori realise that his sister is just like that. However, the two are suddenly surprised when Akina and Yutaka inquire about their decision for their speaker at the wedding.
Our Team DCS includes 5 different writers proficient in English and research based Content Writing. We allow them and encourage them to follow the Entertainment news all day long. Our posts, listicles and even the exclusives are a result of their hard work.