You Sure You Don't Want One? is the title of episode 7 of "Uchi no Kaisha no Chiisai Senpai no Hanashi" or "My Tiny Senpai." Takuma and Shiori's eventual union is still something Yutaka and Akane wish for. Ishiyama approaches Takuma for work after the holidays, but it turns out that he is not actually responsible for the task. Despite the fact that Shiori stands up for her Kohai, he later tries the same ruse on Hayakawa and ends up making her work extra hours. 'My Tiny Senpai' episode 7's conclusion is explained in detail here. Spoilers follow!
My Tiny Senpai Episode 7 Recap
Takuma and Shiori begin their joint exploration of the crowd at the shrine. At that point, they come across a girl who requires assistance, and they cooperate to make sure she is safe. As they observe the couple interact, Yutaka and Akane conjure up a hypothetical future in which they will each have their own daughter. Shiori and Takuma return to work after the holiday. Shiori notices that she is noticeably taller than before when they first meet.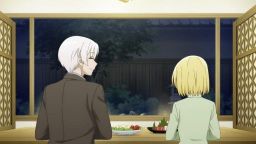 Sadly, it turns out that all she is wearing are her boots. Later, Ishiyama from the public relations division approaches Takuma and asks him to complete some tasks that have not been approved by his senpai. Shiori shows in and defends her Kohai right before he is about to become persuaded. Later that day, Ishiyama, on the other hand, performs the same thing with Hayakawa, and she ends up working extra hours.
As the manager, Akane naturally asks why she is working so late and discovers the truth. He warns her against doing any favours going forward and makes a commitment to discuss the subject with Ishiyama. Later, Akane takes Hayakawa to dinner, where they talk about their respective love lives. They surprisingly run across Yutaka there and wind up having a blast together.
My Tiny Senpai Episode 7 Ending: How Does Yutaka Bring Shiori And Takuma Closer?
On a Sunday, Takuma awakens with the impression that his body is quite heavy and wonders if he might be experiencing a case of sleep paralysis. Actually, Yutaka is sitting on top of him to wake him up because she wants to take more pictures of Shiori. Takuma's sister has been obsessed with his senpai ever since she met her and is desperate for her brother to end up with her. Takuma, however, is less frank about his sentiments than she is and has not yet taken any action. He oddly doesn't even have any pictures of Shiori on his phone.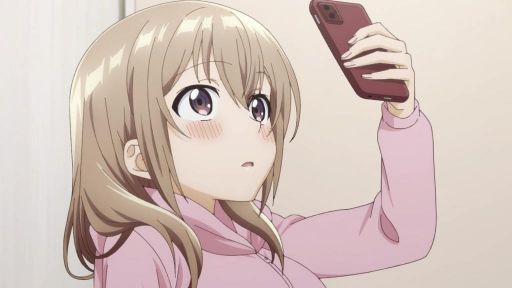 Takuma thinks back to the day he first made contact with Shiori and feels that he would likewise enjoy having her photos. But he is unsure if asking for it is the right course of action. Yutaka steals his phone from his hands as he is preoccupied with his thoughts and emails Shiori saying he misses her and wants a picture of her so that he may see her whenever he wants. Takuma panics since he isn't even aware of what he wrote when she says that she sent a message to his senpai.
Shiori, meantime, finds it difficult to accept that Takuma sent her such a message. She prepares to send him a photo while she gets ready to take a bath. But by the time she gets back, Takuma has already expressed regret and made it clear that his sister, not him, was the one who sent her the message. Shiori suddenly understands that, given Takuma's habit of being too shy and restrained, this scenario makes a lot more sense than him asking for pictures. Strangely, Shiori responds by requesting confirmation from Kohai that he is certain he does not want her picture.
Takuma now has to make the move, and he panics because he can't bear the pressure. He gives his sister the go-ahead to say sorry. While also sending Shiori countless pictures of his brother, Yutaka does listen to what his brother has to say. The next day, Takuma comes back to work worried about what his senpai would think of him at this point. She appears to be perfectly normal until he unexpectedly runs into her on the street. Oddly, she advises that they take a picture of the two of them so that they won't need to ask for individual pictures. The manager spots an opportunity to capture their portrait together as he is hidden in the woods.
Our Team DCS includes 5 different writers proficient in English and research based Content Writing. We allow them and encourage them to follow the Entertainment news all day long. Our posts, listicles and even the exclusives are a result of their hard work.