Products change with time. That is how a popular reality programme like "Shark Tank" operates. According to The Hustle, the ABC show, where aspiring entrepreneurs beg investors to finance their businesses, had closed about 500 deals of common goods in its first 10 seasons. Fans of the programme are interested in learning more about the phone-cleaning product PhoneSoap.
Wesley LaPorte and Dan Barnes, cousins, asked the Sharks to invest $300,000 for a 7.5% stake in their company in Season 6, Episode 16 of the show, which aired in January 2015. They developed a "tanning bed for [your] phone" that will disinfect your gadget using ultraviolet light in response to a report that said your cellphone is 18 times dirty than a public restroom. Herjavec and Barbara Corcoran quickly opted out. When the cousins responded that consumers shouldn't use throwaway alcohol wipes because they would damage their phones, Mark Cuban scoffed, but he later changed his mind after learning that they were targeting the hospital market. If they sell it for a profit and shorten the time required for sanitation from five to one minute, Cuban offered the money in exchange for a 20% share. Thankfully, Lori Greiner intervened with a $300,000 offer for a 15% ask, enabling her to sell the units on QVC. Greiner promised 10% if they immediately said yes when asked to meet them in the middle. It was.
But that was in 2015, and much has since changed. Check out PhoneSoap's performance first.
PhoneSoap has expanded their product line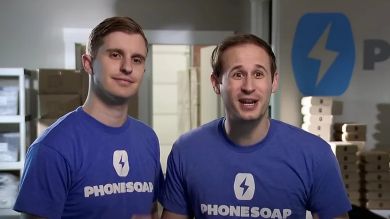 In their Season 7 episode, which aired in May 2016, "Shark Tank" followed up on the 2015 programme with a feature on PhoneSoap. Low-balling it was Lori Greiner's pledge to "sell hundreds of thousands of dollars" instantly. The cousins said on the program, "In the five months before 'Shark Tank,' we did $537,000 in sales. "In a little more than a year, we've generated $4.9 million." They developed a tablet version of their product and grew their Provo, Utah-based company to 12 people.
According to the PhoneSoap website, its goods are now available in a variety of locations as of 2022. According to the website, PhoneSoap products are waging the good fight in homes, schools, hospitals, gyms, restaurants, and a plethora of other areas where germs hide. According to ZoomInfo, their company currently has 90 employees and generates $24 million in annual revenue. With PhoneSoap 3, which is available in a variety of colours including periwinkle, orchid, aqua, and gold, they have improved their original cellphone cleaner. In addition, they have expanded with the market and introduced other products, such as the PhoneSoap Pro, a faster and larger phone sanitizer (now available in attractive colors), and the HomeSoap, which can disinfect a variety of items, such as tablets, headphones, remote controls, and more.
Additionally, the business offers cordless and portable versions of PhoneSoap as well as the AirSoap air purifier. There are also numerous accessories that make cleaning and charging your phone quicker and simpler. Wesley LaPorte and Dan Barnes appear to be doing just fine with publications like Popular Mechanics, Vogue, and Business Insider praising them with the holiday gift-giving season quickly approaching.
Our Team DCS includes 5 different writers proficient in English and research based Content Writing. We allow them and encourage them to follow the Entertainment news all day long. Our posts, listicles and even the exclusives are a result of their hard work.