'Physical' on Apple TV+ tells the tale of Sheila Rubin, an aerobics enthusiast who transforms her life. After being trapped in a loveless marriage and struggling with an eating issue that was made worse by the voice in her head, the transformation is outstanding for her. She makes significant efforts to improve lives by establishing a name for herself. She continues to be her own worst enemy, though, as she makes some dubious decisions that bring to the events of the third season's fifth episode.
Sheila spent a wild night with Kelly Kilmartin in the previous episode after giving in to her curiosity with her. She drunk-dialed a few people and became so hungover that the next day she ended up modelling in a dress that was so tight that she tore it off in front of everyone. She lost her resolve and had a binge. Thought to be at her lowest point, it turns out that things can go worse. What does this episode's events entail for her? Spoilers follow.
Physical Season 3 Episode 5 Recap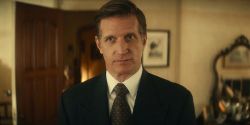 Sheila thought she had called Carlos while intoxicated, but she had actually called John as well. The following day, he knocks on her door and discovers she hasn't even remembered contacting him. He is a little let down, but nothing out of the ordinary. He feels that since he is already here, they should probably chat. Shiela is informed about his wife's struggles ever since their child was born. He has tried everything and has enlisted the aid of the church, but things only seem to get worse. He should take his wife to a psychologist, Sheila recommends.
An irate Greta knocks on the door, breaking up their talk. Sheila's actions stun her, and she fears it would jeopardise their agreement with Hartman. Sheila acknowledges that she temporarily strayed from the path, but she makes no mention of her time spent with Kelly. She then gives Greta her word that she won't allow this to happen again. Greta leaves to close the sale after being satisfied but not pleased with her response.
Sheila decides to exercise after John departs in an effort to quiet the loud inner voice, but it makes little difference. She enrols in a class that is a little too sluggish for her tastes, and she leaves halfway through. She sees Carlos as she enters her room; she had called him while intoxicated and begged him to come over. He invites her to dinner, and after a seven-course meal with him, Sheila makes the decision to handle her business differently.
In the meantime, Danny's sister shows up at his home. She agreeing to assist with his daughter is a tremendous comfort to him. She enlivens the environment by modifying all the behaviours she believes Sheila is responsible for instilling in her brother and niece. As a result, Danny has some time to reflect before going to Sheila's workplace to explain to her what he thinks exercise means to her. He meets her secretary instead of her, and something else occurs between them.
Physical Season 3 Episode 5 Ending
Sheila realises she wants the same thing for her company after speaking with Carlos, who explains why he chose not to create his own restaurant given how passionate he is about all things culinary. She didn't start doing aerobics because she intended to turn it into a successful business. She did it in an effort to improve her life and better the lives of others. So it wouldn't matter if the agreement with Hartman fell through. She wasn't initially planned to enter the food sector.
Greta admits that she spoke with Hartman and saved their deal when she returns. There is a catch, but Sheila starts talking about how she has changed her mind and wants to return to the fundamentals before she can reveal what it is. Greta meets Carlos, as if this wasn't surprising enough. She enters Sheila's room thinking he was there before, not realising it was John. She tries to reason with Sheila, especially after learning that her change of heart followed their chat with Carlos.
Greta is enraged since this arrangement with Hartman was important to her. She then got into a fight with her husband over how they had forced him out of Sheila's business. Greta is also conscious of the fact that Sheila never treated her as an equal. How could she, after speaking with a stranger, harm their business and throw Greta's labour of love into the wind? Kelly Kilmartin, who Greta met and who was pleased by Greta's business savvy, is mentioned by Greta to Sheila. She thinks Kelly is more professional than Sheila and decides to take the offer to Kelly since she knows that she will value it. Kelly is more professional than Sheila.
Sheila may have seen of herself as the face of her company, but she is aware of Greta's significance to the enterprise. Everything may fall apart if she were to leave, especially if Sheila was not feeling well at the time. Everything Greta has worked so hard to develop could come apart in an instant if she left, which would be even worse for her company. She tries to comfort herself while her inner voice castigates her for destroying the last nice thing in her life. She still works for the TV network and has herself. She will survive this trying moment. However, how long?
Our Team DCS includes 5 different writers proficient in English and research based Content Writing. We allow them and encourage them to follow the Entertainment news all day long. Our posts, listicles and even the exclusives are a result of their hard work.