Reynaldo John Rivera, a well-liked Catholic priest, was abducted from his place of worship late one night in 1982, and he was found brutally killed a few days later under strange circumstances. The shocking case is explored in-depth in "On the Case With Paula Zahn: Faith and Duty," which provides a full account of the events that led to Reynaldo's untimely death and the subsequent investigation. Here is everything you need to know if this case interests you and you want to learn more about it, including who the perpetrator is and where they are right now.
How Did Reynaldo John Rivera Die?
On October 29, 1924, Father Reynaldo John Rivera was born in Santa Fe, New Mexico. With his parents Juan B. Rivera and Refugito Cuca Ortiz Rivera, as well as his five siblings, he grew up. Following his ordination in 1953, Father Reynaldo was named rector of St. Francis Cathedral in Santa Fe in 1975, which was nearly 20 years after his ordination. He became a servant of God and his neighbourhood and always welcomed the poor. Nevertheless, despite Father Reynaldo's good deeds, it appears that some individuals were able to abuse his eagerness to assist and even put his life in danger.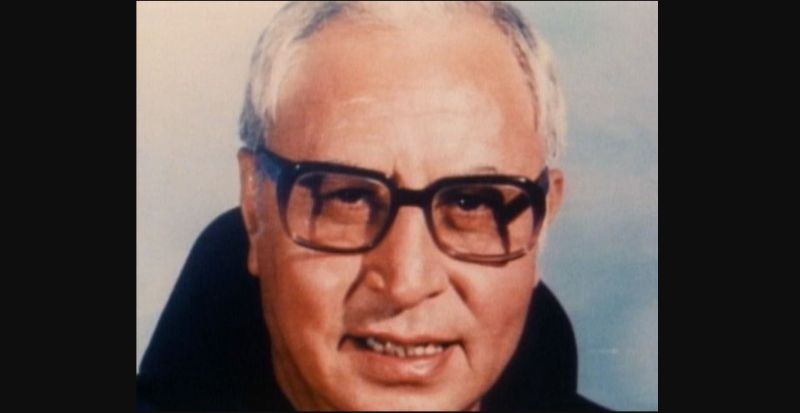 Father Reynaldo, 57, made a house call on August 5, 1982, to administer final rites for a person. The priest did not go back to the rectory, so that was the last time anyone saw him. Father Reynaldo's body was found by the authorities two days later in a field close to the lonely La Bajada rest area outside of Santa Fe. In addition, he had been strangled and had a gunshot wound in his stomach. Later, an autopsy revealed that the victim had been tied and bound. In addition, there were probably two attackers; one shot the victim, killing him, while the other suffocated him with a wire. In addition, Father Reynaldo's wallet, glasses, and sacrament bag were gone.
Who Killed Reynaldo John Rivera?
Father Patrick Gerard answered a call from Michael Carmello on the evening of August 5, 1982, at Father Reynaldo's rectory. He asserted that a priest was required right away to do the last rites for his grandfather who suffered a heart attack next to a Waldo rest area. Father Gerard, who is legally blind, was unable to leave the rectory and instructed Carmello to call again in a few minutes.
After about fifteen minutes, the phone rang again, and this time Father Reynaldo took the call. He agreed to meet the caller and give his grandfather's final rites after Carmello made the same request. Carmello promised to take him to his grandfather's house close to Waldo after they agreed to meet at the La Bajada rest area on Interstate 25. Authorities began looking for Father Reynaldo near the Waldo area after he was reported missing after failing to return to the rectory that evening.
As he had a significant impact on many people's lives, hundreds of Santa Fe residents offered their assistance to the police over the course of the following two days. His brown 1974 Chevrolet Malibu, which he had used to meet Carmello, was quickly located at a rest area on Interstate 40 close to Grants after his body was discovered. After the police processed the car, the detectives pursued various leads after spotting a few fingerprints inside.
The FBI then became involved in the case and developed a psychological profile of the individual or people who killed the Father. The forensic psychologist also concluded that revenge was the reason for his murder. The authorities eventually received a tip regarding George Semkus, a former resident of Santa Fe, who was supposedly boasting about killing Father Reynaldo. He was allegedly connected to many crimes and was reportedly in the neighbourhood when the murder occurred, making him the police's top suspect.
Where is George Semkus Now?
George Semkus was taken to a mental hospital in Los Angeles after his detention in November 1982, where he is said to have teamed up with another person to flee to New York. When he was apprehended once more in August 1983, the police discovered a weapon in his stolen vehicle. Semkus was found guilty of having stolen property and possessing a concealed weapon as a result. As a result, the Santa Fe detectives tracked him down to the New York jail, where he underwent a polygraph test and an interrogation. George Semkus purportedly met the FBI's psychological profile for the murderer of Father Reynaldo, albeit the results were never made public.
The programme noted that a Franciscan priest also alleged that Semkus had previously vandalised the victim's cathedral and stolen a statue of La Conquistadora. Nevertheless, despite their efforts and investigations, the police were unable to link him to the murder case of Father Reynaldo Rivera, and he was never charged. Semkus was consequently granted parole in March 2003 and has maintained his secrecy ever since. Semkus' role is yet unknown because the authorities have not provided any other details surrounding Father Reynaldo's slaying.
Being a binge-watcher himself, finding Content to write about comes naturally to Divesh. From Anime to Trending Netflix Series and Celebrity News, he covers every detail and always find the right sources for his research.