The One Piece saga has seen a tonne of intriguing plot turns and unanticipated happenings, and Cobra's death left fans perplexed. There are far too many unanswered questions surrounding Cobra's passing, especially in light of the minor specifics. Among them is: "Why did Sabo kill Cobra?"
Although it is claimed that Sabo killed Cobra, other theories place the blame for the crime on the World Government or some other strong organisation that used Sabo as a scapegoat. The Nefertari family was viewed as traitors and Cobra was asking too many questions, giving the WG and Gorosei facet motive.
Sabo may still be a hero despite it appearing that he killed Cobra as the bad guy for a variety of reasons. Join us as we discuss what might have transpired between Sabo and Cobra, including potential suspects, motives, and whether Cobra is anticipated to make a comeback in the future.
Did Sabo Kill Cobra In One Piece? (Debate)
Since Cobra was assassinated, it was initially unclear who actually killed him; many people speculated that it might have been another character. It was difficult to imagine Sabo killing Cobra, particularly given that he had spoken with Vivi at the Reverie.
More people now believe that Sabo is innocent and that he was set up to kill Cobra. However, many other fans think that Sabo killing Cobra would have resulted in intense conflict, which could pave the way for a series of unexpected plot turns. One Piece Fandom reports:
The late Nefertari Titi's husband and the father of Nefertari Vivi, Nefertari Cobra was the 12th king of the Arabasta Kingdom. He also served as the former patriarch of the Nefertari Family. Cobra was allegedly murdered by Sabo, the Revolutionary Army's chief of staff, during the most recent Levely.
The World Government "revealed" that Sabo had killed Cobra at the beginning of Chapter 1054. Many Marines in One Piece believed this to be true, despite the fact that some Admirals in One Piece also do not know who killed Cobra.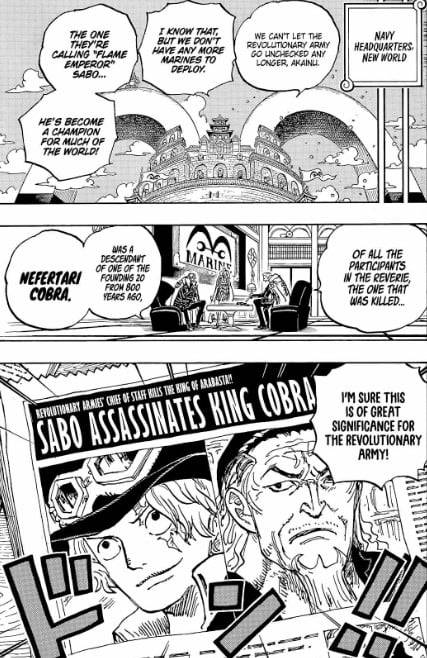 The idea of Sabo killing Cobra initially shocked fans, and many of them felt that it was uncharacteristic of Sabo. There are many other theories that can shed light on what actually transpired, so it is still an unpopular interpretation of Cobra's death.
Theory 1: Sabo was Framed
The majority of the One Piece community still thinks Sabo was set up for the incident, but assassins, Gorosei, CP0, the World Government (WG), the Celestial Dragons, or even someone else are more likely suspects. This might also work because Sabo might have been apprehended at the time, making him an easy target for the real killer.
Theory 2: Sabo Helped Cobra Fake His Death
Another hypothesis is that Sabo was actually complicit and is concealing more information. According to this theory, Sabo was complicit in Cobra's attempt to flee to safety by pretending to die; he then assumed responsibility for Cobra's murder.
Theory 3: Cobra Died Defending Vivi
According to the third hypothesis, either Cobra and Vivi were placed in danger or Vivi was intended to be assassinated for some reason. According to this theory, Cobra attempted to protect her so she could flee; however, he was killed in the process, and Sabo was held responsible for his alleged murder based on circumstantial evidence.
How Was Cobra Killed In One Piece?
Fans have only learned that Cobra was killed by Sabo, according to a statement made by the World Government. Since the term "assassinated" is so ambiguous, we might never learn the exact circumstances surrounding his death.
Why Was Cobra Killed In One Piece?
Cobra's death and the circumstances surrounding it are rife with mystery. Even so, was he killed? Who actually killed him if he was? The answers to the earlier questions would be crucial in determining the cause of his death.
Theory 1: The WG Killed Cobra for Political Reasons
But if he was murdered, whether by Sabo or someone else, the focus would almost certainly be on what he was doing at the time. It is widely believed that Cobra's removal from the picture was motivated by the fact that he had begun to pose many questions that might cause problems for influential institutions.
If so, the World Government or one of its allies would be the most likely suspect. However, it was reasonable to assume that they were in charge, particularly in light of their eagerness to identify Sabo as the murderer. This is especially true considering how big of a deal Cobra's passing was given that the Nefertari family was one of the founding families of the WG.
Theory 2: The Gorosei Killed Cobra Because He Was a Nefertari
It might have more to do with his bloodline than his inquiries in terms of the possibility that the Gorosei facet was responsible for his demise. The Nefertari family was viewed as traitors by the Gorosei facet, and they may have deserved to be wiped out.
Additionally, they asked Im's permission to perform a "great/massive cleansing." This could also suggest a reason why Cobra and perhaps Vivi were killed, which would tie into some of the fan theories.
Theory 3: Sabo Killed Cobra for Power and Influence
If Sabo actually managed to eliminate Cobra, it would be a significant turning point for the hero we have all come to know. Sabo killed Cobra to become a new symbol for the revolutionaries in One Piece, but he was viewed as a very powerful person after Cobra's passing.
Even so, this is a very abrupt departure from the Sabo character that fans had previously seen. The majority of fans believe that if he really did kill Cobra, there would have been no real justification for doing so; instead, he may have been forced to act or forced into a precarious situation.
Will Cobra Return In One Piece?
Many fans are wondering if Cobra actually died because there are so many unanswered questions regarding his passing. It's possible that he managed to flee and will eventually make a comeback, which would support the idea that Sabo assisted him in staging his demise.
Cobra appears to have actually perished, though. He may not be able to take much more damage while running because he was quite old and frail at the time of the statement. However, speculating is still entertaining; One Piece fans might even get the desired surprise!
Being a binge-watcher himself, finding Content to write about comes naturally to Divesh. From Anime to Trending Netflix Series and Celebrity News, he covers every detail and always find the right sources for his research.