The ninth television chapter of the Marvel Cinematic Universe (MCU) is Kyle Bradstreet's action-adventure series "Secret Invasion" on Disney+. Samuel L. Jackson plays Nick Fury, who comes back to Earth after learning that a hostile Skrull faction is attempting to take over the world. Gravik, the violent leader of the Skrull rebels, will do everything it takes to succeed in his mission. He particularly despises Nick Fury, and the second episode raises the possibility that there may be more to his hate of the former SHIELD Director. Here is everything you need to know if you're wondering whether the hints indicate that Gravik is Fury's son or not! Spoilers follow!
Who Plays Gravik?
In the first episode of the new Secret Invasion season, Gravik is introduced. He belongs to the Skrulls, a race of aliens that can change their shape. The Skrulls sought shelter on Earth with the aid of Nick Fury and Carol Danvers when their homeworld, Skrullos, was destroyed during the Kree-Skrull War in "Captain Marvel." Gravik, a Skrull living on Earth, disagrees with Talos' philosophy, the former head of the Skrull Council whom he overthrew. Gravik is the leader of a gang of rebel Skrulsl in the television series who plan to conquer humanity on Earth when Fury and Danvers break their pledge to provide the aliens a new home.
An fictional character not found in the pages of Marvel Comics, Gravik, is played by actor Kingsley Ben-Adir in the movie "Secret Invasion." British actor Ben-Adir debuted on the big screen in 2012. His portrayal of Dr. Marcus Summer in the criminal drama series "Vera" helped him gain notoriety. The role of Karim Washington in the mystery drama series "The OA" helped Ben-Adir achieve further fame. He is also well-known for portraying Malcolm X in the drama movie "One Night in Miami" from the year 2023. The actor's debut appearance in the Marvel Cinematic Universe comes in "Secret Invasion," where his character serves as the main adversary.
Is Gravik Fury's Son?
In the first episode of "Secret Invasion," Gravik is introduced as a rebel Skrull leader who harbours resentment and hostility towards humans. He appears to harbour a hate for his kind while simultaneously wanting to rule the Earth. A flashback to events that occurred after the Kree-Skrull battle is shown in the second episode, "Promises," and it depicts the Skrulls congregating on Earth. Young Gravik is one of the few refugees, and Varra, a Skrull woman, introduces her to Nick Fury. During the Kree-Skrull battle, Gravik's parents perished, but he managed to flee by flying a ship by himself. Gravik is praised by Varra, who also requests that he use the young orphan in his SHIELD activities.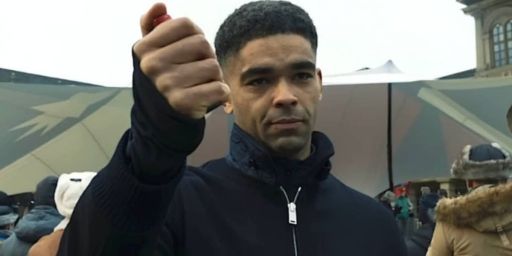 Priscilla Fury (Charlayne Woodard of "Mayfair Witches"), who is also revealed to be a Skrull, is reunited with Fury when he arrives at a rural home in the episode's finale. The conclusion of episode 2 makes it appear like Priscilla is the same person who met Fury and Gravik. It has been conjectured that Varra/Priscilla and Fury adopted Gravik after his parents passed away given how full of praise and admiration she is for a young Gravik. Given his history with a Skrull woman, it wouldn't be surprising if Fury had adopted the young orphan Skrull. Fury most likely served as a foster father to Gravik.
The admission that Gravik was Fury's foster child would intensify their quarrel and add a more intimate dimension. In a scene from the series' advertising materials, Fury asserts that the conflict with the Skrulls that Gravik initiated is personal. Furthermore, Gravik and Fury share a number of similarities. The previous director of SHIELD is renowned for being three steps ahead of everyone at all times. Gravik, however, is three steps ahead of everyone in "Secret Invasion," as seen in the first episode, a tactic he might have learned from Fury. In the end, it's unclear if Fury will be revealed to be Gravik's foster father, but a father-son bond of some kind between the two seems extremely possible.
Our Team DCS includes 5 different writers proficient in English and research based Content Writing. We allow them and encourage them to follow the Entertainment news all day long. Our posts, listicles and even the exclusives are a result of their hard work.